MRI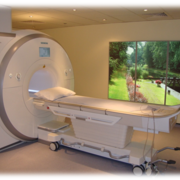 MRI is well established in providing non-invasive imaging for the central nervous system, abdomen and pelvis, musculoskeletal and cancer staging. A type of MRI known as magnetic resonance angiography (MRA) can also be used to image your blood vessels.
BCUHB has 4 MRI scanners across the 3 main hospital sites. The scanners run 7 days a week, 12-15 hours per day.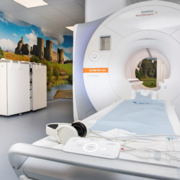 One of the main advantages of MRI is that unlike x-rays it does not involve exposing the body to radiation. MRI scans instead, use strong magnetic fields and radio waves to produce detailed images of inside the body.
Due to the magnetic fields, all patients and visitors are required to fill in a medical safety questionnaire prior to their scan. A small number of patients are unable to have an MRI scan as it can disrupt the working of certain medical devices e.g. pacemakers. It is also unsuitable for patients who have brain aneurysm clips, metal fragments in the eye and some metallic implants that have been in for less than 6 weeks.
The video below will show you what you can expect when having an MRI scan.