Ysbyty Gwynedd's Emergency Department has officially been opened by the Minister for Health & Social Services, Vaughan Gething.
The £13.89m project, funded by Welsh Government has transformed the department over the last two years, which sees around 54,000 attendances a year.
Mr Gething met with staff who ensured the department functioned as normal, 24 hours a day, while the development was carried out.
Minister for Health and Social Services, Vaughan Gething, said: "I'm pleased to officially open the new Emergency Department at Ysbyty Gwynedd, which will treat patients more effectively and efficiently.
The new facility will provide patients and staff with a better experience and environment. I want to thank everyone who has continued to operate a 24 hour service whilst this vital work was carried out."
Dr Rob Perry, Consultant in Emergency Medicine, said: "I am incredibly proud of the new department and our dedicated staff.
"The old department was too small and designed to see a maximum of around 12,000 patients a year.
"We now have a more modern facility that means patients benefit from a brighter, more spacious environment and our staff find it easier to deliver high quality care."
The Emergency Department rebuild has delivered the following benefits for patients:
· A new clinical area which includes an Emergency Department Observation Unit (EDOU) – an area for patients who require observation for less than 24 hours and do not require a bed elsewhere in the hospital.
· Fit to Sit Assessment Area – a dedicated space for patients waiting for test and blood results.
· A dedicated area for the Community Resource Team (consists of a Physiotherapist, Discharge Nurse, Occupational Therapist and Social Worker to help discharge patients), British Red Cross and I CAN volunteers.
· Relative room
· The staff have also benefited from a new administrative area that provides them with support accommodation, changing rooms, training room, multi-disciplinary meeting room, library and document storage room.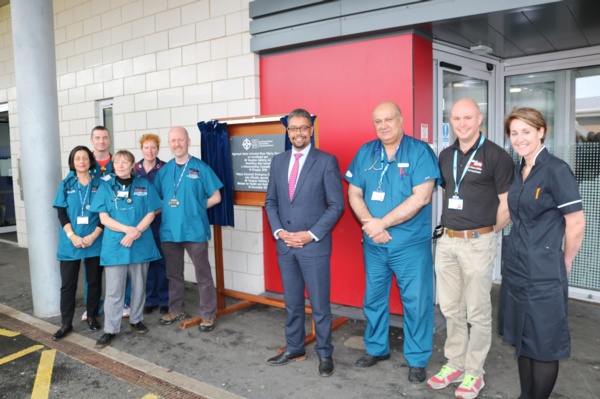 This week has also seen the launched of the Red Cross Support Service at the department who will be providing its Emergency Department Wellbeing and Home Service. This will operate between 11am – 9pm, seven days a week.
Karen Cross, Independent Living Operations Manager at British Red Cross said: "We have been working with Betsi Cadwaladr University Health Board since December 2018, providing this service at Ysbyty Wrexham Maelor and Ysbyty Glan Clwyd. We are extremely pleased to be able to launch it at Ysbyty Gwynedd, in the newly refurbished Emergency Department.
"We work closely with NHS staff to prioritise patient needs. Red Cross staff and volunteers are on the ED to offer patients and their relatives' reassurance and support. But most importantly, we have time to spend with people, listening to their concerns, helping them to access support by signposting or referring them to services. This supports NHS staff who are able to concentrate on the clinical needs of the patients.
"After a patient has been discharged, we will take them home and help them to settle in by putting the heating on, making them a cup of tea, and ensuring that they feel safe. We have even been known to feed the cat or walk the dog when settling a patient at home."