Nurse Kelly's hospital stay was catalyst to award-winning career move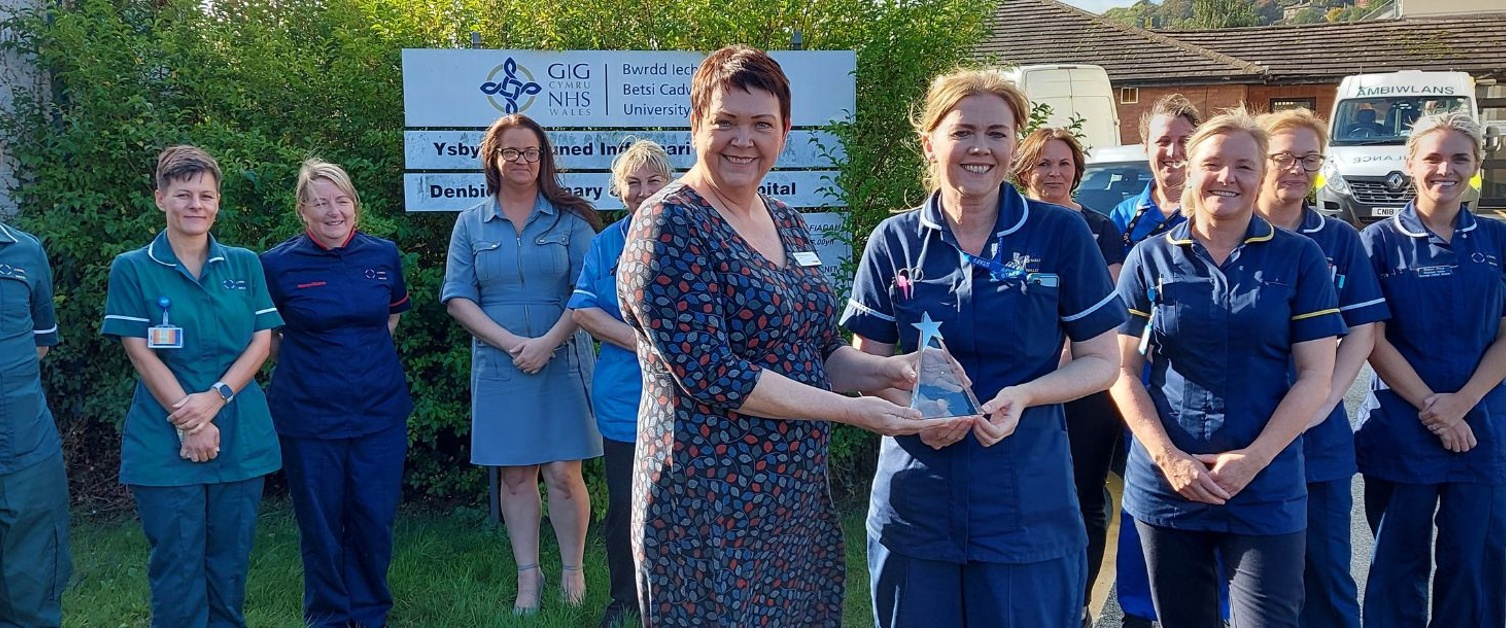 14.10.2022
A community nurse who helped keep services running throughout Covid has won a prestigious award.
South Denbighshire district nurse team manager Kelly Clewett was named Chwarae Teg Womeninspire Women in Health and Social Care Champion at a ceremony in Cardiff, on September 30.
She received her award from Betsi Cadwaladr University health Board's executive director of Nursing Angela Wood outside Denbigh Infirmary this week, as she had been unable to attend the gala ceremony on the night.
She said her win was recognition for everyone who nurses in the community and urged more trainees to explore the discipline as a career.
After receiving her trophy Kelly, 46, revealed how it was her own long stays in hospital fighting Crohn's disease, which inspired her to take up the profession.
Mold hospital patient champion awarded for going above and beyond - Betsi Cadwaladr University Health Board (nhs.wales)
She said: "When I was younger I thought I'd like to be a nurse but I never thought I would be able to deal with blood or any of the horrible bits.
"But I was in hospital for about two months at a time, a few times, and I just saw loads of stuff and it didn't bother me.
"I used to try and help the older people I was in the ward with, because I was only 22, and I loved it – I really loved it."
Despite having completed a politics degree at Greenwich University Kelly, from Prestatyn, had what she called a "Damascene conversion" and decided to follow nursing instead.
"I was just inspired by the nurses and by the work they get given to do," she said. "It's brilliant, I loved it."
Betsi Cadwaladr University Health Board's executive director of nursing, Angela Wood, said: "Kelly is an inspiration and role model.
"Her work in promoting community nursing is exceptional and I felt very privileged to be able to meet some of her team and present Kelly with her deserved award."
Kelly qualified aged 29 and began her career at Glan Clwyd Hospital but, because of her experience when training, her heart lay with community nursing and she joined Prestatyn's district team in 2005.

She has developed to lead staff within the south Denbighshire community resource team, based at Denbigh Infirmary.
Although they're still very busy, the nature of community nursing allows staff to build up relationships with their patients in a given geographical area.
Kelly explained: "District nursing allows you to speak to the patients a bit more. Lots come and go but we have many people who need care over a long time.
"Their families get to know us, so that's a really lovely side to it. It's also the general nature of what we do - we're sort of experts at everything."
There can sometimes be a perception community nursing is a bit parochial and it de-skills nurses but it's an old trope Kelly dispels quickly.
She said: "Our ward is everywhere outside of a hospital and everything that entails. Student nurses will come here and do everything.
"There will be patients needing wound care, light wound care or it might be chronic ulcers. They'll have palliative care patients, they may see someone at end of life, in their last hours to administer medication and deal with the family.
Team providing independence to people with learning disabilities up for top NHS award - Betsi Cadwaladr University Health Board
"We'll be going to see people for continence issues, for chronic disease management and keeping people out of hospital.
"That's really our main goal and the reason we get out of bed in the morning, keeping patients out of secondary care.
"I would recommend anyone going into nursing to consider community. It's vital in keeping people out of hospital, in their homes and with some independence. That is what makes it such a rewarding and varied career."
It's work which continued for the vulnerable and the housebound throughout the pandemic – and a big reason why Kelly scooped the award.
"I'm just one of many," said Kelly. "Things like this do highlight what we do and you think 'this isn't a normal job is it'?
"It is for all of us and I do feel I've been nominated because Chwarae Teg knew about me but they didn't know about the other DNs out there. So it could have been any of us."
Chwarae Teg's chief executive, Cerys Furlong, said: "Kelly's place as winner of the Woman in Health and Care award reflects her passion and dedication to her work, her colleagues and the people served by district nurses.
"It was evident to the Womenspire judges that she is a real champion for the profession. Kelly's a role model and her commitment to rightly raising the profile of district nursing, which is vital to ensuring good health and wellbeing in communities, was absolutely clear."
Keep up to date with health board news by signing up to our mailing list Sign up (es-mail.co.uk)