North Meirionnydd District Nursing Team receive funding award to set up innovative project to improve care within their community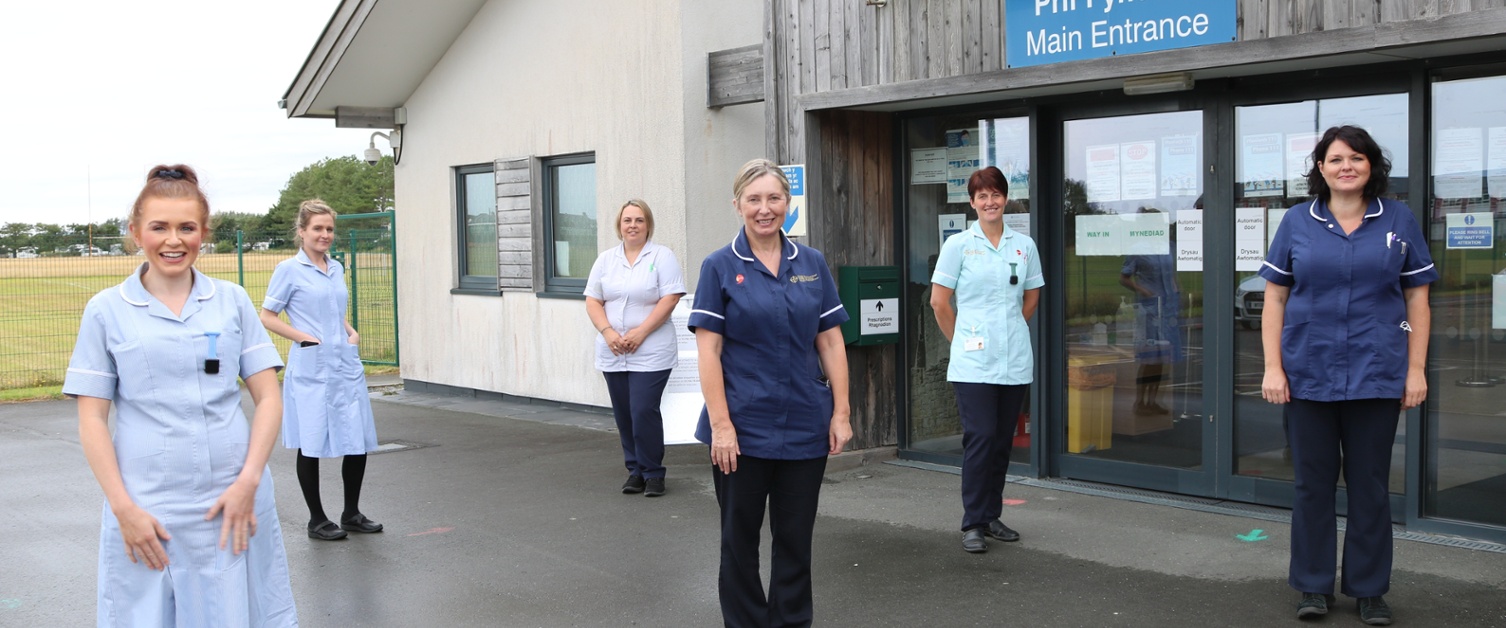 1 September 2021
District Nurses working in North Meirionnydd in Gwynedd have been awarded funding from the Queen's Nursing Institute to improve complex care in their community.
The District Nursing team in the West supports over 4,280 patients who are housebound across Gwynedd and Anglesey.
Their project, District Nursing Single Point of Contact, has received £5,000 funding and will help the team establish a more coordinated, person centred seamless service close to home.
The project will help prevent patients with complex needs having to be admitted to hospital for conditions that can be managed in the community if there is access to the right people at the right time.
District Nurse Caseholder for North Meirionnydd, Llio Griffiths, said: "With the demand in caring for complex patients increasing and resources limited a more seamless service is required to enable individuals to live their life as they want to live it with a coordinated service closer to home.
"We are truly grateful to the Queen's Nursing Institute for awarding us this funding. It will allow us to purchase smart phones for team members and key staff such as Occupational Therapists and Physios to trial a secure messaging app that will help us to improve communication, which in turn will improve access to members of the Community Resource Team (CRT) to actively manage complex cases in our community."
A hub is now set up and is manned by a District Nurse between 9am – 5pm Monday to Friday, and prioritises and co-ordinates each individual's care and concerns whilst drawing in specialist support from colleagues from Community Care, Secondary Care and Primary Care if needed.
"By having the service manned by a District Nurse, who knows the complex patients, area and services and resources available in the community they will be able to pull in expert support as necessary across the whole patient journey by providing information fast and effectively to all who need it," added Llio.
District Nurse, Angharad Jones says during the COVID pandemic managing complex patients in the community has become more challenging and the funding they have received will help to improve the care provided for patients.
She said: "Our project is innovative as it is the first of its kind in North West Wales.
"The project will give district nurses the recognition, and enhance and develop the vital co-ordination of patients with complex needs which will in turn greatly benefit patients with complex needs, their families and carers within our community.
"We are currently living through one of the most challenging times of our lives with constant change to the way that we work.
"Demand for our service is greater than it has ever been before and since the pandemic co-ordinating care for complex patients closer to home has been challenging.
"This project will give us the confidence and support to help all members of the Community Resource Team to envision our vision of a seamless service that improves wellbeing and quality of life for patients with complex needs in our community."
A spokesperson from the Queen's Nursing Institute said: "The Queen's Nursing Institute is delighted to award funding to the North Meirionnydd District Nursing Team for their new project to improve nursing care for people in their community.
"We look forward to working with the team to deliver their ideas to deliver excellent healthcare in homes and communities over the coming year."
Assistant Director of Community Nursing in the West, Louise Davies, added: "It's an honour to work with such innovative and forward thinking District Nurses who always go above and beyond for their patients and colleagues.
"This funding is well deserved and acknowledges and supports innovative nursing practice in rural North Wales."