New NHS rock choir gets ready for first big performance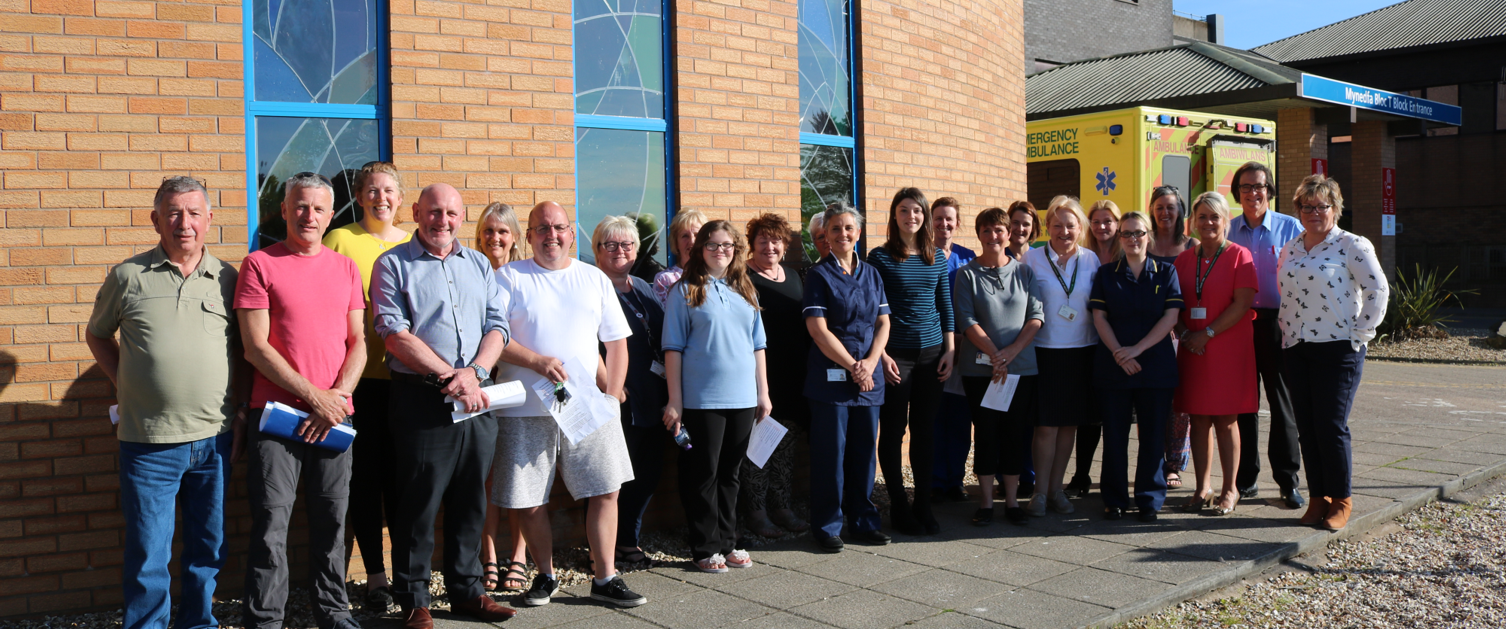 NHS staff, volunteers and members of the public have struck a positive note with the launch of a new rock choir.
Around 20 members of staff as well as former patients have begun rehearsing at Ysbyty Gwynedd's Chaplaincy Centre to prepare for their first public appearance at ZipRoc Music Festival in June.
The choir will perform one song on stage with The Betsi Blues Band whose members include Anaesthetist Dr Chris Thorpe, Consultants Dr Damian McKeon and Dr Chris Subbe and the Health Board's Chief Executive, Gary Doherty.
The new choir is the brainchild of Ysbyty Gwynedd's Hospital Chaplain Wynne Roberts who has enlisted the help of singing performer and teacher Jenny Pearson to lead the choir.
He said: "I was overwhelmed with the response and turnout to the first choir practice last week.
"We are also really pleased to have Jenny Pearson leading us – I was amazed how quickly she had us all singing as one.
"It's fantastic to have our first rock choir and there is still time for others to join!"
The choir will perform on the same stage as Britpop legends Cast, Elin Flur and Bryn Fon when the festival takes place on 15 June.
The festival was set up in aid of the charity, Love Hope Strength, founded by Mike & Jules Peters, and raises funds for cancer services across North Wales.
Mike and Jules, who established Snowdon Rocks 13 years ago and now the 20km Snowdonia Rocks Wales and ZipRoc Festival, say they are delighted to have an NHS choir perform on the day.
"It means a lot to myself and Jules to have an NHS choir made up of staff, volunteers and supporters playing a part in the day by singing at ZipRoc.
"We would like to thank everyone for being part of this fantastic day which we hope will raise a significant amount of money for local cancer services," said Mike.
Nia Thomas, Betsi Cadwaladr University Health Board's Head of Organisational Development, said: "The choir is a wonderful way to bring staff and volunteers together to do something really enjoyable together outside the workplace.
"We've seen what a boost NHS choirs have given to staff elsewhere in the UK, so it's just great to see our own NHS choir forming here in North Wales."
Two more rehearsals will take place at the Chaplaincy Centre in Ysbyty Gwynedd –
Tuesday, 4 June 5-6pm
Tuesday, 11 June 5-6pm