Meet the team providing 'life-changing' support to homeless people living with hepatitis C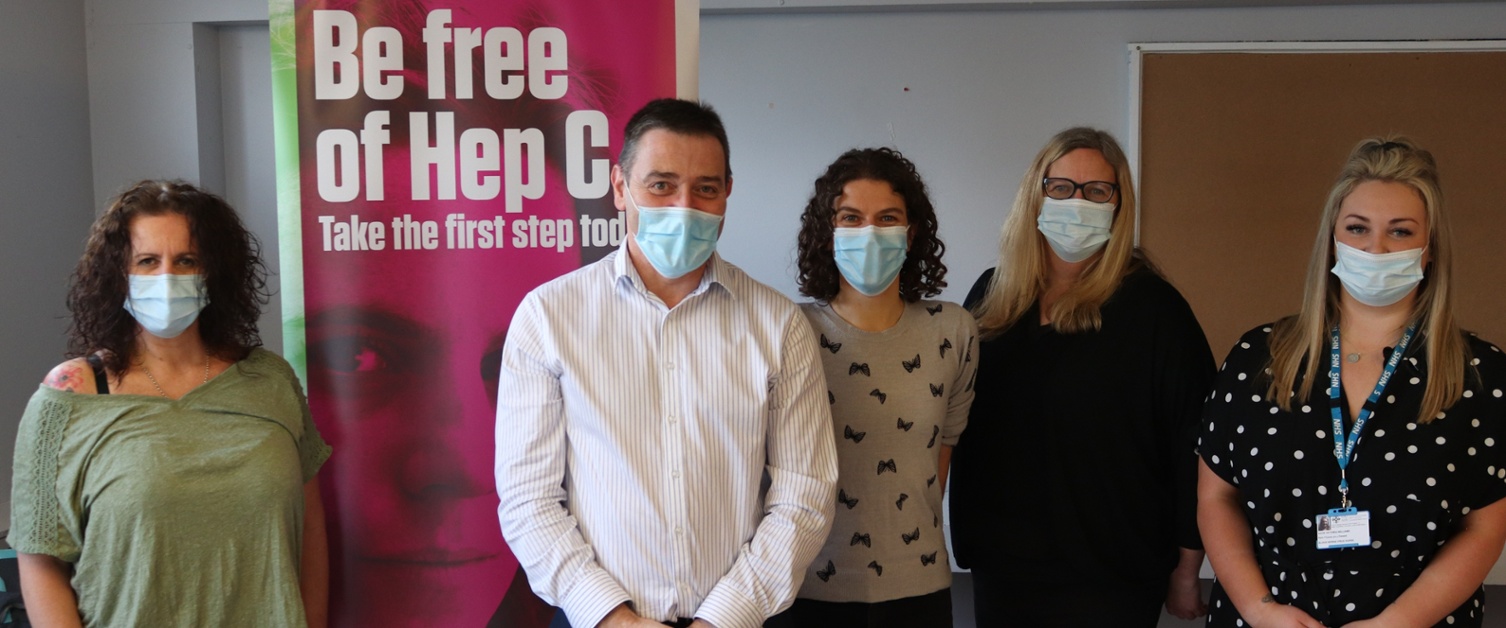 06.12.2021
A rapid treatment programme delivered by NHS staff is having a 'life-changing' impact on homeless people in North East Wales who are living with the hepatitis C virus.
Those who have benefitted from Betsi Cadwaladr University Health Board's pioneering new treatment programme say it's helped them regain access to their children, hug family members again, and re-enter the world of work.
Hepatitis C is a blood borne virus which left untreated can cause liver cirrhosis and cancer. However, advancements in medicine have ensured that it can be successfully treated with an 8 to 12-week course of tablets.
The virus disproportionately affects the homeless community. Because they often struggle to access and engage with treatment, those who contract hepatitis C can be at risk of long-term complications, including liver cancer.
Determined to change this, staff from BCUHB's Pharmacy, Point of Care, Substance Misuse Harm Reduction and Hepatology services have introduced a pioneering new approach to treatment, which is the first of its kind in Wales.
By taking their services to homeless people, the team have reduced the time it takes to diagnose and begin treatment from over six months, to just two weeks.
Regular, rapid testing is being offered, with results available in less than one hour, thanks to the use of specialist equipment, which utilises new technology. Treatment is then provided without delay, with intensive physical and psychological support provided throughout.
The project was established with a grant from Gilead Sciences Europe Ltd in 2019. Since then, 32 people have successfully completed treatment, with life-changing results.
Those supported include Catrin*, who said: "I can finally hug my family; I have avoided any physical contact with people because I felt dirty. The easy access to services made the world of difference to me."
Another of those to benefit is Tommy*, who said: "After having lived with this illness for a number of years, I am now free of the worry. I have now regained my driving licence and I am working as a ground worker. This is my first job in ten years, my confidence is back and I am ready to move on."
Seb* said the treatment had changed his life: "For the first time in over five years, I am now able to see my children again. My partner considered me dirty and would not allow me access. This treatment has changed my life."
*Real names have been changed to protect their identity.
As well as helping people get their lives back on track, the team's efforts are expected to deliver significant savings for the NHS, as the cost of providing early treatment is significantly lower than treating its longer-term complications.
The team were recently named the winners of the 'Improving Public Health Outcomes' award at the Advancing Healthcare Awards Wales awards, in recognition of their pioneering work.
Graham Boyle, Senior Nurse Specialist with BCUHB's Substance Misuse Harm Reduction Team, said: "Hepatitis C is transmitted through direct contact with infected blood and not through every day interaction with other people. However, because of the stigma associated with the virus, some of those infected have found themselves estranged from friends and loved ones.
"This project has had a life-changing impact on the service users we support. It's reduced stigma, reunited families, led to further engagement with healthcare professionals, as well as reducing the transmission of hepatitis c and the progression of liver diseases, including cancer.
"We're very proud of the work undertaken to date and our focus now is ensuring we can roll this support out more widely across North Wales."