'They've helped me learn to walk and talk again': New stroke rehab centre opens in Llandudno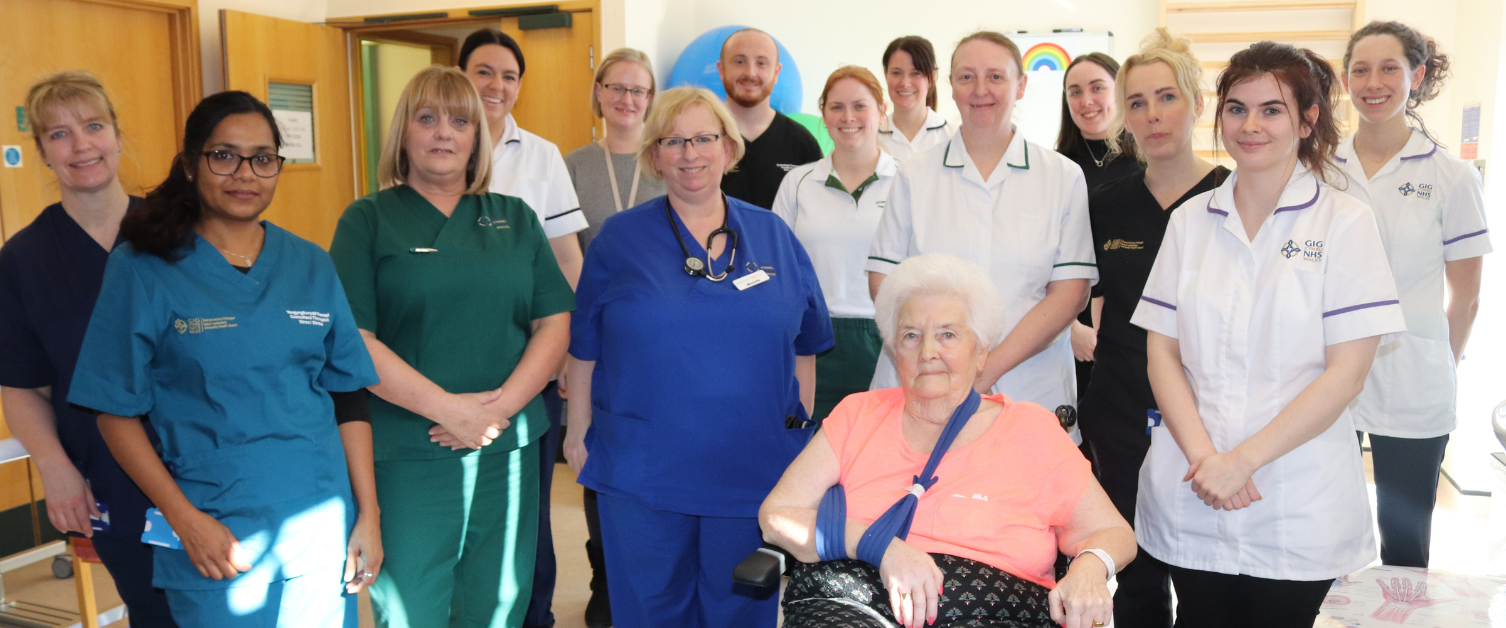 A new stroke rehabilitation centre has opened in Llandudno General Hospital to ensure patients have the best chance of a good recovery after having a stroke.
One of the first patients in the rehabilitation centre is Ann Ellis, 78 from Bagillt. Ann had a stroke on Christmas Eve and was taken to Ysbyty Glan Clwyd and then transferred to Llandudno three weeks later.
When Ann first arrived she found it difficult to talk, walk and move her right arm, but thanks to the support from a full range of multidisciplinary specialist staff including Physiotherapists, Nurses, Doctors, Psychologists, Speech and Language Therapists and Occupational Therapists, Ann can now communicate again and is learning to walk with an aid.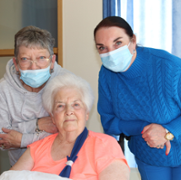 Ann said: "When I first got here I couldn't talk, I'm still a bit jumbly, but I'm getting better and better. I've been seeing all the therapists every day, here in the rehab centre we get a lot more time with the therapists, they're really good.
"I'm learning to walk along on the bars now too, I'm determined, you have to be don't you, the therapists keep me busy and keep me going."
Ann's relatives, daughter Caroline Pritchard and sister Sue Toplass, have also praised the staff saying, "they've been fantastic, we can go home after visiting and have no worries, because the staff are so lovely, and we know she's being well looked after".
Patients are encouraged to engage in activities and exercises designed to promote recovery and independence, including daily self-care tasks, walking and communication and cognitive tasks – all of which are known to enhance the odds of recovery after stroke.
Read about other Stroke Services here: "Early Supported Discharge team got me back on my feet after stroke with Maserati promise"
Consultant Stroke Therapist Dr Sushmita Mohapatra, said: "I'm delighted to see the stroke rehabilitation centre open for our patients to help boost their recovery.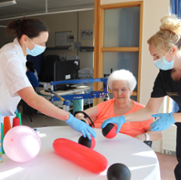 "It's lovely to hear Ann's kind words about all the staff and how well her treatment is going with the multiple discipline of therapy.
"This is a great initiative in North Wales to invest in the new stroke pathway. The new stroke unit will provide focused, evidence based, patient-centred and goal- oriented intensive rehabilitation in line with National stroke standards. This will help maximise the patient's potential and possibilities to gain independence in their valued activities and life roles."
This is the second of three new specialist community inpatient rehabilitation centres to open in North Wales for patients who no longer need specialist stroke treatment at an acute hospital, but still require stroke rehabilitation that cannot be delivered at home.
The first centre opened in Ysbyty Eryri in Gwynedd last year, and the third centre is in Deeside Community Hospital.
Read more: New stroke rehab unit opens to patients at Ysbyty Eryri in Caernarfon
The stroke rehabilitation centre is part of Betsi Cadwaladr University Health Board's Stroke Improvement Programme which also includes a new preventative service, where specialists will work with GPs to screen patients who may be showing signs that they may have a stroke in the future, and an Early Supported Discharge service which will help some patients recover at home, rather than in hospital or a clinical setting.