"Early Supported Discharge team got me back on my feet after stroke, with Maserati promise"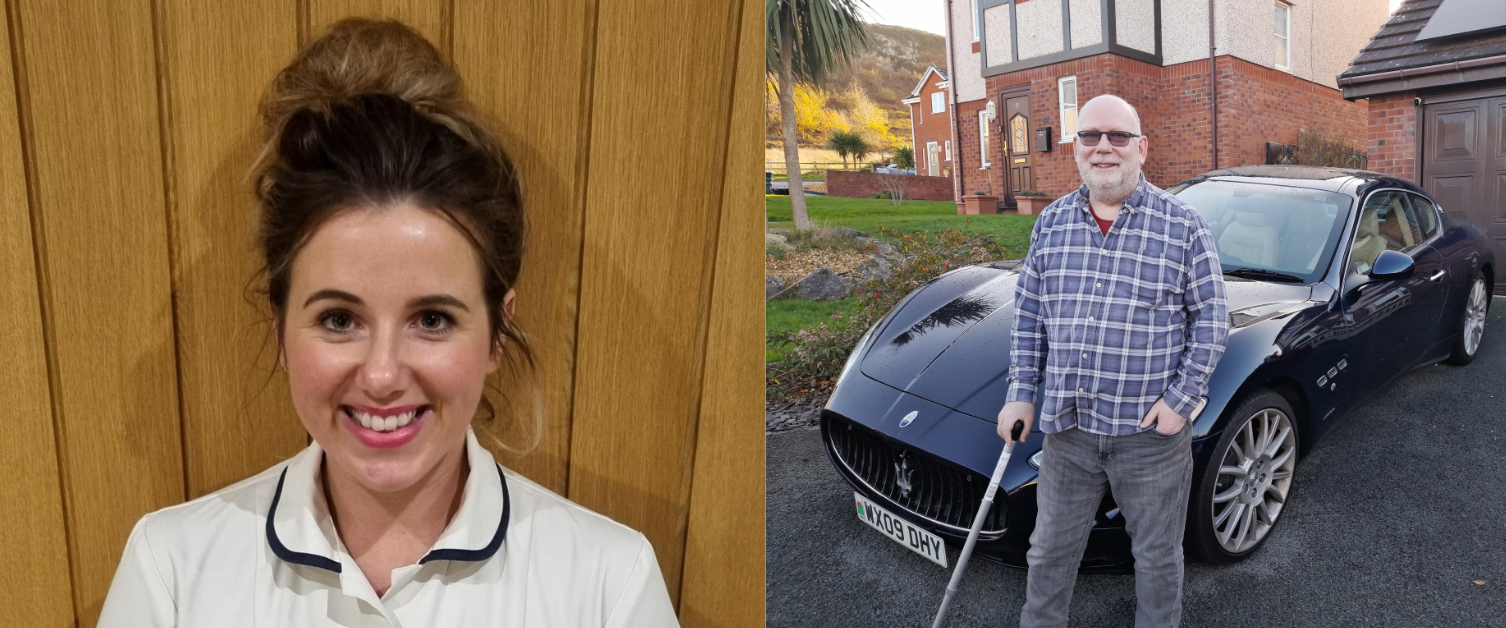 26.01.23
A specialist therapy team helped a former nurse regain his independence after a stroke, by helping him drive his prized Maserati again.
Peter Walton, from Llandudno, feared he would never get back behind the wheel of his pride and joy after suffering a stroke on his 64th birthday.
However, the Early Supported Discharge (ESD) team based at Glan Clwyd Hospital used his love of his car to help motivate the nursing care manager to a remarkable recovery – having left hospital in October using a Zimmer frame.
Strong-willed Peter confounded his family with his progress and took a trip to the doctors in his supercar - just seven weeks after his debilitating stroke.
"I drove myself and it was fine," said Peter. "I felt good about that. I suppose it was one of my markers for being better."
It highlighted a remarkable turnaround for the former nurse of 44 years, who suddenly found he couldn't shower or use the toilet on his own after his stroke.
He said the work of the ESD team, and his ability to recuperate at home, was instrumental in his recovery. Although he still gets very tired – a common side-effect of the condition.
Stroke Service - Betsi Cadwaladr University Health Board (nhs.wales)
Jodie van Heerden, a physiotherapist working with the team, said intensive therapy and Peter's desire to get better, spurred his recovery.
She said: "Peter is motivated and determined. That makes our job a lot easier. Just seven weeks after his stroke he walked outside for approximately 600m with no walking aid and up a gradient. It was amazing.
"He had quite intense input and I don't think he would have progressed to this point without this. Peter can now get into his Maserati. Driving that was his goal and he's been a real pleasure to work with."
His journey started on September 26, as he got ready to go out with his daughter for his 64th birthday.
"I was going upstairs and felt like I was walking on the moon," he explained. "I just lay on my bed. My daughter came round then called her mum, my ex-wife.
"I said I felt wobbly and initially thought I had a migraine. I could feel my face going numb from the top right side to my chin."
Despite an extended wait to get to hospital and on to Ward 14 at Glan Clwyd, Peter could not fault the care and attention he received.
He said: "They were fantastic, brilliant. They lived up to being a specialist unit. I think doctors and therapists came to see me the next morning then sent me for tests.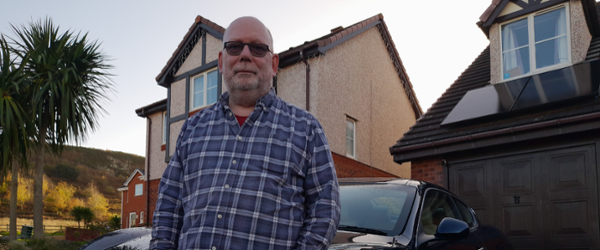 Peter Walton, who suffered a stroke on his 64th birthday in September last year, has made a remarkable recovery with the help of the Early Supported Discharge Team

People in North Wales can now access mental health support by calling 111 - Betsi Cadwaladr University Health Board (nhs.wales)
"I was there for three weeks and Jodie then spoke to me about Early Supported Discharge."
Peter felt nauseous during his hospital stay, couldn't sleep and had severe vertigo. Initially, he couldn't stand up and had pain in his face, which still lingers. He said he felt stressed about the situation he was in.
So the idea of continuing his treatment at home after three weeks of intensive therapy was music to his ears.
"Coming home gave me a lift," he said. "It was like a parting of the Red Sea. It was great. I felt bad for my family because they were visiting every night. You feel like you're a burden because it's a 40-mile round-trip."
Peter explained how improvements were made to his home, such as a stair bannister and adaptations in his bathroom, within hours of his arrival.
During the first fortnight he was visited five days a week by occupational therapists, physios and healthcare assistants. His daughter, a nursing sister and district team leader in Denbigh, also kept an eye on his progress.
He added: "It gives you confidence if the same people are coming in and you get to know them over time. It was a familiar face at the door and my confidence was building."
Physio Jodie explained the benefits of being able to work within people's homes as they recover from a stroke. She said: "Within a patient's home we can see more easily what their goals are - they are more motivated. I have a passion to prevent hospital appointments.
Teenager who almost died from flu thanks Ysbyty Gwynedd staff for saving his life - Betsi Cadwaladr University Health Board (nhs.wales)
"We can give rehabilitation at home and patients do a lot more for themselves, they have to do more, at home. We can really see what's important to the person. It's more fun and more patient centred. I love it."
She revealed Peter was signed off after five weeks intensive support and he's due to have a follow-up appointment in about six weeks time.
Sushmita Mohapatra, stroke consultant therapist and central IHC lead for the ESD programme, explained why home-based therapy is beneficial.
She said: "The concept of familiarising people in their home makes more sense, as this will be their usual environment.
"Intensive therapy over the first few months gives better results in their rehab. Between three months and one year there is heightened plasticity in the brain, which means the brain is able to adapt better than later.
"We use a variety of techniques to help the brain relearn movements, such as mental rehearsal or mental imagery. You imagine picking up a cup and gradually they start to wake up fingers and limbs.
"The brain makes new pathways and reopens those old pathways. It's like trying to divert past a traffic jam and re-establishing that flow of information between the brain and the hand, leg or tongue, for instance."
Peter has certainly benefited from the team's intervention and is now looking forward to life after his scare. He said: "I lost my feeling of being useful to society. Within hours I lost all that confidence and those guys helped me get that back."
Vulnerable people to receive more personalised care through new pilot scheme - Betsi Cadwaladr University Health Board (nhs.wales)