Friendly and compassionate smoke-free officers will help clear the air at North Wales hospitals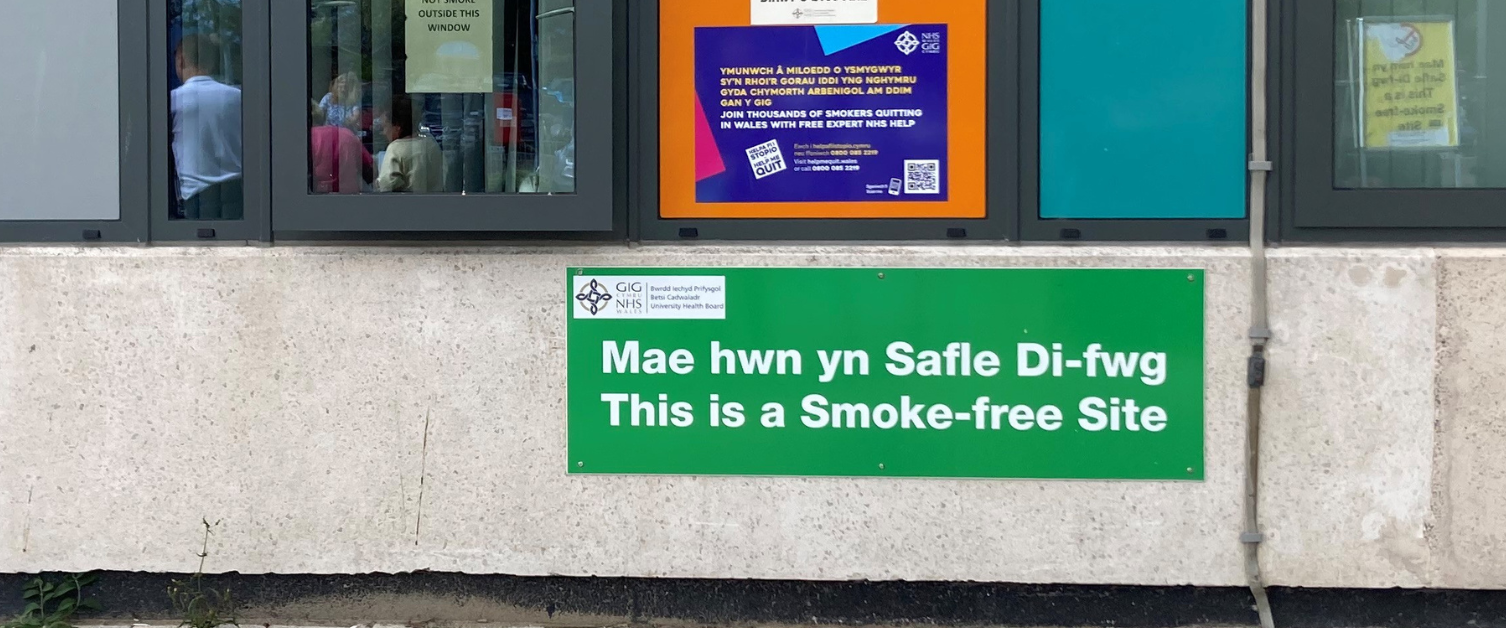 August 23, 2023
Smoke-Free Environment Officers are being introduced at hospitals in North Wales to help patients, staff and visitors keep health board sites clear of harmful tobacco smoke.
The dedicated members of staff will help to reduce smoking on hospital grounds by talking to people who smoke and reminding them about our smoke-free rules.
They will also be able to answer questions from visitors, and direct people to the free support to stop smoking available from Help Me Quit.
The first member of the new team started work at Ysbyty Glan Clwyd this week, with others expected to follow at Wrexham Maelor Hospital and Ysbyty Gwynedd later in the year.
Smoking at hospitals has been illegal since March 2021, following the introduction of new laws by the Welsh Government. Anyone found smoking at any hospital in Wales could be fined £100.
Health board policy also bans the use of vapes or e-cigarettes anywhere on our sites.
Betsi Cadwaladr Executive Director of Public Health Teresa Owen said: "We want our hospitals to be healthy places, and places which promote healthy lifestyles – for our patients, for our staff and for the wider community.
"Smoking is the leading cause of avoidable illness and early death in Wales. We are committed to reducing the damage to health caused by smoking, including from exposure to harmful second-hand smoke.
"We know that many people visiting our hospitals may face difficult or challenging circumstances, so we are asking our new Smoke-Free Environment Officers to approach anyone found smoking in a friendly and compassionate way – and to help them to observe the no smoking rules on our sites, and to seek more support to stop smoking if they wish. Smoking is addictive, but lots of help is available for people who want to quit.
"I hope these new members of our team can support patients and visitors while reducing tobacco smoke at our hospitals, and making a contribution to tackling preventable disease here in North Wales."
While the Smoke-Free Environment Officers do not have the power to issue fines, they will approach people found smoking and ask them to stop or move off the hospital grounds.
They will also work closely with local authority teams – who do have the ability to issue financial penalties, and may visit hospitals to enforce the law.
🔵 Help Me Quit offers free one-to-one support from a stop smoking expert either in person or over the phone, plus free stop smoking medicines worth up to £250.

🔵 Stay up to date with news from Betsi Cadwaladr University Health Board by signing up to our mailing list.