Exemplar team's prestigious award nominations for battling biggest cause of preventable hospital deaths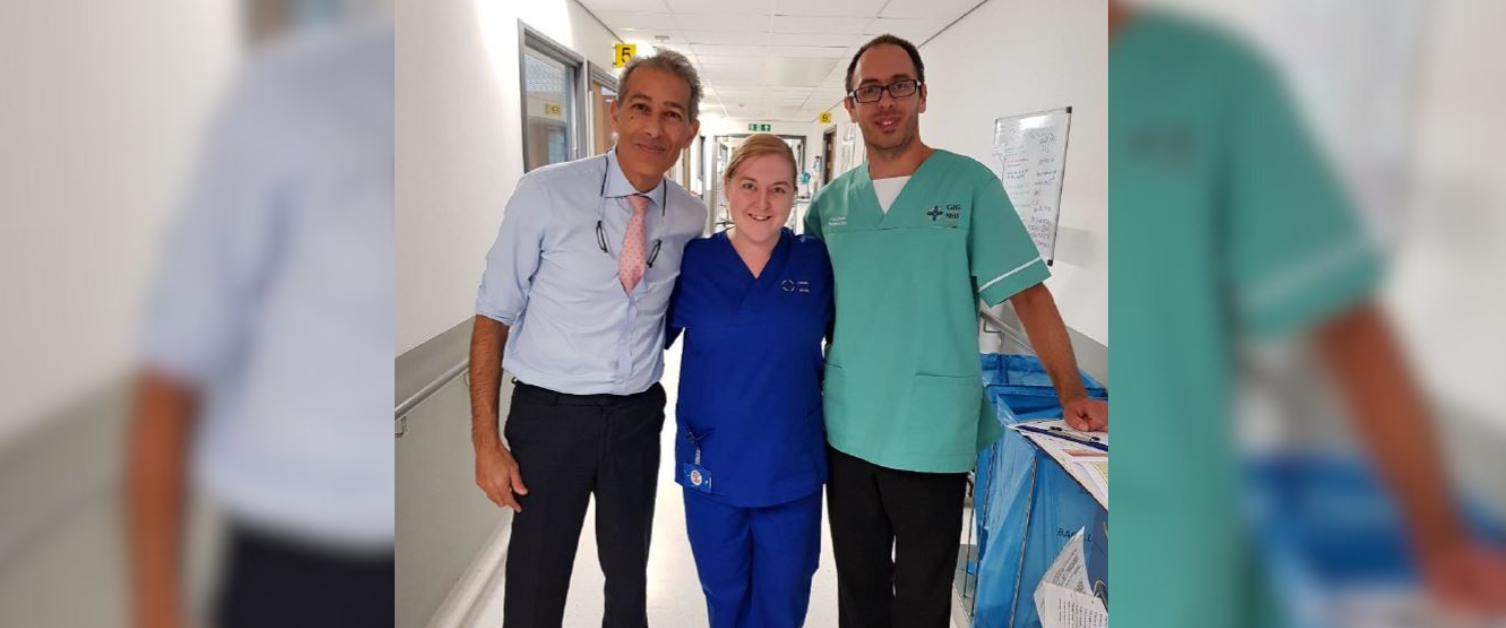 23.08.2023
An exemplar multi-disciplinary team of medical staff has been nominated for two awards which recognise their commitment to reducing the biggest cause of preventable hospital deaths.
The APPLE scheme is designed to reduce the number of hospital acquired thromboses (HAT), otherwise known as blood clots, and has been shortlisted in the Patient Safety category by the prestigious Health Service Journal (HSJ).
In addition, the team recently discovered it had been nominated for the Improving Patient Safety award in the NHS Wales awards.
Thromboprophylaxis specialist nurse Christine Welburn has been leading the project. She said: "These nominations are a reflection of how hard the clinicians are working. My team has led on this but without the support of the clinicians we wouldn't have been nominated.
"We just want this to shed light on how important this work is and how hard we are working to protect our patients."
Friendly and compassionate smoke-free officers will help clear the air at North Wales hospitals - Betsi Cadwaladr University Health Board (nhs.wales)
Her team's work centres around assessment, education and observation of hospital patients from admission to one of our sites across North Wales.
The project also educates clinical staff in all disciplines about the danger of veinous thromboembolisms (VTE), which include deep-vein thromboses (DVT) and pulmonary embolisms (PE).
These refer to blood clots which form in a vein and wholly or partially obstruct blood flow. They affect tens of thousands of patients each year in the UK - and kill more people than sepsis.
A hospital acquired VTE is one which occurs after admission to hospital or within 90 days of discharge. These blood clots are the number one cause of preventable hospital deaths.
Up to 60% of VTEs diagnosed worldwide are classed as hospital acquired. Prevention of as many of these as possible is the focus of Christine and her multi-disciplinary colleagues.
"Some patients come in with signs of a blood clot and we treat from admission," continued Christine, who is based at Glan Clwyd Hospital.
Project SEARCH learners celebrated as new YGC intake opens - Betsi Cadwaladr University Health Board (nhs.wales)
"Hospital acquired is either non-preventable or potentially preventable HAT (hospital acquired thrombosis). That means we could have contributed to that thrombosis.
"Our job is about education and reviewing to make sure we stop preventable thromboses occurring."
Since adopting the APPLE principles, hospital acquired blood clots have reduced by more than half and there have been none this year.
Christine paid tribute to colleagues Mr Amir Hanna, clinical lead for thromboprophylaxis in the Central Integrated Health Community (IHC), Haimon Chaudrhy, Central IHC's lead pharmacist, and Dr Mick Kumwenda MBE, Glan Clwyd Hospital's clinical director for medicine, for their support of the initiative.
Buoyed by their results, the team applied for VT National Exemplar status on behalf of the whole health board, an accreditation by King's College, London. They received confirmation it had been granted in May this year.
Only one other health board in Wales has attained this status and BCUHB are just the 33rd in the UK to gain the accolade.
Christine and her colleagues will find out whether they have won the NHS Wales award on October 26, in Cardiff.
However, they will have to wait a little longer to find out whether they've won an HSJ award. That ceremony takes place on November 16, in London.
Keep up to date with health board news by signing up to our mailing list Sign up (es-mail.co.uk)