Project SEARCH learners celebrated as new YGC intake opens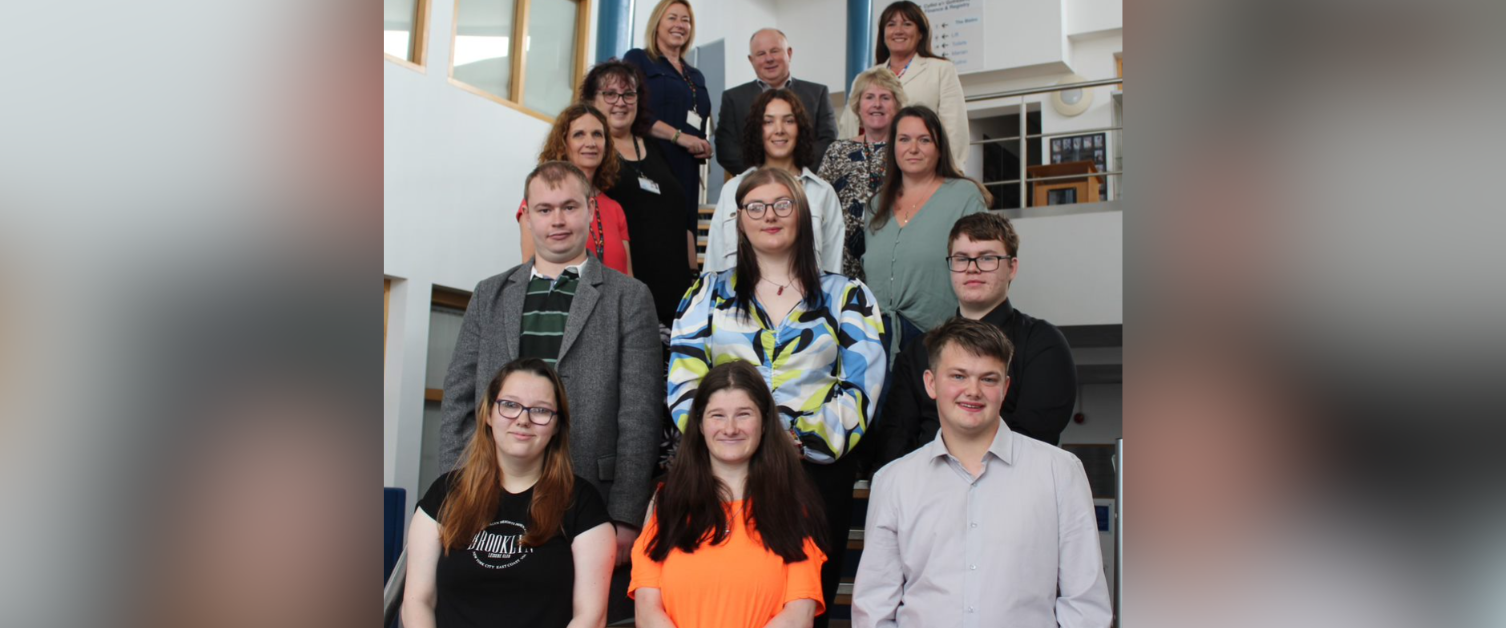 In a heart-warming display of achievement and determination, the recent Project SEARCH interns stood proudly alongside their families in a ceremonial event at Coleg Llandrillo. This marks not only their accomplishments but also the availability of fresh opportunities for education leavers with learning disabilities or autism.
Coby Barrows, Dylan Hardwick, Angharad Jones, Sophie Skinner, Adam Whiteley, and Rachel Williams—these individuals have successfully completed their internships at Ysbyty Glan Clwyd in Bodelwyddan. Each of them has either secured employment, embarked on supported shared apprenticeship schemes, or embraced the Step Into Work Programme, showcasing the versatility and potential of the initiative.
Certificates and glass trophies were presented to the interns at the Rhos campus. The Project SEARCH programme, a year-long internship designed for young education leavers with learning disabilities or autism, has proven instrumental in nurturing the skills necessary for a successful transition into the world of employment.
Project SEARCH is a partnership between Coleg Llandrillo, BCUHB, Agoriad supported employment agency, and Project SEARCH itself. The work experience at Glan Clwyd Hospital provides an insight into the hospital environment, while Coleg Llandrillo's Independent Living Skills department takes charge of the educational aspect and student welfare. Agoriad steps in with its job coaching expertise, imparting the skills specific to various roles and providing continuous support.
The initiative has been praised from the learners themselves, who have shared their experiences in a YouTube video - https://youtu.be/DO7x26Xx6Lw.
Coby, who worked in the catering department at Ysbyty Glan Clwyd, said: "I've achieved a lot coming here. I've been offered a contract and I've made a lot of new friends and met a lot of new people."
Angharad, who is working towards becoming a healthcare support worker, said: "I've achieved a lot. I've achieved my own independence and confidence working in a team. What I enjoy about this role is I get to have a work family which supports me with everything. Looking after patients, with each day it can be something new."
Sophie said: "I've enjoyed being part of the domestic team. I've achieved getting to this point independently, I've worked hard and my confidence has grown a lot as well."
Rachel also worked in the domestic team, and said: "I've achieved working independently and working in a team. I've gained a lot of confidence and I've learned to believe in myself. I've enjoyed meeting new people and working in a big environment."
Adam, who worked as a porter, said: "Before coming here my confidence levels were very low, I was unmotivated. Ever since I came here my confidence levels have been going up and up with each day."
"It's very good exercise, I do lots of walking because I do portering, and lots of manual handling."
Dylan worked in receipts and distribution. He said: "The thing I've enjoyed about Project SEARCH is working with my colleagues."
The awards ceremony was opened by Sam McIlvogue, Assistant Principal, Coleg Llandrillo, with Agoriad CEO Arthur Beechy giving a speech praising the achievements of the learners.
The certificates and trophies were handed out by Mandy Hughes, Workforce Modernisation Manager at Betsi Cadwaladr University Health Board (BCUHB).
Jane Myatt, Programme Area Manager for Pre-Vocational Studies and Independent Living Skills at Coleg Llandrillo, said: "The Project Search initiative has provided an excellent opportunity for the six young people, resulting in them gaining paid employment opportunities both within and external to the health board.
"The learners have all grown in confidence and become very responsible young people working in a very busy environment with ongoing support in place to support their additional learning needs."
Jason Brannan, Deputy Director of People at BCUHB, said: "I am delighted to celebrate the interns and their families to recognise the amazing achievement they have all made.
"We want to be an organisation that supports our community, and Project Search has allowed the interns to gain knowledge and skills that prepare them for working life.
"A number of interns are now employees at the health board, and I am looking forward to seeing them continue to grow and develop."
Agoriad's Chief Executive Arthur Beechy said: "Agoriad feels proud to be involved with the GLLM P4 Project SEARCH supported internships and to witness the success the interns have had in their quest to gain employment.
"Our thanks go to Jane, Gwen and Rhian of the college, Mandy and Tracey of BCUHB for the support and facilitation roles they have played in enabling the interns to be successful." The impact of Project SEARCH transcends its immediate realm. Nationally, unemployment rates for adults with disabilities/autism soar to around 90 percent.
Project SEARCH is a beacon of hope, equipping young adults with learning disabilities or autism with skills and behaviours that pave the way for meaningful, paid employment. This not only influences their immediate career trajectories but also has a positive ripple effect on their long-term health and social inclusion.
As the program continues to illuminate paths and transform lives, the success stories of Coby, Dylan, Angharad, Sophie, Adam, and Rachel stand as a testament to the power of dedication, collaboration, and the belief in the potential of every individual. Through Project SEARCH, barriers are dismantled, and doors are swung open, ensuring that no talent goes untapped, and every journey is celebrated.