'Amazing' volunteer bikers delivering donated breast milk are 'saving premature babies' lives' says neonatal nurse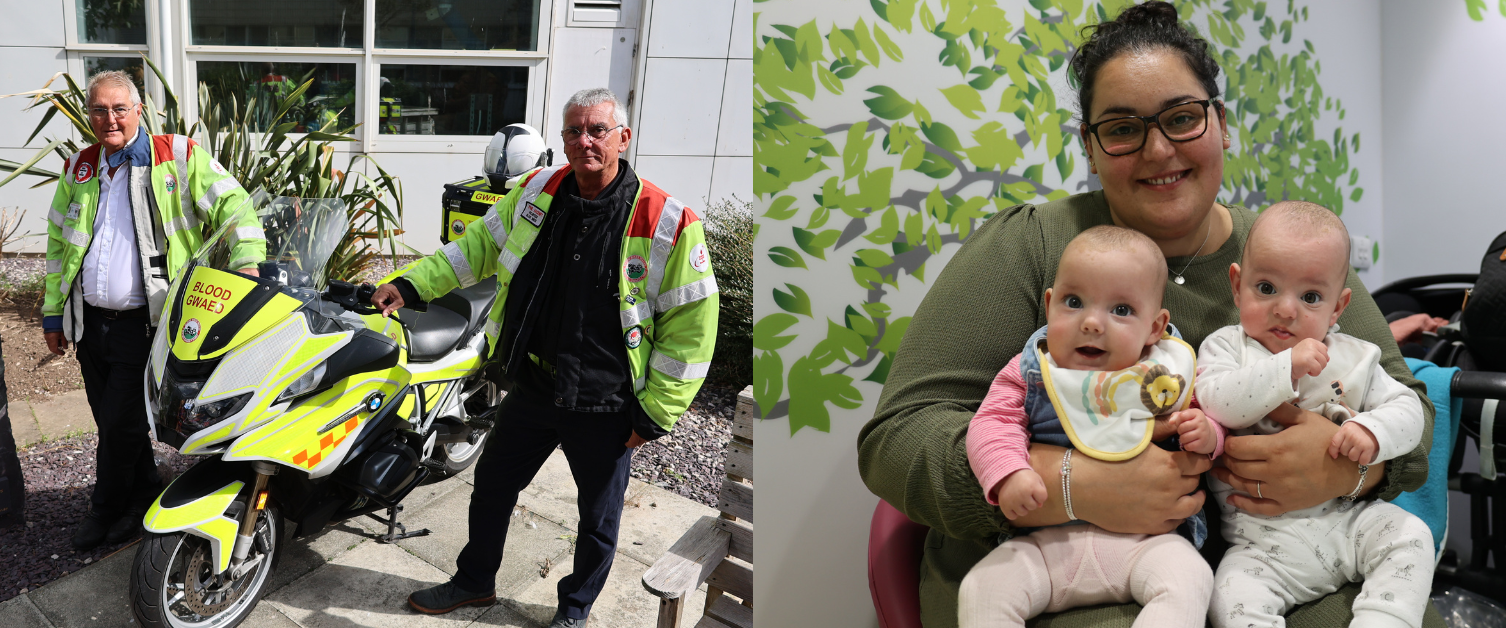 20.09.2023
A set of dedicated volunteer bikers, delivering donated breast milk for preterm babies, are lifesavers according to a senior nurse.
Two of Blood Bikes Wales' big-hearted volunteers attended Glan Clwyd Hospital's neonatal unit to show off their bikes and talk about the work they do.
As well as snaking through North Wales and beyond collecting and delivering blood products, bikers like Phil Hackney and David Dean drop-off and pick up medicines and even donated breast milk.
It is vital for premature babies to fight infection and give them the best possible start in life.
Julie Grocott, a senior staff nurse on the neonatal unit, was full of praise for volunteers such as Phil and David who help deliver it to young mums and their babies.
Neonatal Service - Betsi Cadwaladr University Health Board (nhs.wales)
She said: "Those people riding the blood bikes are volunteers and it's pretty amazing what they are doing for us. In our area 30% of their work is transporting breast milk.
"In the first few days after a premature birth it can be difficult for mothers to produce their own breast milk and some cannot produce milk, so the availability of donor milk takes the pressure off them."
Breast milk is stored by donor mums and frozen. Blood Bikes Wales volunteers then collect it and take it to the milk bank in Chester.
It then pasteurises the milk and refreezes it, ready for delivery by the kind-hearted bikers to wherever it's needed.
Neonatal units such as Glan Clwyd's can order supplies for mums of preterm babies who may not be producing their own yet because of their child's early birth.
"We have some mothers on the unit who have received donated milk and they are donating it themselves," she said.
"People are doing it because they want to do it. There's no financial gain for anyone involved. They do it because they feel it's the right thing to do."
"I wasn't expecting to come into a hospital and leave with a friend" – Teen who missed school prom and family holiday due to injury praises care he received at Ysbyty Gwynedd - Betsi Cadwaladr University Health Board (nhs.wales)
Breast milk is not just a vital source of nutrition for preterm babies, it's a natural medicine which protects them from disease.
"It is the most normal food for new born babies," explained Julie. "It protects against infection because it is a living milk and cannot be replaced by any other type of milk. It literally saves lives."
One of the conditions it guards against is necrotising enterocolitis, a serious infection of the intestine which can be life threatening.
She added: "In the first few days after a premature baby is born it can be difficult for mums to produce milk. So donated breast milk helps change the microbiome in the baby's gut."
Microbiomes are natural organisms which live inside our bodies. An imbalance can lead to disease and breast milk is a great preventative medicine.
Some mothers don't think they can produce their own breast milk but the majority of women can with the support of people around them - and if society encourages them to do so, believes Julie.
Local interns to learn new skills in the Flintshire public sector - Betsi Cadwaladr University Health Board (nhs.wales)
Research has also shown breast feeding lowers a mother's risk of ovarian and breast cancer, as well as burning around 500 calories a day.
Unicef states the NHS would save £50m each year, just by a reduction in childhood illnesses, if breastfeeding rates increased.
Julie explained how the immune system boost provided by breast milk doesn't end when children stop receiving it.
"Receiving breast milk sets the tone and, hopefully, these babies will carry on with breast milk in the future," she said. "The more they have, the better it is.
"In later life we are less likely to have chest infections, urinary infections, infections of the blood, ear infections and we are less likely to have gastroenteritis if we have breast milk as a baby.
"When you see women going from wondering whether they can produce milk to producing milk for their babies it's so satisfying."
Keep up to date with health board news by signing up to our mailing list Sign up (es-mail.co.uk)