"They really listened to me, and made breastfeeding work for us" – specialist support team helps hundreds of new mums and newborns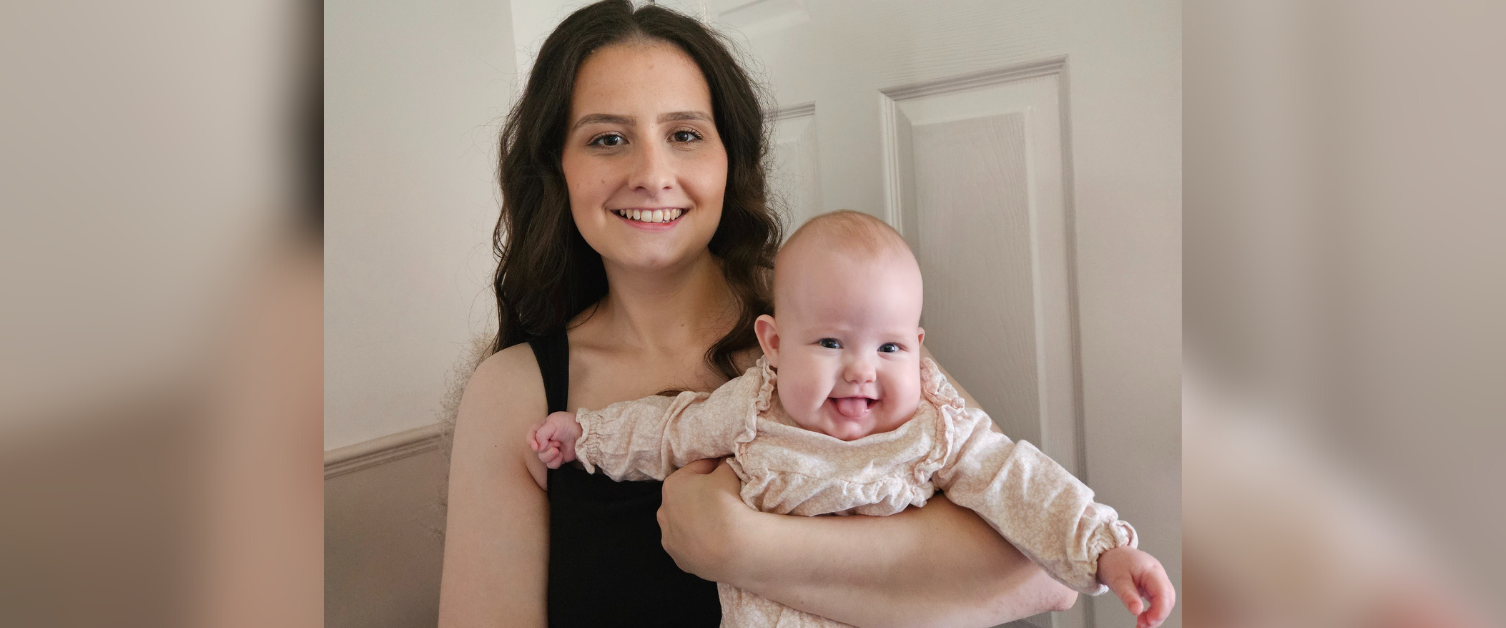 August 1, 2023
New mums and newborns are being offered extra support with breastfeeding during their precious first few days together as part of a successful pilot project.
Wrexham Maelor Hospital's specialist infant feeding team has backed hundreds of families with focused, intensive breastfeeding help and practical guidance.
The initiative has supported more mothers and their babies throughout Wrexham and Flintshire to develop the skills they need to breastfeed confidently.
Now the pilot project has been extended to Ysbyty Glan Clwyd, where early results have also proven encouraging.
Seren Young is one of the babies to have benfitted. Now flourishing, little Seren was born by emergency Caesarean section six weeks early after almost making her arrival into the world breech. The 5lb 5oz tot stayed in hospital for 15 days getting treatment for jaundice, extra feeding support and help to regulate her temperature.
Mum Lisa Bithell, from Flintshire, praised the infant feeding team for their "amazing" impact during the first two weeks of her daughter's life.
"I had been discussing my birth plan with my midwife and I had been thinking about breastfeeding, but it wasn't something that I really knew much about – and then the next day I went into labour and had to rush into hospital," 29-year-old Lisa said.
"When Seren came early I thought I might not have the chance to breastfeed. At first, she had some trouble breathing and was taken to SCBU – so we didn't get to have time skin-to-skin."

"Seren hadn't developed that suckling reflex and was on a feeding tube for a while," Lisa said. "I didn't know how to breastfeed and really thought I wouldn't be able to.
"But the team were really supportive and patient, and really flexible. They helped me so much – I think if it hadn't been for them I don't think I would be breastfeeding now. You think it is something that should come naturally, but it was hard work at first and the help from the infant feeding team was vital.
"They were there every morning to support me, encouraged me to keep on going and kept me positive when things were difficult. They really listened to me, and made breastfeeding work for us when Seren was ready to have the feeding tube taken out."
🔵 "Breastfeeding could be seen as a treatment" – leading neonatal unit supporting more mums to feed pre-term babies
Dedicated help
The project started in Wrexham in early 2021, and offers dedicated help with breastfeeding delivered by a lactation qualified infant-feeding lead midwife and three specialist infant feeding support workers.
More than 70% of mums supported by the team leave hospital breastfeeding their child. Average breastfeeding rates in North Wales are around 50%.
Infant feeding support worker and team member Ellie Morgan said it was a privilege to work with families as they get to know their newest arrivals.
"The most important things we give the mums we work with is time and confidence – a maternity unit is really busy, and the NHS is really busy, but the way we are able to help mums is by listening to them, and giving them time and the right information to support them," she said.
"We get some mums coming through who find starting to breastfeed difficult, but we are able to show them how they can feed their babies. We listen to the family and to their needs, and then look at ways we can support them.
"And lots of mums have those breakthrough moments. Some find it hard, but it's really rewarding to be able to give them some support and see things fall into place for them – and then they think, yes I can do this."
Breastfeeding has many long-lasting health and wellbeing benefits for mothers and their babies – including protecting against common infections and helping to reduce the risk of some serious illnesses.
While many hospitals offer support with breastfeeding, Wrexham Maelor was the first in Wales to trial a fully-integrated and midwife-led infant feeding team within the maternity department.
Committed to helping mothers who want to breastfeed
Betsi Cadwaladr Infant Feeding Coordinator Sharon Breward MBE said the innovation had led to a big improvement in the quality of care available for mothers, newborns and their families.
The team is being piloted in areas with lower levels of breastfeeding as part of the health board's Infant Feeding Action Plan, after research with mums in North Wales showed many wanted more support.
"We are committed to helping mothers who want to breastfeed their babies – and want to do more to encourage and support breastfeeding throughout North Wales," Sharon said.
"This includes giving mums more help to learn and practice the skills they need to breastfeed confidently and successfully when their baby arrives, and offering more support for mums to continue breastfeeding in the community."
🔵 Stay up to date with news from Betsi Cadwaladr University Health Board by signing up to our mailing list.