Seren Betsi Star Stephanie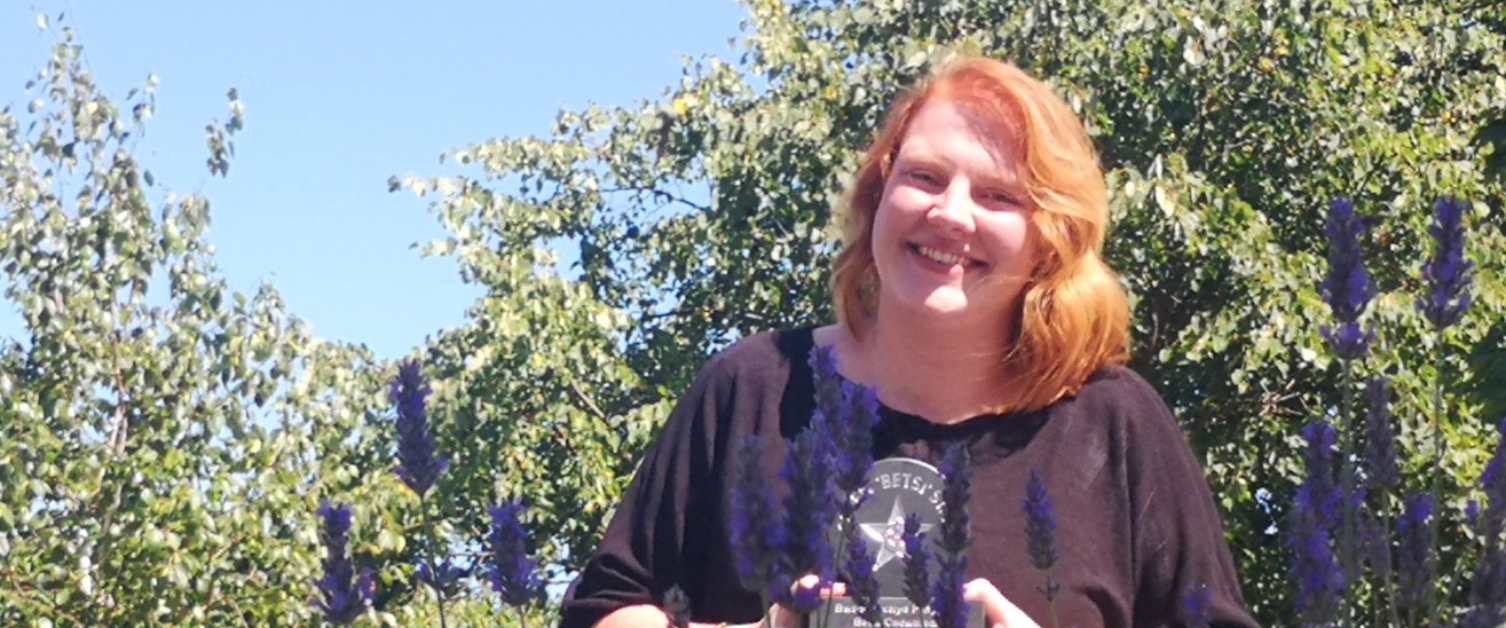 19.08.22
A Junior Doctor who has given her own time to help school children in North Wales begin their medical studies has been recognised with a surprise award.
Stephanie Rees, a clinical fellow in the Intensive Care Unit of Ysbyty Glan Clwyd, has received a Seren Betsi Star award for her work on the Widening Access to Medicine scheme. This scheme runs in concert with the Welsh Government 'Seren' Network and is designed to help state school children in North Wales realise their full potential, devoting her own time to the programme every Wednesday evening in term-time, for the last three years.
The Seren Betsi Star is awarded in exceptional circumstances to North Wales NHS staff, and recognises a member of staff, a team or a volunteer who has gone above and beyond achieving the Betsi Cadwaladr purpose of 'Improving Health and Delivering Excellent care'.
Consultant Anaesthetist Dr John Glen presented the award during a session at the lecture theatre where Stephanie, unaware of the impending surprise, was attending with her peers.
Tywyn nurse in the running for special community award - Betsi Cadwaladr University Health Board (nhs.wales)
The scheme provides support to eight groups of Year 12 school students and twenty Year 13 students who receive one-to-one interview practice.
Speaking after receiving her award Stephanie said: "It was a complete surprise to win the award. Support like this is very important for prospective medical students in North Wales.
"I came from an environment where my parents didn't go to university nor my grandparents, and so I didn't really know how to go about a medical school application.
"The number of doctors that come out of North Wales is lower than the number in the south, so schemes like these are incredibly important for getting the best out of our young people and keep them working in this area which is exactly what we want."
Dr Glen said: "The scheme has been a great success. Every student who has completed the programme has received an offer to study medicine at university. This is a remarkable achievement.
New stroke rehab unit opens to patients at Ysbyty Eryri in Caernarfon - Betsi Cadwaladr University Health Board (nhs.wales)
"In 2021, the Welsh Government recognised the value of the programme by committing to a full-time administrator from 2022 – basically acknowledging that Stephanie has been doing a full-time job on top of being a Junior Doctor.
"Last year Stephanie adapted the delivery of the scheme due to the restriction placed of face-to-face meeting. She moved the entire syllabus onto Microsoft Teams, an online video conference platform.
"This has been a huge piece of work, running the programme on Teams has meant mediating eight simultaneous meetings every week, creating the content for each week (small group work, lectures, quizzes) and marking essay assignments. Stephanie has consistently led and completed work and supported others."
The positive impact of Stephanie's efforts on young people who have ambitions of a medical or dentistry career has been recognised by Welsh Government. The scheme has been extended to Ysbyty Gwynedd and Wrexham Maelor Hospital, where Stephanie has trained staff there to organised and run their own programmes using the materials and methods she devised.
Dr Glen added: "to see what Stephanie has achieved so early in her career in terms of the development of the programme is actually astonishing and she deserves this recognition for this important work. This work will ultimately bear fruit as we see home-grown talent begin to take up medical posts in North Wales, securing the future of healthcare in the region."