Minister gets a musical treat on visit to Llandudno's Covid-busting IV ward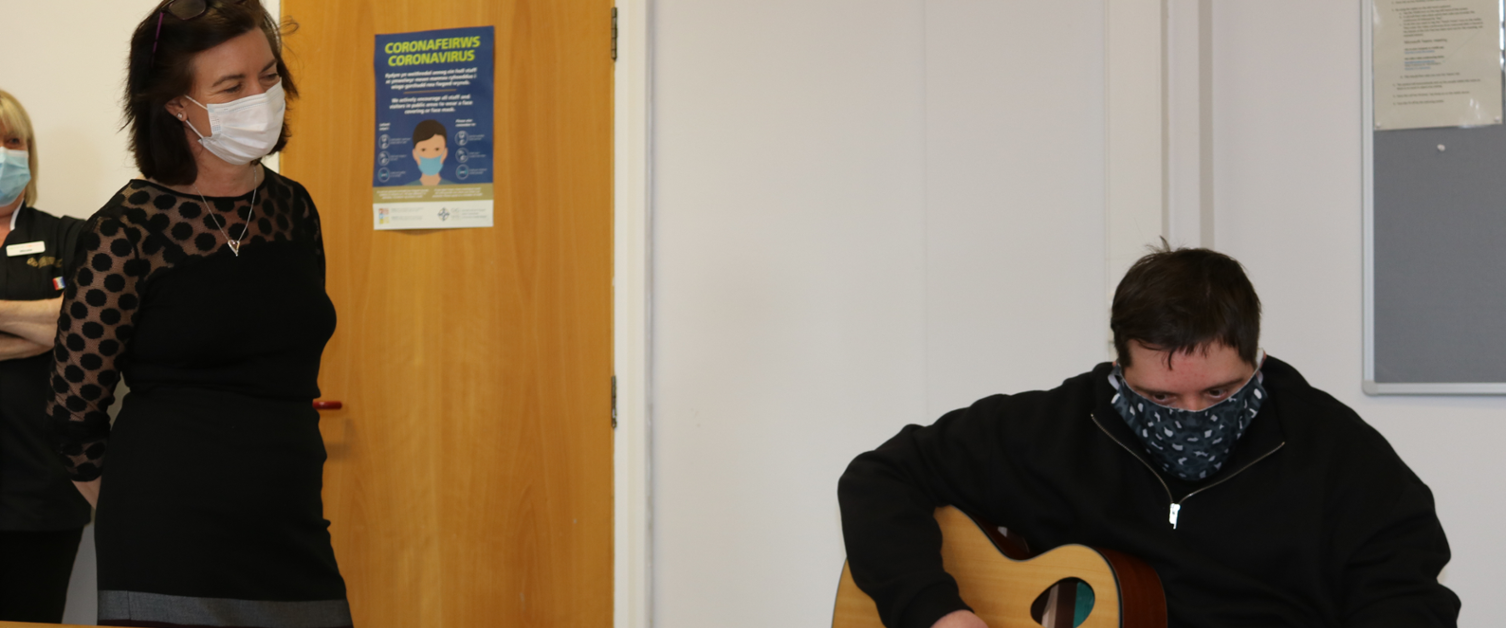 18.03.22
A young musician who received an innovative Covid-19 treatment at a Llandudno hospital struck just the right chord during the Welsh health minister's recent visit.
Luca Bradley, 22 and from Llandyrnog, was one of the first patients in Wales to benefit from an infusion of Sotrovimab – a neutralising monoclonal antibody (nMAB).
It's a novel treatment for those who are immunosuppressed and contract Covid-19 - and needs to be administered within five days of a positive PCR test.
Llandudno's intravenous (IV) suite has delivered more than 100 treatments, with in excess of 155 dispensed across North Wales since December 16.
Musician Luca bangs the drum for new Covid treatment aimed at immunosuppressed patients - Betsi Cadwaladr University Health Board (nhs.wales)
Luca, who was born with Down's Syndrome, was so impressed with the care he received from IV ward sister Corinne Hocking and her staff he asked if he could play one of her favourite Beatles songs as a thank you.
With his friend and music teacher Ben McLellan he played 'Blackbird' for Corinne and even managed an impromptu rendition of the Fab Four's 'Here Comes The Sun' for minister Eluned Morgan MS.
Corinne said: "I was overwhelmed with the song Luca played - it was heartfelt and so touching. I shed a tear. Luca and his friend Ben played and sang beautifully.
"The minister was impressed with the service we provide in Llandudno and the provision of the nMAB service. She would like to see it replicated throughout Wales - what a compliment.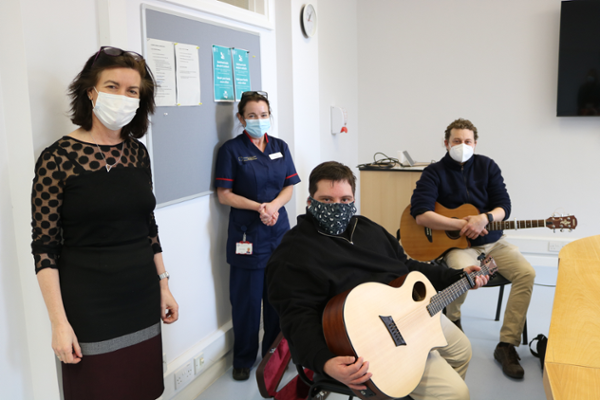 (L-R) Health and social services minister Eluned Morgan, IV ward sister Corinne
Hocking, Luca Bradley and Ben McLellan
"Luca was a superstar and I was so touched. It is a moment I will never forget – it was so special."
Luca's mum Pip said her musical son was "thrilled" to see Corinne and her team again.
She said: "Luca was really pleased to go and see Corinne and say thank you for what she and the team had done for him.
"It's just so nice to do something for the team and the staff there after what they have done for everybody.
"We were only able to be there because of what the team had done. Luca is more than happy to talk about his experience if it helps other people and the minister was very nice."
Mrs Morgan apparently found the visit to the IV ward "really interesting" and also took in a tour of the Bridging Service.
The idea sees Llandudno Hospital take patients from acute sites for up to 96 hours, as long as they have a care package in place.
National robotic assisted surgery programme to be established in Wales - Betsi Cadwaladr University Health Board (nhs.wales)
The minister's visit followed a trip to Ysbyty Gwynedd to see the new robotic assistant, which will assist with some complex cancer surgeries.
The unit in Bangor is the first in Wales and means patients in the region will no longer need to travel to England to receive robot-assisted surgery.