Musician Luca bangs the drum for new Covid treatment aimed at immunosuppressed patients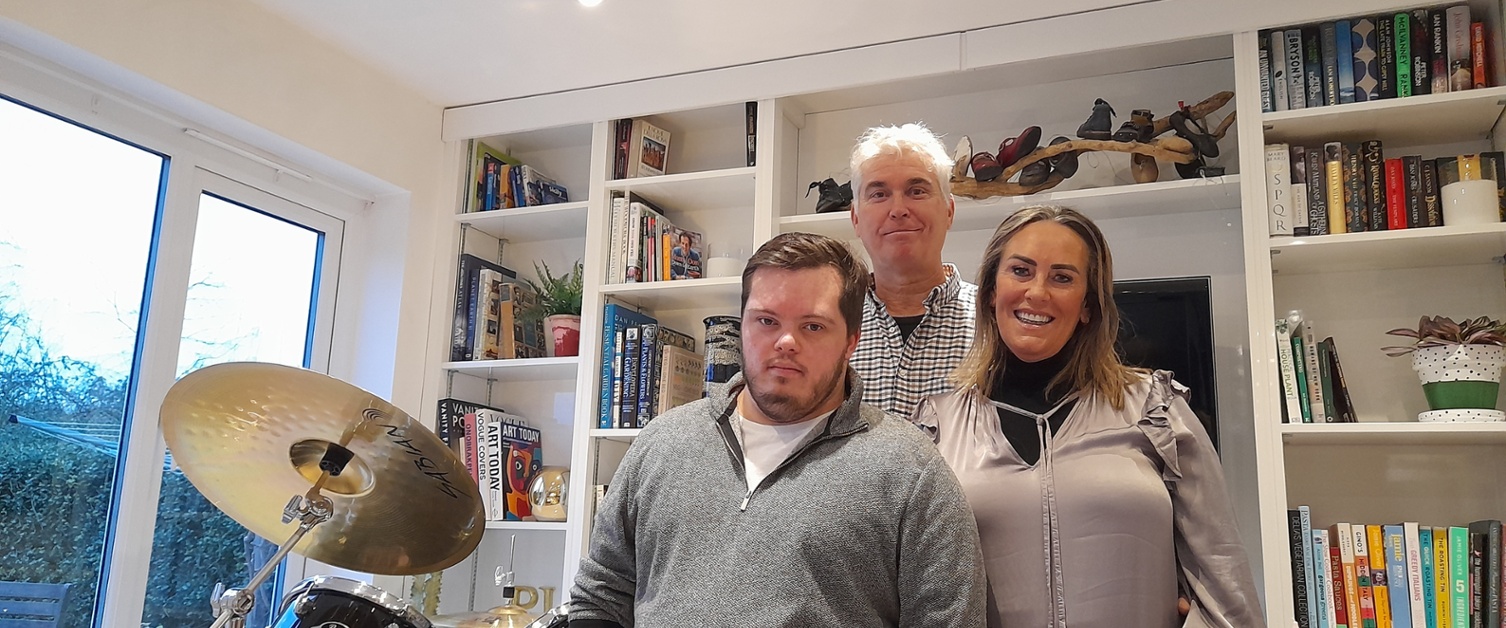 25/01/2022
A young musician has urged immunosuppressed patients to accept a revolutionary medication - designed to treat vulnerable people with Covid-19 - if it's offered.
Luca Bradley, from Llandyrnog, was born with Down's Syndrome and learned he had contracted coronavirus on December 21 – the day he was booked in for his booster vaccination.
His mum Pip had been frantically trying to get his jab brought forward when the family got the worrying news.
However, Betsi Cadwaladr University Health Board's nursing and pharmacy teams were advised of Luca's positive test by the Welsh NHS and sprang into action within 24 hours.
His mum Pip explained how the treatment would work to Luca, who had heavy cold symptoms and a persistent cough.
He then agreed to undergo an intravenous infusion of new biological drug sotrovimab, which is available for suitable patients who are immunosuppressed, at Llandudno Hospital.
Within two days of receiving it, musician Luca's symptoms had gone and he was back playing his drums, bass guitar and ukulele.
The 22 year-old, who assists with music lessons for primary school pupils and has gigged with his friend Ben on a number of occasions, gave the procedure his seal of approval.
He said: "I would tell people in my situation to get the treatment – it made me feel better quite quickly."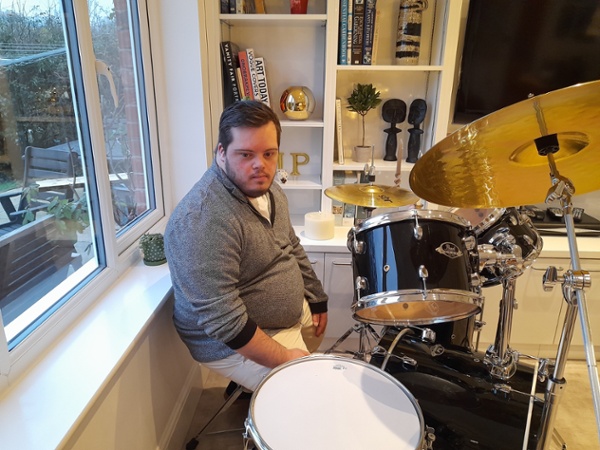 Luca Bradley back behind his drum kit at home in Llandyrnog, after his successful nMAB treatment

Pip Bradley said: "They said there was a five day window in which to give the treatment to Luca.
"Corinne Hocking, the sister on Llandudno's Hospital's IV suite called and she was lovely. She said this stuff (sotrovimab) was hot off the press.
"We went the next day and Luca responded well. He understood he needed to have this treatment and we were just so grateful."
"It was a massive relief," added Pip. "It really, really made a big difference to us as we didn't know what to expect.
"Luca was very frightened when he got Covid but Corinne was amazing and he had more than just the treatment – all of his fears were allayed."
Sotrovimab is a neutralising monoclonal antibody (nMAB), a synthetic protein which mimics the body's natural antibodies and neutralises the coronavirus's spike proteins.
The treatment, which must be administered within five days of a positive test, is given via infusion into a patient's arm in local hospitals at Llandudno, Ysbyty Alltwen or Wrexham.
It takes half an hour to infuse and patients have to wait for another half-hour period, to make sure there are no reactions, before going home.
Since December 16 the health board has administered more than 90 treatments, of which in excess of 40 were conducted at Llandudno Hospital.
Nicky McLardie, Betsi Cadwaladr's central area head of nursing for intermediate care and specialist medicine, said initial results had been "extremely encouraging".
She said: "In December Welsh Government asked us to give this treatment to people who were clinically extremely vulnerable and had contracted Covid-19.
"They wanted the service to be given in a community setting before patients became ill. We worked very closely with our pharmacy team and pharmacies are monitoring the outcomes."
Nicky, who has been a nurse for more than three decades, revealed she had a real understanding of the fears of immunosuppressed patients', after undergoing two liver transplants herself – the latest in 2020.
"The nMAB treatment is a life saver. Before this, patients in these categories would be terrified if they got Covid – they've been really scared.
"I have that empathy and fear of getting something like Covid. If we can provide this treatment close to home, on the same day, it calms those fears."