Ysbyty Gwynedd team praised for saving young boy's vision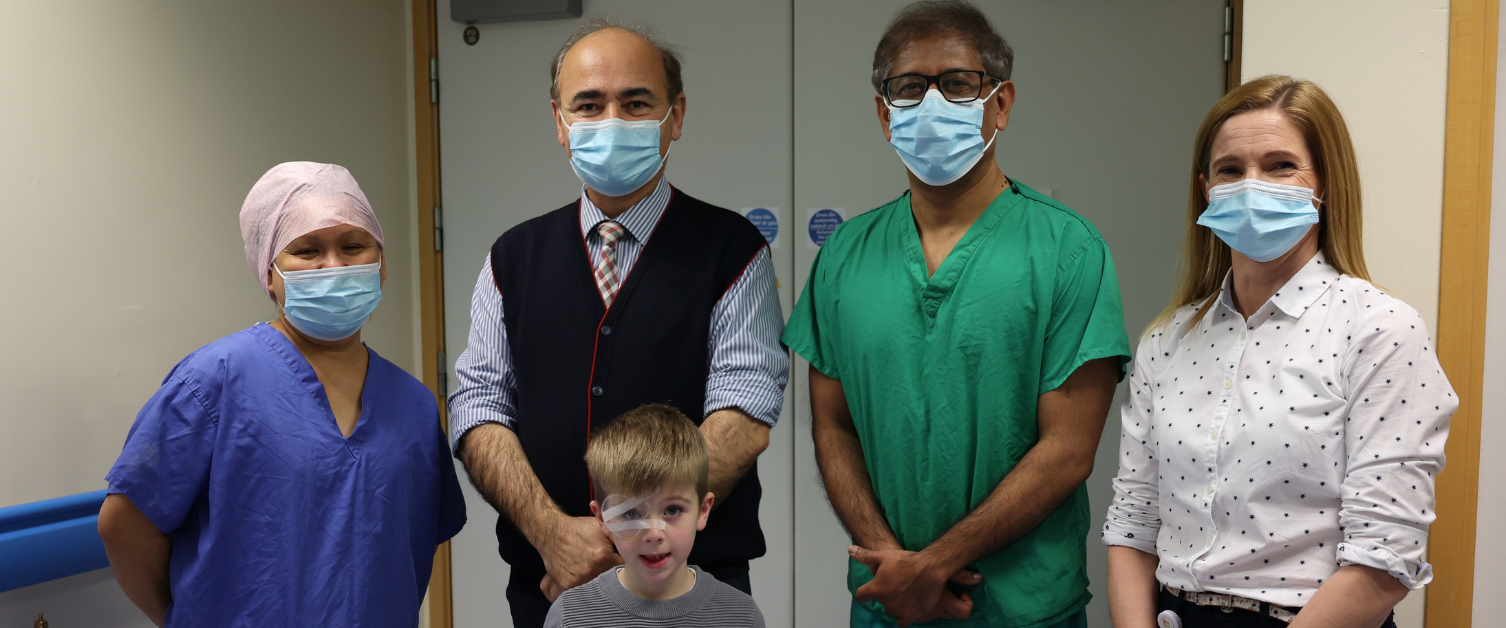 13.01.23
A mum has thanked the team at Ysbyty Gwynedd for saving her young son's vision after a freak accident on Christmas Eve.
Five-year-old Theo was happily playing his computer game when a glass dish slipped off the worktop and shattered, causing a shard of glass to perforate his right eye.
His frantic parents rushed him to the Emergency Department following the incident where he was immediately sent for a CT scan.
His mum, Cara Williams said: "We arrived in the Emergency Department mid-afternoon and seen very quickly which we were grateful for as it was so busy.
"We were so worried at that time as we thought he was going to lose his sight but Dr Pete Williams and Dr Michal Washington were fantastic in providing immediate care so quickly and kept us in the loop as to what was happening."
After the initial eye examination and receiving the CT results, the medical team confirmed that Theo needed to undergo urgent surgery to save his sight in the injured eye.
Site Manager Clare McGrath immediately made contact with Consultant Eye Surgeon Mr Syed Amjad to explain the situation and arrangements for emergency eye surgery were put into motion.
Instead of opening presents, Theo was whisked to emergency theatre on Christmas morning.
Mr Amjad said: "Little Theo was in a very serious situation and needed urgent eye surgery. Without urgent surgical treatment Theo would have lost vision entirely in his right eye.
"The Anaesthetic team prepared Theo for surgery and he was prioritised so we were able to make sure this surgery happened as quickly as possible – time was of the essence.
"The surgery took around two hours, the perforation in the eye was repaired and stitched."
Theo spent the next few days on Dewi Ward (Children's Ward) where he was monitored by healthcare staff on a regular basis.
Thankfully, the surgery was a success and almost 100 per cent of Theo's vision has now returned to his right eye.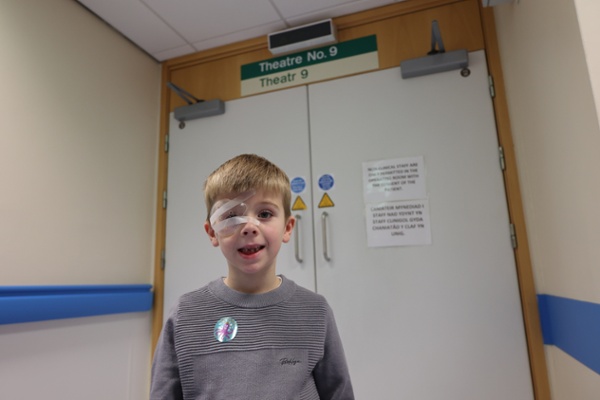 He recently visited Ysbyty Gwynedd for a follow up appointment and to meet some of the team who played a part in saving his sight.
"We cannot thank the hospital staff enough as a family for what they have done for Theo.
"From the moment we arrived in the Emergency Department through to theatre and our stay on Dewi Ward the care was just fantastic and we felt looked after throughout the whole process.
"We wanted to say a huge thank you to them, especially for saving Theo's sight but also to highlight the amazing work they do," said Cara.
Mr Amjad added: "This truly was a team effort, I would like to thank the team in the Emergency Department and Clare McGrath for acting so swiftly and also to the Anaesthetic team and Theatre team who worked with me during surgery.
"We were really pleased to see Theo again and see how well he's recovered following surgery."