Ysbyty Gwynedd successfully performs its first Laparoscopic Nephrectomy Surgery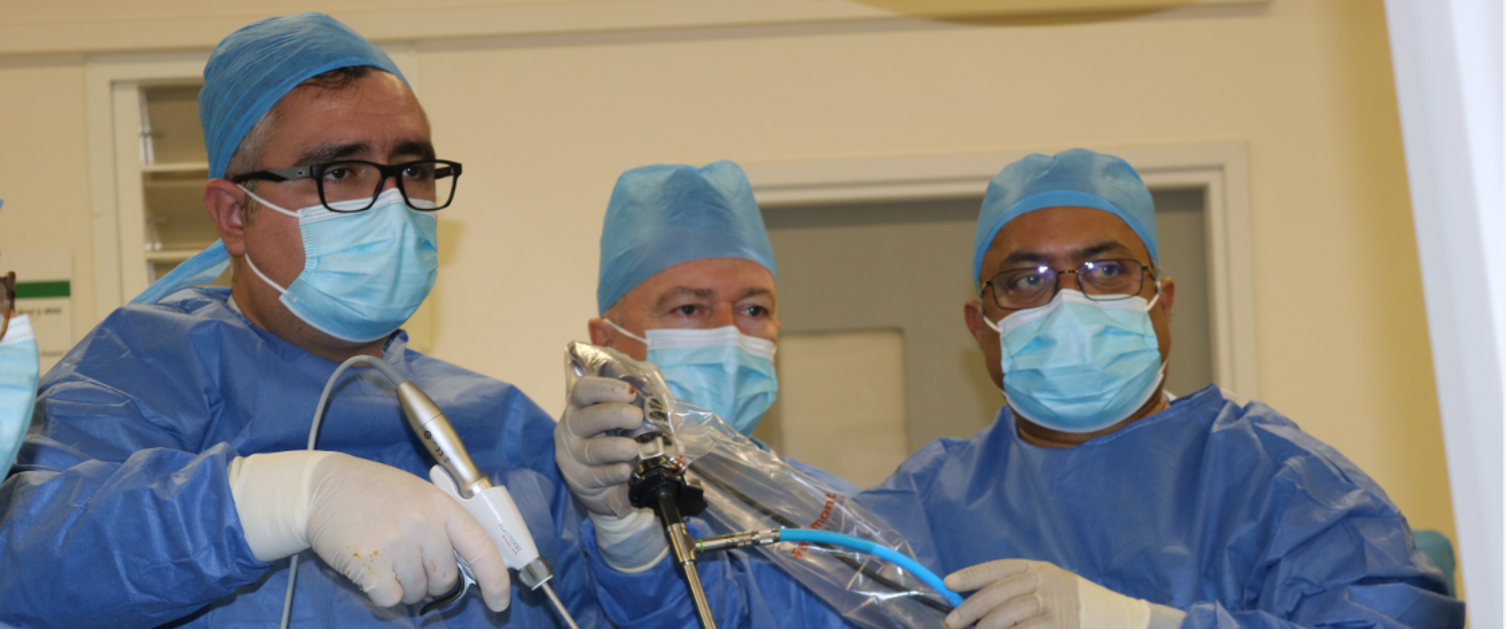 27.01.2022
A Wrexham woman has praised her surgical team at Ysbyty Gwynedd after they successfully removed her cancerous kidney using keyhole surgery.
Until recently, Laparoscopic Nephrectomy Surgery was only performed at Glan Clwyd Hospital due to capacity issues. This service has now been extended to Ysbyty Gwynedd for patients across North Wales who require this procedure.
A Laparoscopic Nephrectomy is performed under a general anaesthetic. Three small 'key-hole' incisions are made in the abdomen to provide access for surgical instruments that are used to detach the kidney, ligate blood vessels and remove the kidney through a small surgical wound.
The advantages of this technique over traditional open surgery include a shorter hospital stay and faster recovery time, less pain and bleeding after the operation and reduced scarring.
The majority of patients across North Wales would have previously been sent to hospitals in the North West of England and London for a Laparoscopic Nephrectomy.
Marie Leach, from Wrexham, was the first patient to undergo the surgery at Ysbyty Gwynedd.
The 56-year-old initially visited her GP after she was experiencing severe stomach pain and was referred for a scan at Wrexham Maelor Hospital. The scan showed an abnormal mass on her kidney and her surgeon, Mr Mohamed Abdulmajed, recommended surgery for this to be removed.
She said: "At the time of the scan I was told it was possible I'd need to go to London to have the surgery so I was really pleased when I was told I could have it in North Wales.
"Even though I live in Wrexham, it was much closer going to Bangor and not too far for my husband to collect me. It's brilliant that this surgery has now been expanded to another hospital so more patients can receive it in North Wales."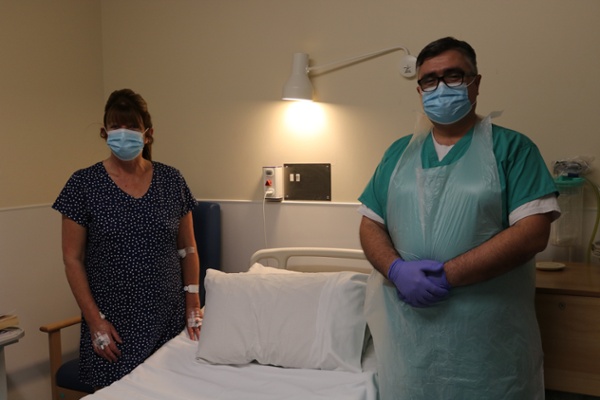 Consultant Urological and Pelvic Oncology Surgeon, Mr Abdulmajed, who successfully re-introduced the radical cystectomy (surgery to remove the urinary bladder due to cancer) service in North Wales in 2020, said: "We have been developing our Urology services across North Wales and re-introducing major bladder cancer surgery at Ysbyty Gwynedd was a major step forward and a proven success.
"We also see around 15 to 20 patients a year requiring Laparoscopic Nephrectomy who are sent to London to have their surgery.
"Now we are able to offer this surgery at another one of our hospitals and this means more patients are now able to have their surgery closer to their home and have access to the same specialist team who carried out that operation for their follow-ups and continued care.
"This surgery is currently under a period of direct mentorship, and I was pleased to be joined by Professor Philip Cornford from Royal Liverpool Hospitals who is there to assist if required.
"Laparoscopic and minimally-invasive surgery provides many benefits including shorter stay in hospital and ability to return to normal activities quicker and in Marie's case this was certainly beneficial as she wanted to get back to running her busy café as soon as possible."
Marie, who runs the Fresh and Tasty Café in Gresford, said she was delighted with her recovery following the operation.
"My recovery time has been fantastic. Within two weeks, I was back at work on light duties and now back to full time following the Christmas break.
"I can't thank the team at Ysbyty Gwynedd enough for their fantastic work, I felt in very safe hands the whole time I was there," she added.
Mr Kyriacos Alexandrou, Clinical Lead for Urology for Betsi Cadwaladr University Health Board, said: "I welcome the introduction of this service to Ysbyty Gwynedd, and would like to thank Mr Abdulmajed who, through his persistence and determination, has set up this local service which will improve cancer care for the whole of the North Wales population."