Ysbyty Gwynedd reaches robotic milestone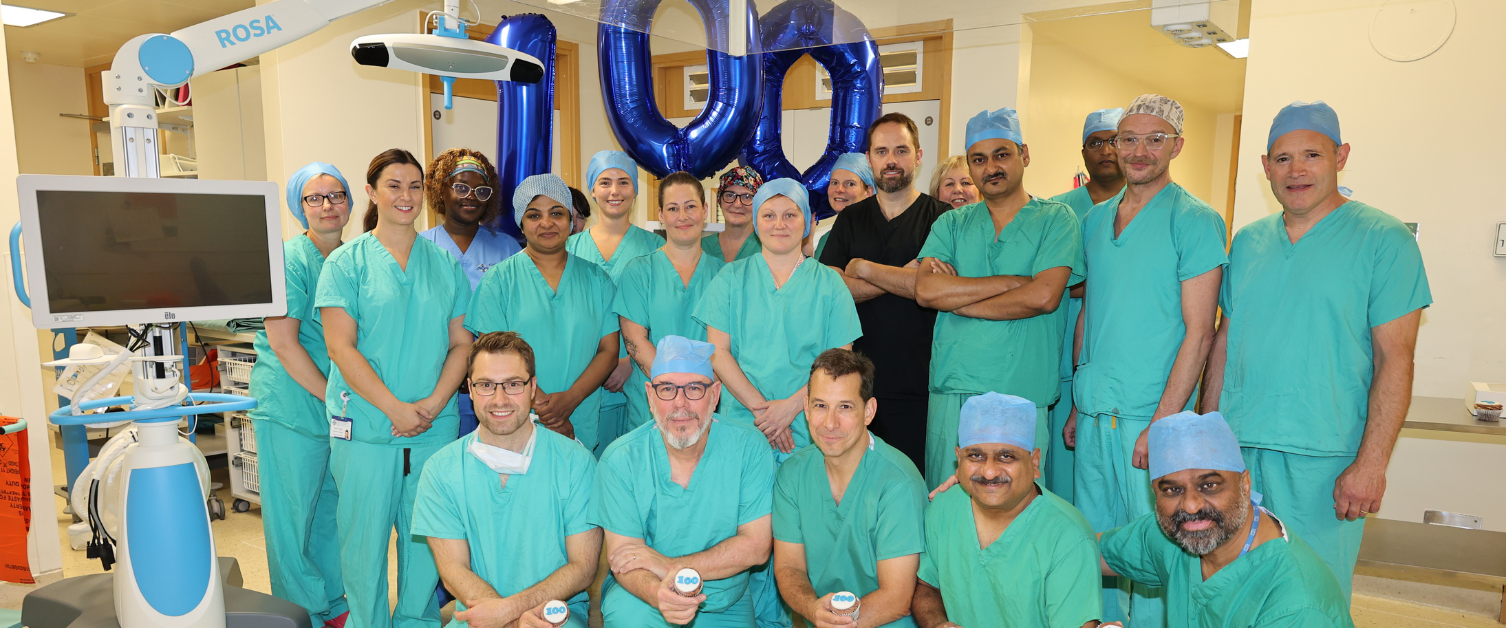 26.07.23
Orthopaedic surgical teams at Ysbyty Gwynedd have now performed 100 robotically assisted knee replacement surgeries using innovative robotic technology.
Ysbyty Gwynedd is the first NHS hospital in Wales to perform robotic knee replacements.
Using the ROSA system surgeons are able to personalise the knee replacement which provides more precise operations, potentially shorter hospital stays and quicker recoveries.
The system is currently used by four Consultant Orthopaedic Surgeons, Mr Muthu Ganapathi, Mr Agustin Soler, Mr Koldo Azurza and Mr Ashok Goel.
Mr Ganapathi said: "We are thrilled to have reached this milestone at Ysbyty Gwynedd, this is a testament to the whole team who have embraced the opportunity to develop and use this innovative equipment for the benefit of our patients in North Wales.
"We started using the ROSA back in 2021 but due to COVID-19 restrictions and unscheduled care pressures it has limited the number of operations we have been able to carry out.
"Since we began using the technology we have seen excellent results with some patients going home on the same day after surgery. Robotic systems like ROSA are excellent tools which support us to be as precise as possible while we operate."
Mr Soler who is also one of the surgeons who uses the robotic system for full knee replacements hopes it will attract new recruits to the hospital and health board.
He said: "We are really pleased to be able to offer this type of technology and be the first NHS hospital in Wales to use it.
"We believe having this technology available to us will attract more senior trainees and middle grade doctors to come and work with us.
"This technology drives precision, accuracy, reduces variation and helps to improve the predictability of outcomes for patients.
"It also gives us ability to plan the operation before you even get into the operating theatre. We are able to pre-plan and essentially see the outcome of the procedure on the screen before we even begin operating. This gives us much more confidence in the precision of the surgery."
David Lawless, Associate Director - Technology and Data Solutions Zimmer Biomet, said: "More than 100 people have been treated with Zimmer Biomet's ROSA Robotic Knee System and we're proud to celebrate this milestone with Betsi Cadwaladr University Health Board."
"Having the ROSA Robotic Knee System allows patients to receive a personalised experience that can improve their outcomes"