Ysbyty Gwynedd Operating Department Practitioner celebrates 50 years working for the NHS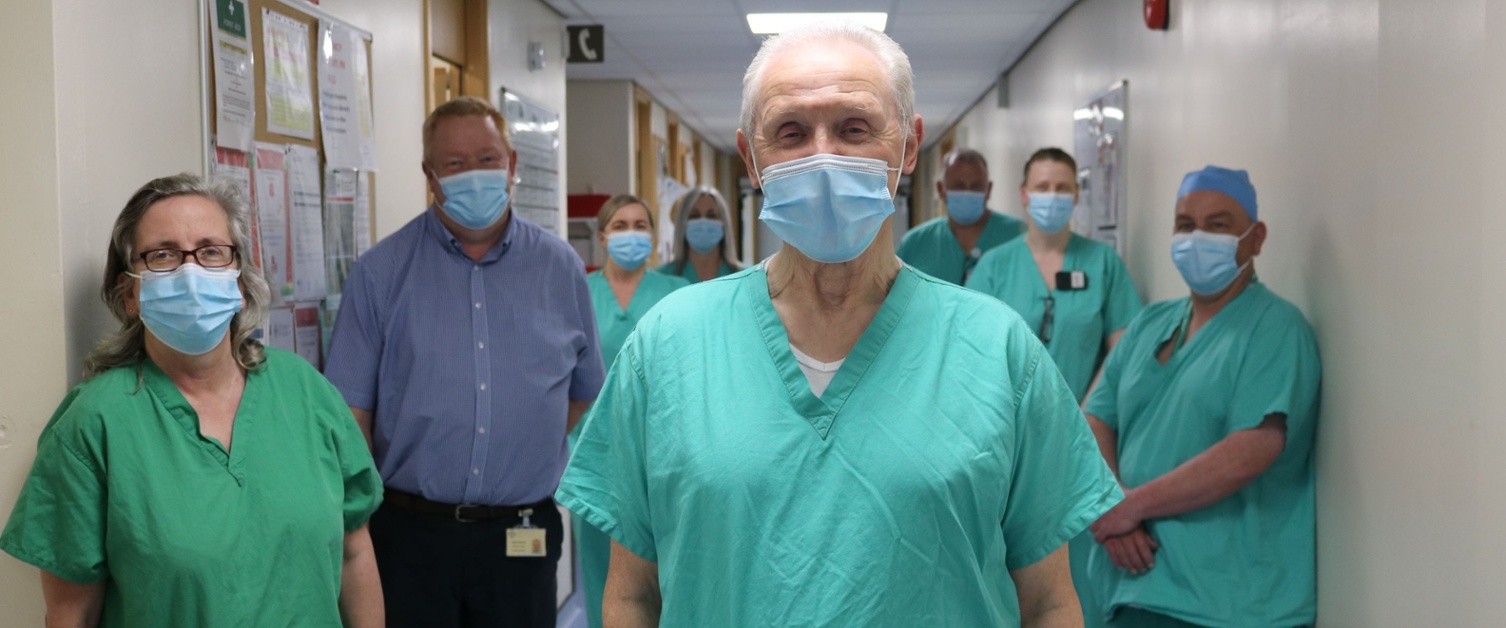 An Operating Department Practitioner (ODP) at Ysbyty Gwynedd is marking 50 years in the NHS this month.
Bernard Jones joined the health service in 1971 as an Operating Trainee Technician at the former C & A Hospital in Bangor, before leaving in 1977 to join the Welsh Ambulance Service where he spent seven years as an Ambulance Technician.
During those years, he completed several qualifications and gained invaluable experience on the frontline treating those who needed pre-hospital emergency care.
He said: "I decided after seven years with the ambulance service that I wanted to return to work in the hospital and secured an Operating Department Assistant role in Ysbyty Gwynedd when it opened in 1984.
"I thoroughly enjoyed the role as soon as I joined the team and it gave me the security I needed to buy my first house and it is also where I met my wife, Buddug.
"There has been a lot of changes over the years but some things never change in our theatre department, the patients always come first."
Bernard has received high praise from his colleagues over the years who class him as an integral part of the team.
Consultant Anaesthetist, Dr Suman Mitra, said: "I have worked with Bernard for many years and have always found him to be polite and in good humour when it comes to interacting with patients. He always has the best interest of the patients at heart and communicates very well with the patients to allay their anxiety.
"He is an important member of the theatre team and is passionate about patient safety and comfort."
Bernard has also been able to share his vast knowledge with his fellow ODP's over the years to help them develop their skills.
Senior ODP, Petula Rees said: "Bernard has taught me so much as an ODP for many years, he is very knowledgeable, a very likeable member of the team and is always willing to help.
"It is easy to say which theatre he has worked in as he leaves everything immaculate, fully stocked and clean. He is one of the ODPs I would go and look for if I ever needed an assistant."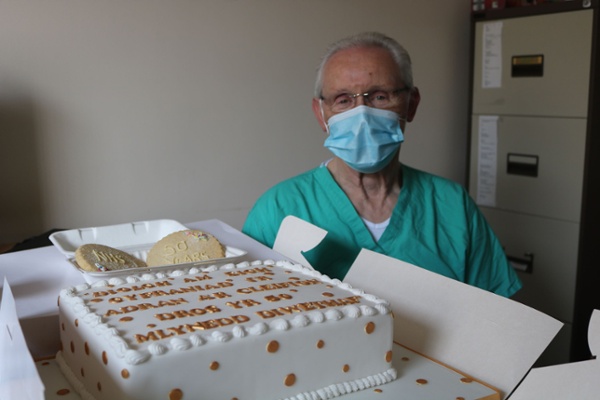 At 73-years-old Bernard is still committed to continue working in his role for as long as possible and is grateful to his colleagues for their support over the years.
"This role has provided me with so much experience, I have been able to work alongside some amazing surgeons and seen incredible recoveries from patients when at the time we thought there wasn't any hope.
"The role of an ODP is incredibly rewarding and you learn so much and I'm lucky to be surrounded by great colleagues.
"I feel very privileged to have worked for the NHS for 50 years and I am thankful to the health board for keeping me on so I could reach this milestone!" added Bernard.
Bernard's colleagues marked the milestone by surprising him with a special cake and vouchers for Fron Goch Garden Centre.
Theatre Manager, Dafydd Pleming, said: "I feel privileged to have worked alongside Bernard for 34 years, not only does he have a broad knowledge of skills that he has been able to share with colleagues over the years his care for patients is also exemplary.
"On behalf of everyone in Theatres we would like to congratulate him and thank him for his service to the NHS over the last 50 years."