Ysbyty Gwynedd Emergency Department ranked best place to train in the UK by junior doctors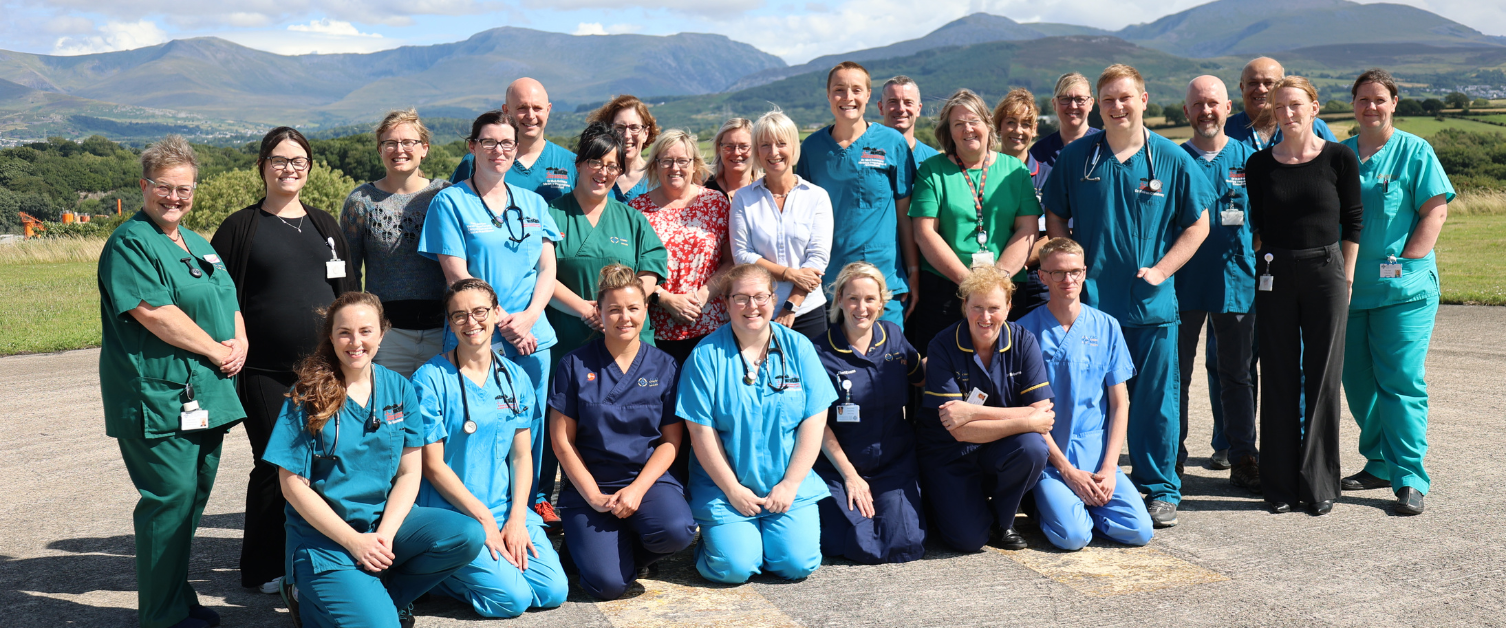 24.07.23
Doctors in training have ranked Ysbyty Gwynedd's Emergency Department as the best place to train in the United Kingdom.
Results from the recent National Training Survey by the General Medical Council (GMC) shows over 90 per cent of doctors in training are pleased with the quality of clinical supervision, experience and the teaching they receive at the Emergency Department.
The GMC run the annual training survey every year to gain a comprehensive picture of the experiences of doctors in training and trainers across the UK.
Dr Nikki Sommers, Consultant in Emergency Medicine, who also trained at the department as a junior doctor, said: "We are extremely proud to be ranked top in the UK for overall trainee satisfaction.
"This reflects the hard work that goes in from everyone in the department, from the admin staff, nurses and consultants to making sure our trainees feel welcome and supported during their time here.
"Teaching and education is at the heart of everything we do here – when you have happy and supported doctors they provide better patient care.
"Coming into a new hospital can be a daunting experience so we always want to make sure everyone feels welcome and part of our ED family.
"We provide a great induction, organise regular social events to make sure everyone has the opportunity to get to know everyone.
"We are really lucky to have a fantastic team here in ED, everyone supports each other and it's important to always listen and if anyone ever has a problem there is always someone who is happy to listen and help."
Dr Abigail Duckett, GP Trainee, who has been working in the ED Department for six months says she feels very supported by her colleagues.
She said: "It's a great environment to work in, the level of support provided by my colleagues is fantastic and there is always someone around to give you that advice when you need it."
Dr Morwenna Coultate, ED Trainee Doctor, has praised the department for the welcoming induction process.
"It is such a nice department to work in, you are encouraged to socialise together and get to know one another so it made you feel part of the team straight away.
"The training is fantastic, you feel very supported along the way – it's a fantastic place to train," she said.
ED Registrar, Dr Non Evans, who is from Anglesey, has been returning to the Emergency Department as part of her training for the last six years and hopes to obtain her first Consultant post at the hospital.
She said: "I'm from Anglesey so would love to eventually have a Consultant post in my local Emergency Department.
"The reputation of this department has spread nationally, many trainees I have worked with in other departments have said how fantastic they found it here and how enjoyable it was.
"It is a great team, everyone looks after each other and you feel part of a family."
Dr Sommers added: "Our ED values teamwork, compassion and excellence, and it is wonderful to receive feedback that we are getting things right despite the challenges we are all facing."