Ysbyty Gwynedd Anaesthetic and Intensive Care Department ranked top in Wales by trainees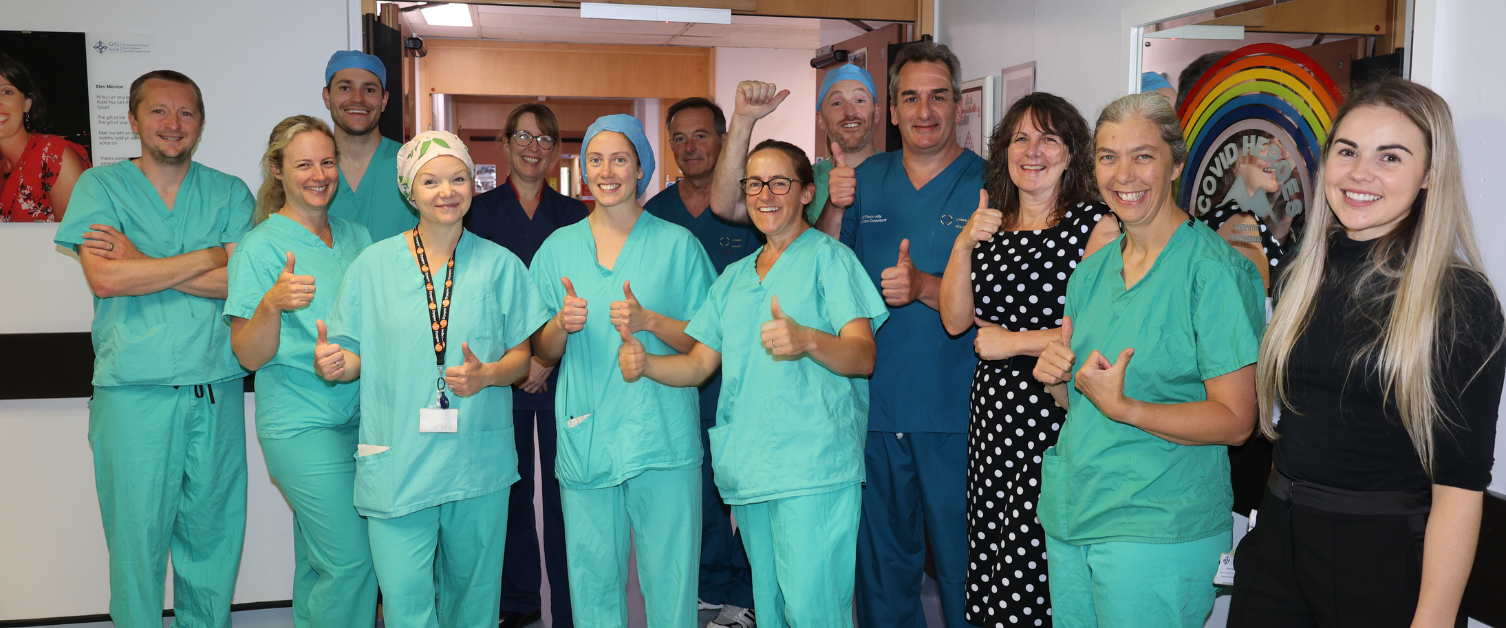 02.08.23
Junior doctors have ranked Ysbyty Gwynedd as the best place to train in both Anaesthetic and Intensive Care Medicine in Wales.
The results of a recent National Training Survey by the General Medical Council (GMC) showed that the doctors in training highly rate the quality of the supervision, experience and teaching they receive.
The GMC run the annual training survey every year to gain a comprehensive picture of doctors in training across the UK across all specialities.
Clinical Lead for Anaesthetics and the Intensive Care Unit, Dr Edward Farley-Hills, said: "We receive up to 10 new trainees per year and always ensure that they receive a comprehensive induction over their first few days getting them fully orientated with the types of equipment and the local guidelines before they can even see a patient. They are then mentored by a named consultant throughout their training with us.
"We are very proud to receive these results and not only has the Intensive Care Unit come out top in Wales but in the top five in the UK. We have a fantastic supportive team mentality in the department where we do our best to provide a holistic experience for our trainees."
Ysbyty Gwynedd's Anaesthetic Department is still the only unit in Wales to be awarded the prestigious Anaesthesia Clinical Services Accreditation (ACSA) from the Royal College of Anaesthetists (RCoA).
"Although the whole department contributed to these fantastic results, particular people need to be acknowledged for their outstanding work in teaching and organisation. Dr Suman Mitra, Dr Will Sutcliffe, Dr Emyr Huws, Dr Terry Collingwood and last not but least, our Department Manager Karen Capon who organises us all," added Dr Farley-Hills.
Dr Huws, who trained as a registrar at Ysbyty Gwynedd but has now returned as a Consultant, says the friendly, family environment at the hospital appeals to many of the junior doctors that come to train there.
He said: "I am from the local area and I trained at Ysbyty Gwynedd between 2017-2018 within the Anaesthetics Department.
"During my time with the department I received support for exams from senior Consultants and the opportunity to advance my skills and flourish in my role.
"It was always my intention to come back as I wanted to give back to the local community and work in the area where I'm from. Around a year ago, I took up a Locum Consultant Post with the intention of taking on a permanent position in the near future.
"I feel lucky to be part of a team that invests so much into their trainees, and I hope now that as a senior member of the team I can help play a part in encouraging our trainees to come back and work with us in the future as well."
Dr Suman Mitra, Consultant Anaesthetist at Ysbyty Gwynedd and RCoA College Tutor, said the results of the feedback reflects the hard work and enthusiasm from everyone in the department.
He said: "All effective education and training requires a favourable learning environment, a dedicated group of faculty alongside a comprehensive curriculum. I feel we have been able to create the first two to deliver the third and support the juniors in becoming capable anaesthetists.
"I want to continue to support the educators as best I can, so future cohorts of juniors have exemplary experience in Ysbyty Gwynedd Anaesthetic Department."