Young adults getting 'confidence' boosting life chances through health board placements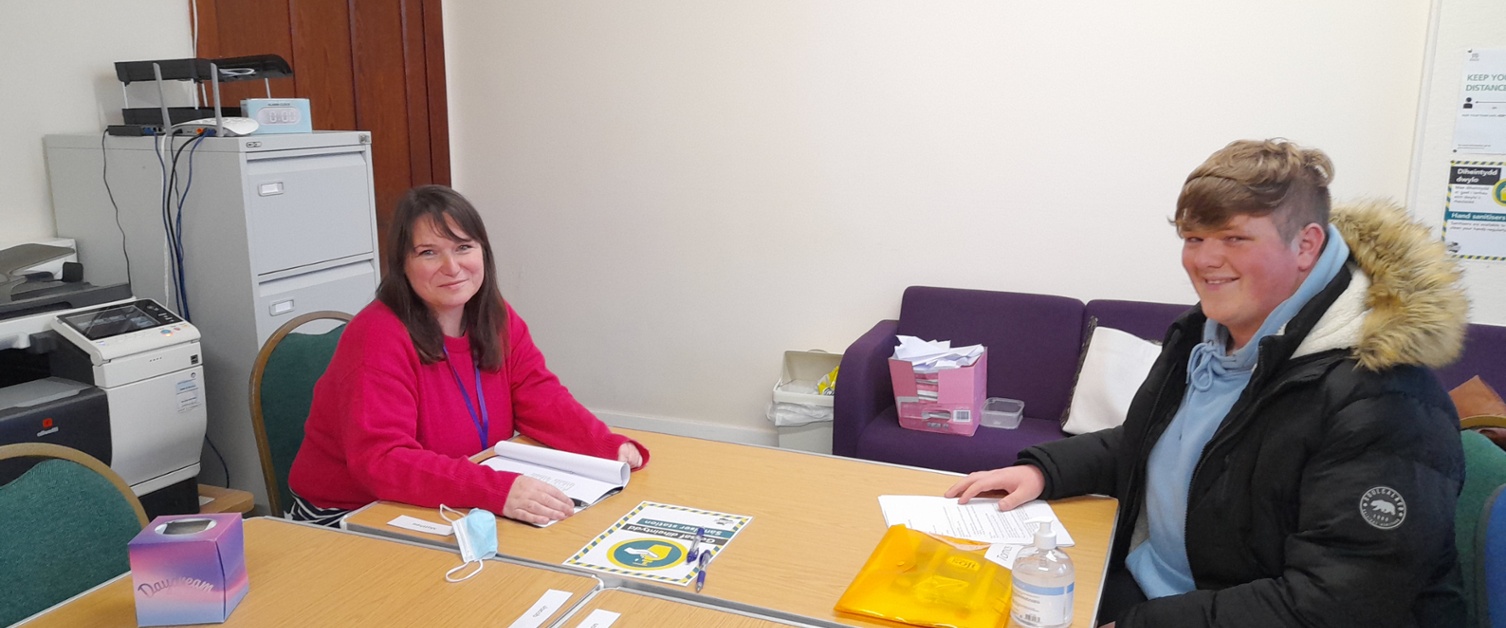 Six young adults are the latest given chances to find a job via a scheme developing job prospects for those with learning disabilities and/or autism.
The group, aged between 18-25, is undergoing internships at Ysbyty Glan Clwyd, Bodelwyddan.
One of them, 19 year-old Tomos, has spoken about his desire to care for the elderly and how pre-work preparation is helping him gain confidence in his search for a full-time job.
After attending Ysgol Tir Morfa's sixth form in Rhyl, he gained work experience of looking after older people at a care home in the town.
However full-time work opportunities have been scarce since, so he jumped at the chance to be part of DFN Project SEARCH in Glan Clwyd hospital.
Tomos said: "I want to work in the hospital and it's a great opportunity. I was told about this course and I thought it was really good.
"I've done work experience at a care home, looking after patients, making drinks and playing games with them.
"I would like to learn about taking their blood pressure and temperature, like a health care assistant, and I want a paid full-time job."
Before taking up their internships in January candidates have been attending classes, undertaking their mandatory training and learning about NHS policies, what's expected in the workplace and the different roles within a hospital.
"We know we have to be very careful," said Tomos, who revealed he likes walking, listening to club music and going out with his friends in his spare time.
He added: "The course is a very good thing because it opens up a lot of opportunities and skills. We are meeting new people and it's given us confidence."
Agoriad job coach Nicola Jones said: "They have all done really well and we are now on our fifth week of training. We have been running through various NHS information, teaching interviewing techniques and creating one-page portfolios.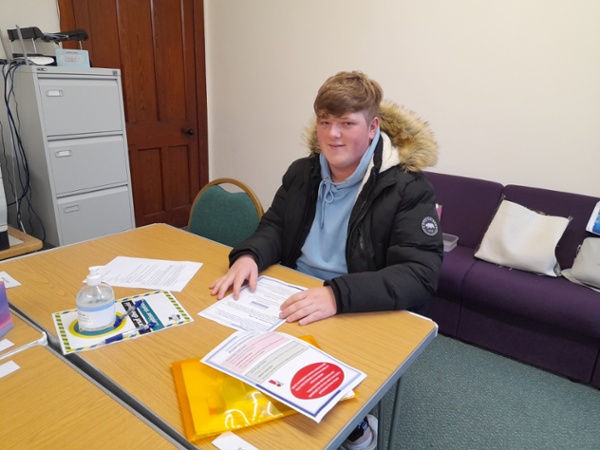 Tomos completes some of his studies ahead of his internship
"We have also discussed how they would like to be treated so they have got that to hand."
DFN Project SEARCH in Glan Clwyd mirrors a programme at Ysbyty Gwynedd, Bangor, which saw three-quarters of its 28 interns gain employment.
This compares well to the national picture where fewer than 10% of young adults with disabilities are in employment.
Each placement lasts 10-12 weeks and each candidate can take part in a maximum of two.
While in work candidates start each day with an hour in the classroom, learning things like how to read a wage-slip, the behaviours expected of them and connecting with peers and employers, before going to work.
At the end of the day they return to the classroom for a half-hour debrief of the day's activities.
At the end of their placement the experience and skills gained are used to apply for jobs within Betsi Cadwaladr University Health Board.
It's a "foot in the door" to work – so as long as they fit the job criteria they will be guaranteed an interview and receive a reference from their internship.
DFN Project SEARCH is just one of four strands of the Step Into Work programme devised by the board's workforce and organisational development team.
Step into Work is a widening of access to employment scheme for people furthest from the job market.
More than 200 people have gained employment as a result of the four schemes under the Step Into Work umbrella.
DFN Project SEARCH operates with the support of Agoriad Cyf, Betsi Cadwaladr University Health Board, Conwy and Denbighshire County Councils, Engage to Change and ICF and Learning Disability Transformation Programme funding.
The Engage to Change project is delivered in partnership between Learning Disability Wales, Agoriad Cyf, Cardiff University and Elite.
It is funded by the National Lottery Community Fund and Welsh Government.