Wrexham psychologist recognised at prestigious national diabetes awards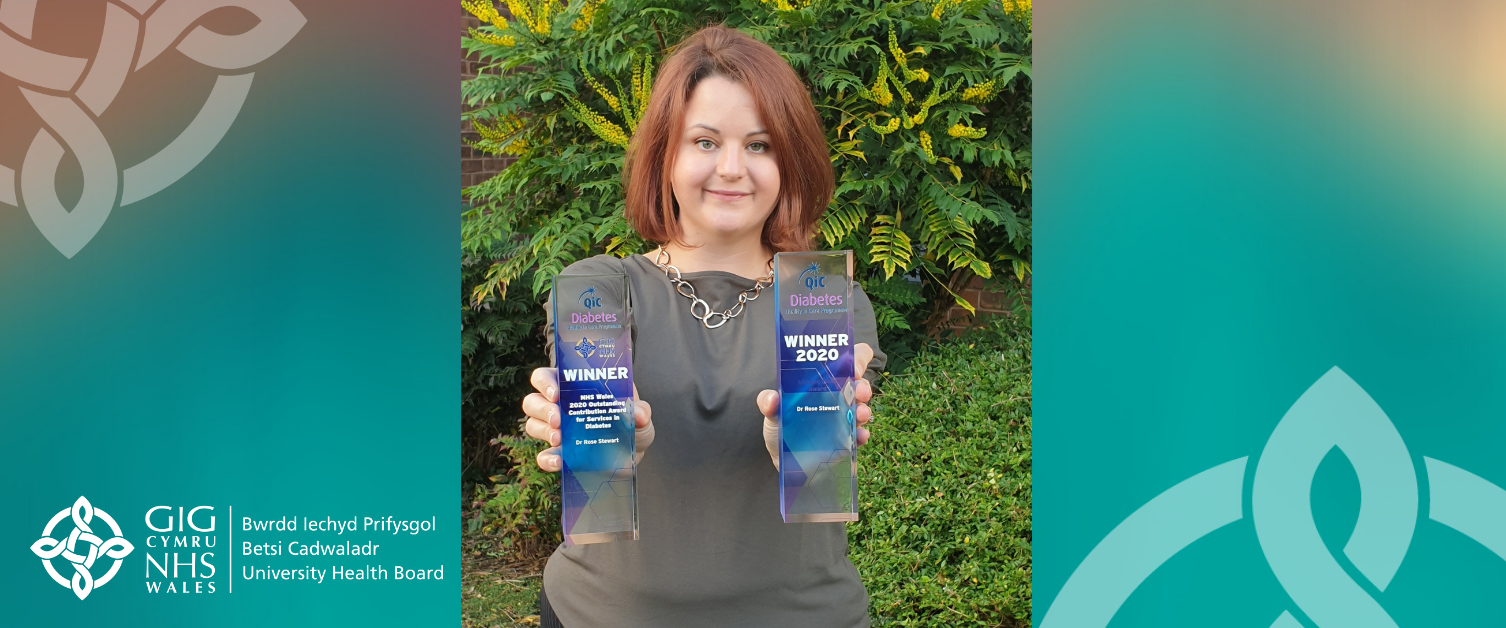 A Wrexham Maelor Hospital based psychologist has scooped a number of top national awards for her work to improve the care and support offered to people living with diabetes.
Dr Rose Stewart, a Principal Clinical Psychologist at Betsi Cadwaladr University Health Board. was recognised at the prestigious Quality in Care Diabetes Awards, where she received an award for her Outstanding Contribution for Services in Diabetes in NHS Wales.
Dr Stewart also scooped the Unsung Hero Award and was highly commended for her work with the All-Wales Diabetes Group to introduce a range of self-help resources for people living with the condition.
The Quality in Care Diabetes Awards recognise and reward innovative practice demonstrating quality in diabetes management, education and services across the UK. This year's awards ceremony took place virtually on October 15th, due to COVID-19 restrictions.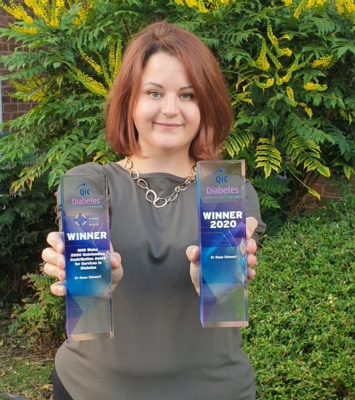 Diabetes is a condition where there is too much glucose in the blood because the body cannot use it properly due to a lack of insulin. There are over 194,000 people living with diabetes in Wales, the highest prevalence in the UK. There are a further 61,000 people in Wales living Type 2 diabetes who haven't received a formal diagnosis.
People with diabetes are twice as likely to experiences issues such as depression and eating disorders, and specialist psychological support has been consistently identified as a significant area of need across the UK for many years.
Dr Stewart's 'Talking Type 1' self-help resources have been developed to recognise, normalise and address common psychological issues that are specific to living with the condition.
This includes issues relating to burnout and needle phobia, which can have a significant impact both psychologically, and on diabetes management.
Funded by the All-Wales Diabetes Group, both resources have been developed with support from people who have lived experience of these issues. They have been published bilingually through NHS Wales and are available across all diabetes units in Wales.
With more than 6,000 units printed and distributed to patients, the Talking Type 1 range now represents one of the biggest diabetes psychology interventions in the world.
Dr Stewart said: "We know that specialist psychological support is too often missing for people who live with diabetes. In developing the Talking Type 1 range we've been able to demonstrate that people can significantly improve how they feel by using resources that are easy to access"
Dai Williams, National Director of Diabetes UK Cymru has seen first-hand the impact of Dr Stewart's books.
He said:"I have a son living with type 1 diabetes and spend much of my time working with people who have the condition. I've been well aware of the need for greater psychological support for people living with diabetes and Diabetes UK Cymru are currently campaigning on this very issue. I was delighted to see the two new books in the Talking T1 range, both 'Not OK With Needles' and Diabetes Burnout were received as if they are they were a new Harry Potter book! They have been a considerable help in sporting the T1 community - in all age groups."
It is not the first time that Dr Stewart's innovative practice has been recognised. Last year she and colleagues from Wrexham Maelor Hospital's Young Adult Diabetes Service team were awarded a Quality in Care award in recognition of the outstanding care they provide to patients across Flintshire and Wrexham.
In July last year, Dr Stewart was named as Diabetes UK's Clinical Champion for North Wales. In this role, she has developed resources and initiatives to improve the psychological wellbeing of people across the region who are living with the condition.