Wrexham Maelor renal patient hopes to help others with new book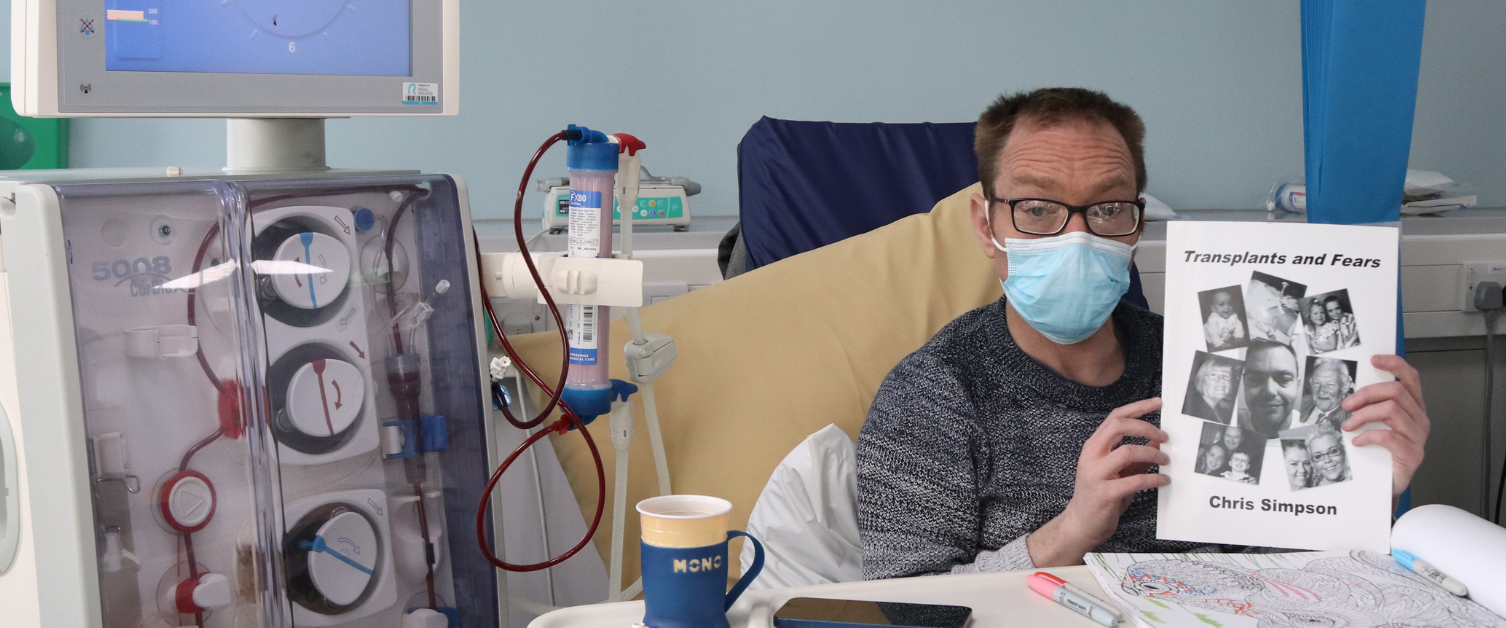 28/10/2021
A patient receiving dialysis at Wrexham Maelor Hospital has published a book called Transplants and Fears about his experiences in the hope to help other people going through a similar journey.
Chris Simpson, 35, from Wrexham, was born 28 weeks premature, and has had four kidney transplants since he was 18-months-old. He received his last transplant when he was 23, which started to fail in August 2020. Since then, Chris has been visiting Wrexham Maelor Hospital's Renal Unit for dialysis three times a week, which is a blood purifying treatment given when a kidney is not functioning as it should be.
In the book Chris explains: "I have always had the vision of hope, that I could provide understanding of the hidden side effects suffered by an individual and their family when living with such a chronic life-changing condition. The one thing I lack is confidence and knowing where to start.
"It was while working with Caron, my amazing social worker who helped me restore my confidence and break down barriers, that my life took a turn for the better."
Caron introduced Chris to Outside In, a group at Wrexham Glyndwr University, made up of Social Work students and staff, and people with different health and social care needs, to share their experiences of using different services.
After Chris showed the group his writings, which started as a diary, he was encouraged to turn it into a book. Chris' friend Bernice Ross, known as Bee, a social work student from the group, has been a big support to Chris and helped him write the book.
Chris explains: "It was the start of the COVID-19 pandemic that Bee came up with an ingenious idea of producing a draft copy of an entire book. Her view was that if we managed to produce a draft of a book with all my ideas in, I would have a positive achievement to look back on, even if it stayed on my own bookshelves.
"My aim for the book is to bring a true, non-filtered look into the way a patient or service user is seen and heard in life, and to reveal the effectiveness that practitioners can have upon the life of the individuals for whom they provide care and support. I hope that future generations of professionals take into account the impact of the condition and the effect their decisions and actions have on individuals."
Chris has also received charitable support from Kidney Wales including funding for a new laptop to write his book on. Chris is now having tests to see if he is compatible to have another kidney transplant.
Dr Stuart Robertson, Consultant Nephrologist at Wrexham Maelor Hospital, who has been treating Chris for many years and features in the book, said: "For over 30 years, Chris has experienced the highs and lows of kidney disease – from the successful kidney transplantation to its subsequent failure and a return to dialysis. Throughout this time, he has been determined to live as normal a life as possible. This book is the emotional and honest journey of a young man living with kidney disease, I am sure it will be a great help to other patients, their relatives and those
who care for them in understanding the life-altering effect of kidney failure and, more importantly, how to survive this."
To order a copy of Transplants and Fears or for more information please email transplantsandfears@outlook.com.