Wrexham Maelor Hospital is turning the tide on plastic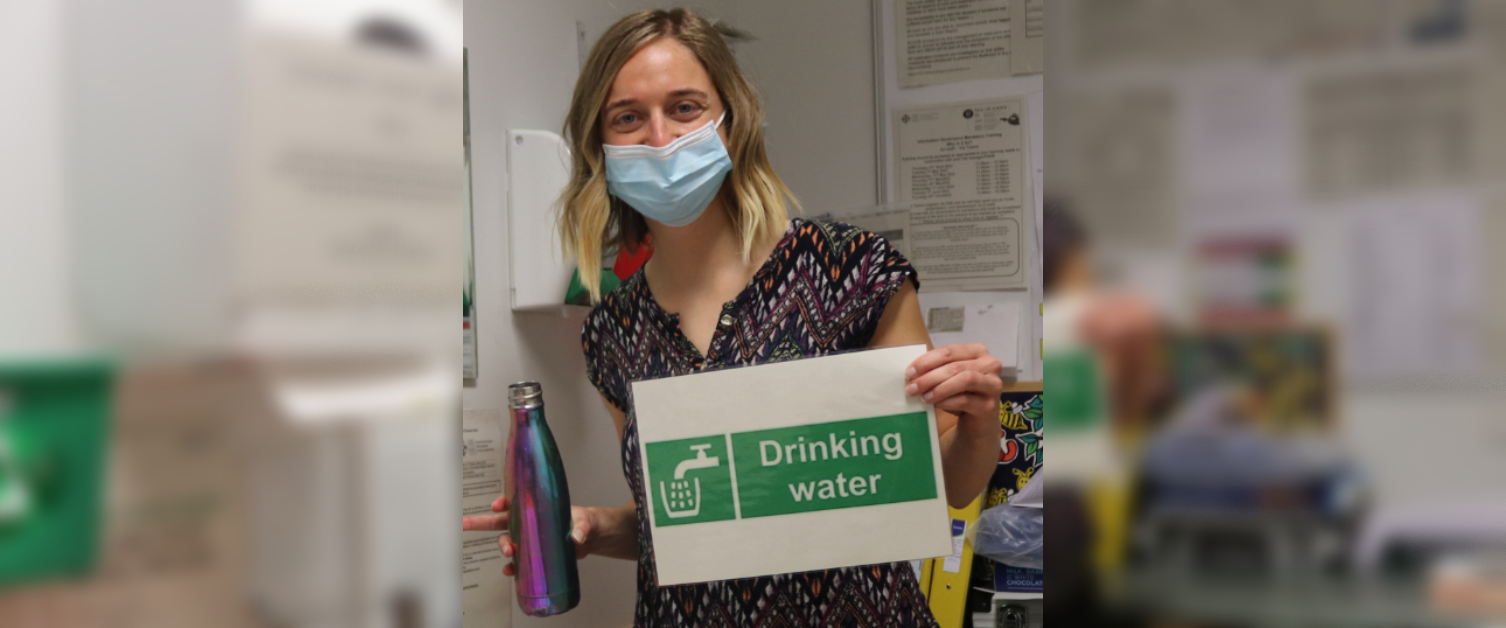 16.06.2022
Wrexham Maelor Hospital has stopped using plastic water bottles saving 80 tonnes of CO2e, and £75,000 per year.
There has been an increase in plastic pollution during the Covid-19 pandemic, and in attempts to reduce the hospital's environmental burden, the Wrexham Maelor Green Group has launched a safe drinking water scheme from designated kitchen taps in all clinical areas.
Ellie McCance, Sustainability Scholar (Centre for Sustainable Healthcare), and Speciality Registrar in Ophthalmology, launched the project as part of the hospital's Green Group. Ellie was concerned by the increasing amount of plastic waste being generated, and questioned the rationale, and sustainability of plastic water bottle use by hospital staff and patients.
Ellie explains: "Covid-19 resulted in a wave of 500ml plastic bottles onto our site. Our use has amounted to half a million water bottles per year, needlessly being added to the waste-stream.
"Estates management, and our site water safety group have confirmed that all areas have access to potable, safe drinking water, and patient drinking receptacles are thermo-disinfected centrally for safe reuse.
"Wrexham Green Group have been working closely with stakeholders and management, and we're delighted that we will no longer have these plastic bottles in circulation, in favour of tap water. Our tap water is tested regularly, and as before, remains safe to drink. As part of the safe water scheme, labels will clearly indicate the potable water sources in each area for staff, and patients to see.
"We can now celebrate turning the tide on the plastic bottle tsunami."
As a result, this will save 80 tonnes of CO2e, the same amount of carbon generated from 21 return flights between London and Hong Kong, and it will save the hospital £75,000 per year.
If global healthcare were a country, it would be the 5th biggest emitter. NHS Wales has set an ambitious target of net zero by 2030 and Wrexham Maelor Green Group was formed as part of the Green Health Wales network to help reach this goal.
The Green Group's other project areas include clinical, transport, waste, biodiversity and energy. The group is also currently working on its first courtyard area outside the canteen, to give staff somewhere to sit outside during their breaks whilst improving biodiversity around the hospital site.