Work progressing well on new £1m Dementia & Adult Mental Health Centre at Ysbyty Bryn Beryl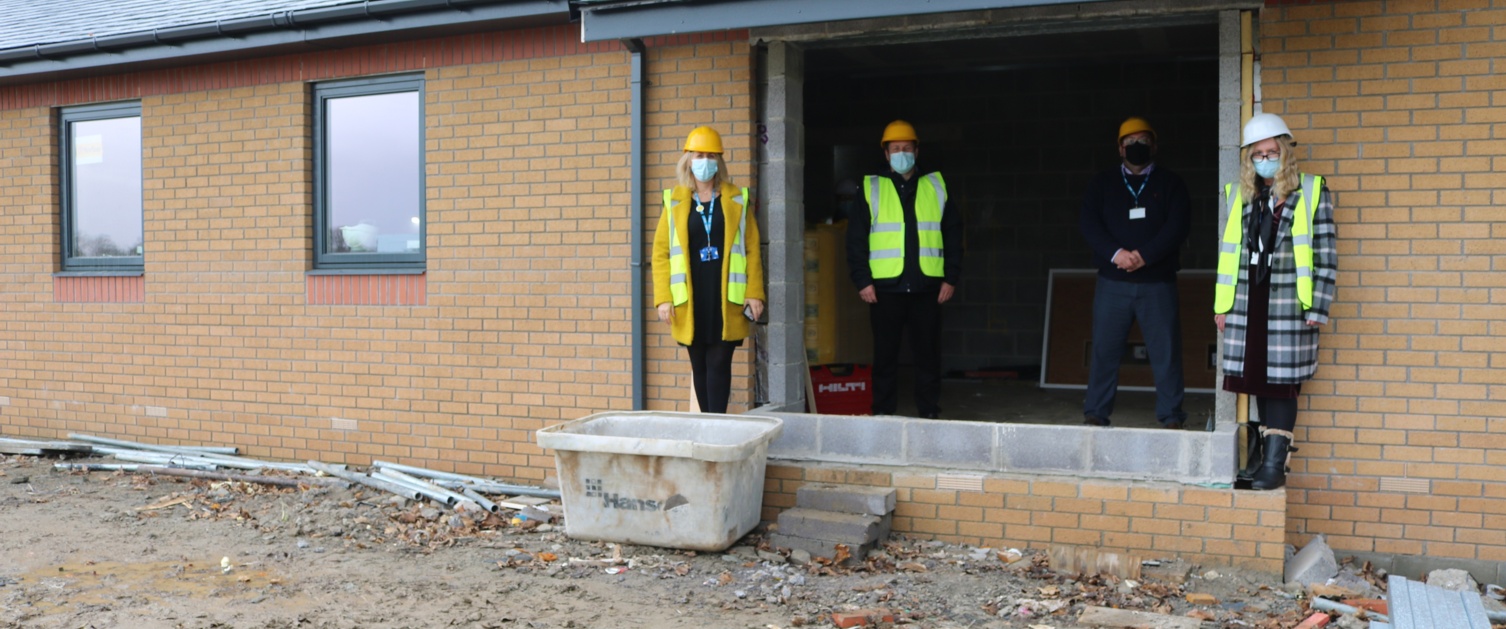 Work is progressing well to create a new integrated Dementia and Adult Mental Health Centre at Ysbyty Bryn Beryl.
The £1.36m project, funded by Welsh Government, will provide modern, purpose built facilities and a suitable therapeutic environment to meet the needs of older people's mental health and adult mental health service users.
It will also provide a single point of access to Older People's and Adult Mental Health Services in Dwyfor, which are currently fragmented across several sites.
The Dementia Day Assessment Service, Hafod Hedd, that is currently using temporary accommodation in Y Ffôr, will benefit from a new spacious area within the centre.
Team Leader for Mental Health & Learning Disabilities, Glenys Williams said: "We are delighted at the progress of the new Hafod Hedd building at the Bryn Beryl site.
"As well as providing modern and up to date facilities for our dementia day assessment service users, there will also be scope to increase the services we offer, such as carer groups and teaching sessions.
"We have been involved with the design team right from the start, ensuring that this bespoke unit provides a safe and comfortable environment for people living with dementia.
"It also provides office space for the community nurses and outreach workers – being based together like this for the first time will help the team work in a cohesive and seamless way, ensuring continuity of care to our service users."
Iolo Jones, Deputy County Manager for Adult Mental Health & Social Care in South Gwynedd, said the centre will provide a range of primary and secondary care mental health services right in the heart of the community.
He said: "When the new centre opens we will be in a position to provide psychological therapy and outpatient consultant psychiatrist clinics at a local level in Dwyfor for Adult and Older Person Mental Health Services.
"This investment will enable Dwyfor residents to have accessible, local mental health services at the heart of the community.
"Residents will also be able to access mental health services at their local hospital, rather than travelling to Ysbyty Alltwen, where they are currently provided.
"Being based at Ysbyty Bryn Beryl will provide a central location for our services within the Dwyfor area. The site will provide a base for a number of community mental health staff and provide us with modern therapeutic facilities with four consultation rooms, which will increase the capacity of the service in providing timely support and intervention for Dwyfor residents."
Ffion Johnstone, Area Director for the West of Betsi Cadwaladr University Health Board, said: "The new facilities will enable us to deliver more day assessment services for people in all stages of dementia, including people experiencing significant behaviour and psychological symptoms of dementia, as well as more group and individual therapy for adult mental health service users.
"There will also be integrated office accommodation for Health and Local Authority Older People's Mental Health and Adult Mental Health community staff."
Locating Dementia and Adult Mental Health services in one building enables people to access the most appropriate element of the service easily and seamlessly and provides continuity of care.
"This will help us to increase the number of patients cared for within their own communities with reduced need for hospital admission. Integrating different community mental health teams in one building also improves communication between health, local authority and the third sector," added Mrs Johnstone.
The new centre is expected to be completed by March 2021.