'We are pioneers' says Betsi consultant using Artificial Intelligence to improve prostate cancer diagnosis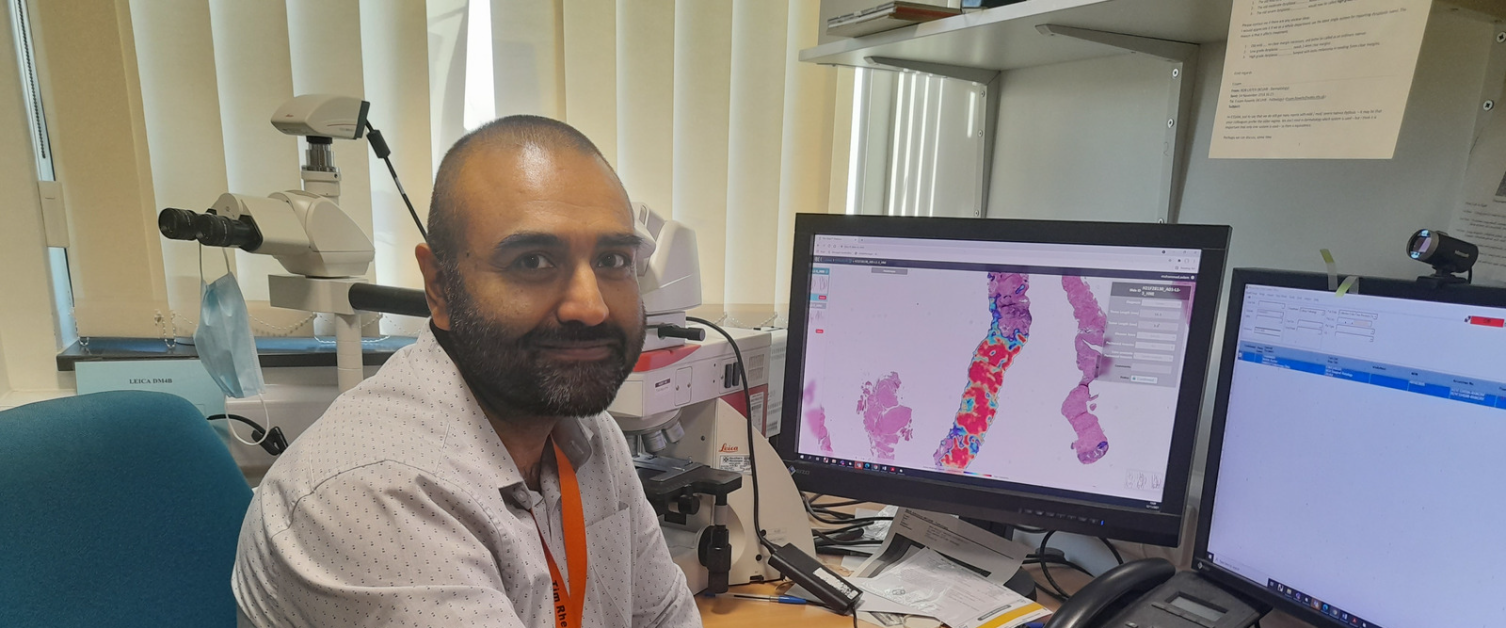 02.12.21
A consultant, the first in the UK to use an artificial intelligence tool to diagnose prostate cancer, has called himself and his colleagues "pioneers".
Dr Muhammad Aslam, a consultant pathologist and clinical director of North Wales managed clinical support services at Betsi Cadwaladr UHB, is in the vanguard of improving the quality and speed of prostate cancer diagnosis.
He and four consultant colleagues have been using the Galen platform from medical analytics firm Ibex to check digital slides taken from biopsies on suspected prostate cancer patients.
It's the first artificial intelligence application cleared for clinical usage in histopathology in the UK.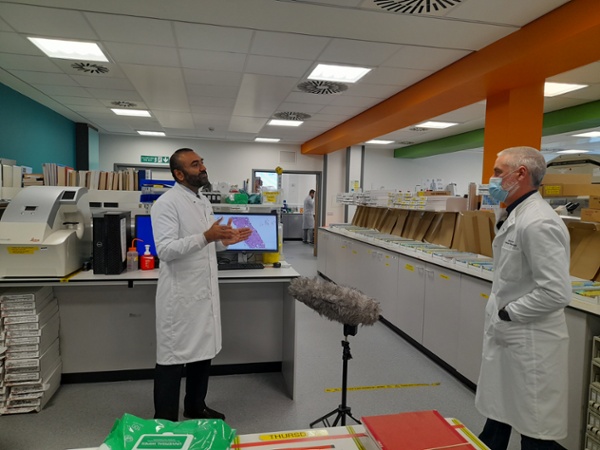 Dr Muhammad Aslam explains his use of the breakthrough technology in the pathology lab at Ysbyty Glan Clwyd

Dr Aslam said 105 samples tested by the AI tool, which he describes as a "second consultant", have returned no errors in diagnosis.
He said: "This process of checking slides usually takes 50-60 minutes but I can see the cancers and measure them in just a few minutes.
"However I'm not so focused on the time saved, it's the quality of the work. The Galen application is like another consultant doing all the work and bringing the results to me.
"If it was me I would want double reporting – two consultants looking at my slide – but there is a shortage of consultants nationally, so we don't have the resources to do this.
"With this system we do have double reporting so it is much better for our patients, which is the most important thing.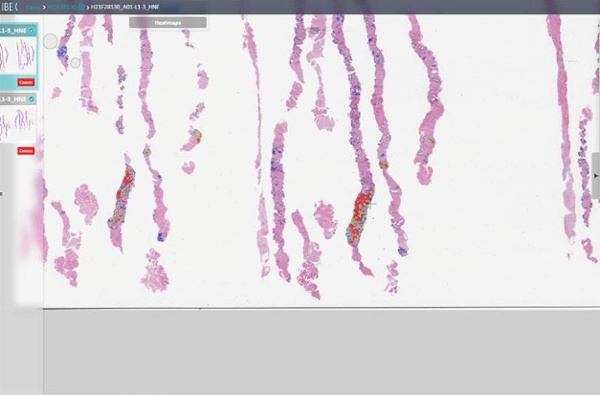 An image of a prostate biopsy slide showing cancer cells in red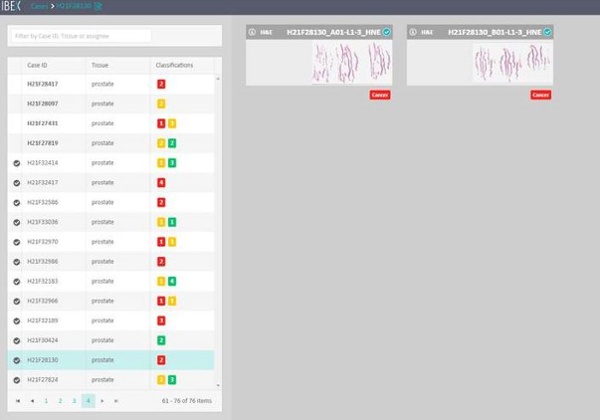 The traffic light system denotes cancerous regions in red, suspicious cells in amber and benign in green

"These cancers are very easy to miss, due to screening small tissue in higher magnification and sometimes cancer is too tiny to search for.
"The success of the technology is in people not needing to repeat more, painful biopsies because the platform is so accurate.
"We are the first team and the first health board to use this technology for clinical diagnosis in the UK - we are the pioneers."
Slides containing samples from biopsies are loaded into a digital scanning machine and Galen analyses the samples for potential cancer, then grades them using a traffic light system.
A high probability of cancer triggers a red marker, those needing investigation amber and benign samples are marked green.
The app also identifies the grading for the cancers and nerve invasion and other prognostic markers and marks them to present to a human consultant who can grade the severity of the disease.
All samples are marked as POI (point of interest) by the Galen and presented to the consultant pathologist.
The cellular pathology lab in Betsi Cadwaladr University Health Board went digital six years ago, along with other labs in Wales on a process of national digitisation.
Dr Aslam said the move was made with eventual advances in AI technology in mind.
He said: "We should call it assisted intelligence, as it's assisting us to get the best for our patients, as quickly as possible.
"I have got more knowledge than the application and we will still look at these biopsies and find the best diagnosis. This is not reducing the need for consultants, it's helping us to target the patients most in need, swiftly and accurately.
"Everyone in health believes the pathology is gold standard in cancer diagnosis. Actually, we are human beings so I can't accept if we are 100% accurate every time.
"This AI technology is where we will reduce mistakes."
Dr Aslam's observations are also helping inform the learning of Galen, making it more accurate as time goes on.
With more than 2,500 people diagnosed with prostate cancer in Wales each year and around 600 deaths from the condition, he hopes Galen will be adopted nationally.
He revealed no health board in Wales was selected for a UK Government backed round of funding to trial the technology.
So he successfully approached the Welsh Government's Small Business Research Initiative (SBRI) for funding.
His determination meant he could start using the technology more quickly - and in a clinical setting.
Dr Aslam, who is also chair of the Histopath Standing Specialist Advisory Group, said there is also a project being developed to look at breast cancers.
This could help inform consultants on the best drugs to use to tackle the array of breast cancers, which mainly threaten the health of women.
He also hopes one day to be able to use similar technology to assess and target appropriate treatments for colorectal cancers.