Two decades of Filipino smiles, resilience and dedication recognised by critical care colleagues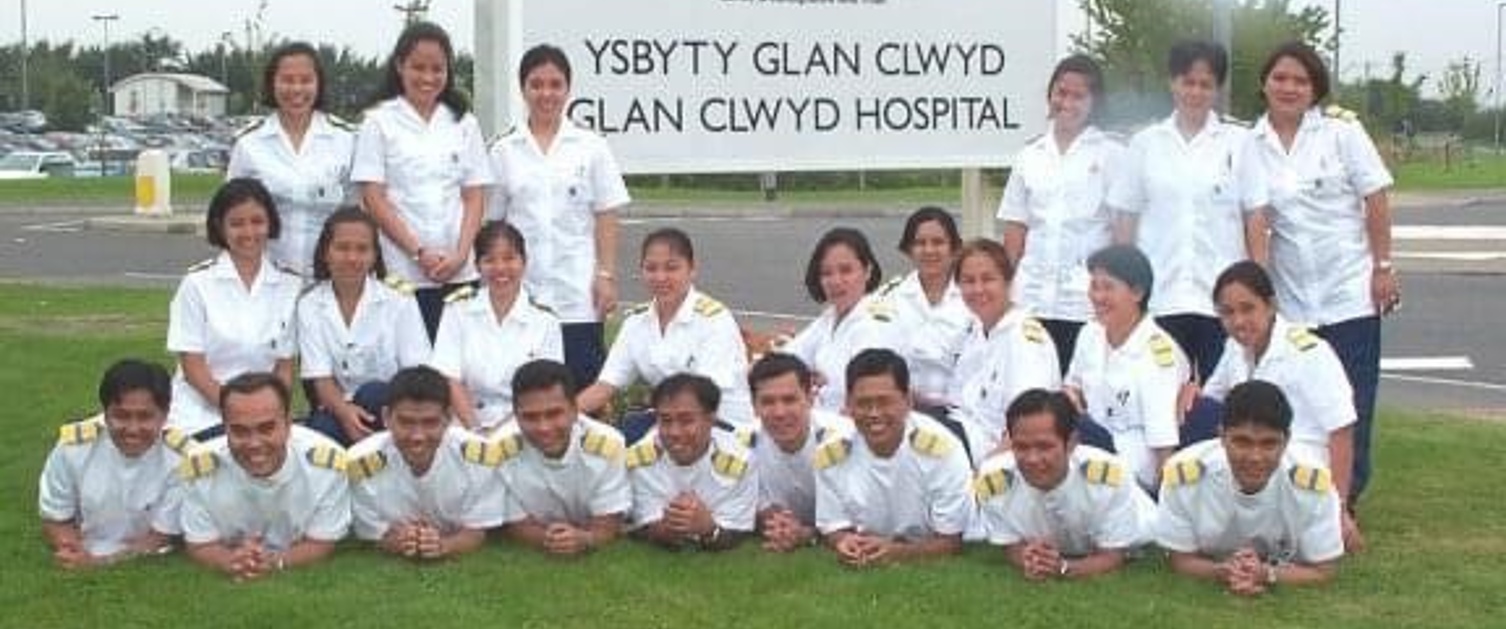 15/10/21
Critical care colleagues have paid homage to 20 years of service from a group of "honorary Welsh" nurses who left their families almost 10,000 miles behind to save North Walian lives.
Staff from Ysbyty Glan Clwyd's Intensive Therapy Unit gathered last week to celebrate Filipino colleagues who came to North Wales in 2001.
They came as part of a recruitment drive by the then health board, which saw 18 Filipino nurses arrive at Ysbyty Glan Clwyd in August of that year – one of three tranches to arrive from the Philippines two decades ago.
Among the messages of appreciation Betsi Cadwaldr UHB's chief executive Jo Whitehead, the hospital's acute care director Neil Rogers and ITU clinical lead Mr Venkat Sundaram all paid tribute to their service.
However senior ITU Nurse Shona Hollins-Davies recounted her pleasure at working with her Filipino colleagues, who she said she was honoured to call her "friends", for the last two decades.
She added: "I'm not sure how or what their tutors taught them when they were training in the Philippines but I wish I could bottle it and use it for every patient on every ward.
"They are knowledgeable, organised, professional and skilled but just as importantly they are caring, compassionate and kind. Our Filipino colleagues are now honorary Welsh.
"Over the last few years we've had times of great joy and also times of great sorrow between us but throughout it all we have supported each other, as all good families do.
"And we are one big happy family on ITU. Guys you are the backbone of the unit and we love you all."
The six members of staff were each given a certificate, a copy of the George Medal awarded to the NHS in July and a personalised pen.
One of them, Bernardo 'Boyet' Portunova, told how he left Manila on August 16, 2001, his 35th birthday.
He said: "Coming here (to this celebration) I was thinking about why I stayed here. The answer is very simple – they make us part of their big family. It's a simple as that.
"You feel protected for whatever challenges might come ahead. You know for a fact there's always somebody you can rely on – they're always there to help you.
"Eighty percent of us who came 20 years ago are still working in the same trust, we never moved."
Boyet outlined how the changes in paperwork and legal responsibility had made the job more onerous for staff working on the unit over the past 20 years.
He also revealed the big personal toll Covid had taken on all staff.
"It's been really hard," he said. "Even now we are in the process of slight denial.
"Throughout the last 18 months one of the most difficult parts is we lost colleagues, we lost friends, we lost family.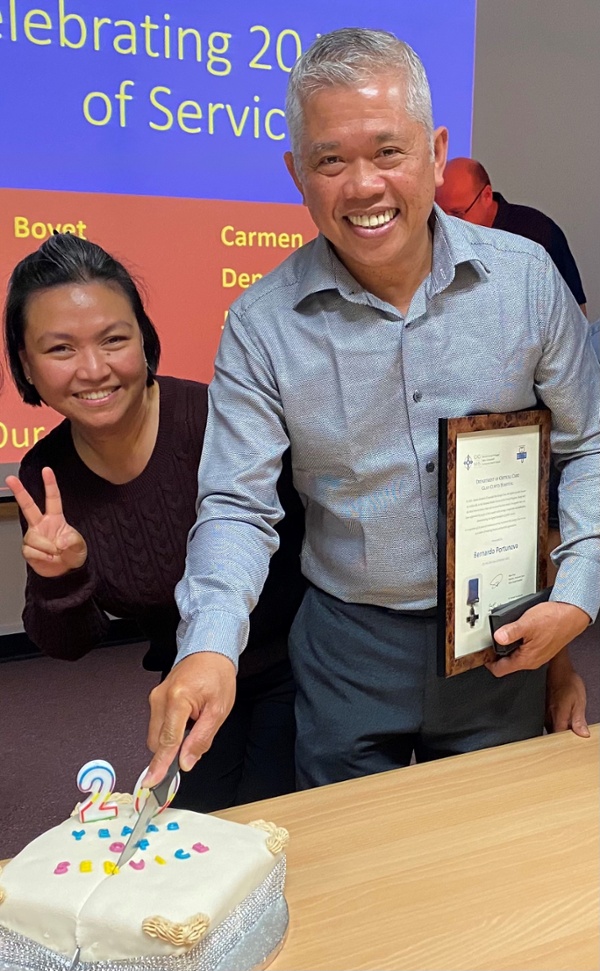 Armi Manzanares (left) and Boyet Portunova cut the cake celebrating 20 years of serving patients in North Wales

"Up to now we still don't have the time to grieve properly because we have to continue. We have to provide the same level of care in spite of the big challenges. It's really, really hard to be honest."
He added: "I think when they gave us the opportunity to work here, I think we were quite good at handling a stressful situation. The more you push us, the more we dig in.
"Maybe it's because we grew up in such a difficult environment compared to here. We think that's one of our biggest qualities – resilience, we never give up.
"Then the other thing is we always bring smiles. We just smile. Maybe it's part of our genes but we smile and we persevere whatever the situation is."
Boyet revealed he had the option of moving to Ipswich or Conwy back in 2001.
He said: "Obviously I grew up in Manila, which is a city, and I asked 'what is Ipswich'? They said 'it's a city'. So I asked 'what is Conwy'? They said 'it's in the countryside', so I said 'oh, take me there'.
"I think I made the right decision because this is the best place to raise my family. I have friends who live in big cities and when they come for a visit they always say 'you live in such a beautiful place'.
"It is a lovely place, with lovely people around."
Mr Venkat Sundaram, clinical lead for Ysbyty Glan Clwyd's ITU, said: "They provide the best nursing care and through their dedication and hard work they have proven they are an asset to the hospital, to our department, to the ITU family."