'This really boosted my confidence and self-esteem' - first patient using cosmetic camouflage make-up praises new service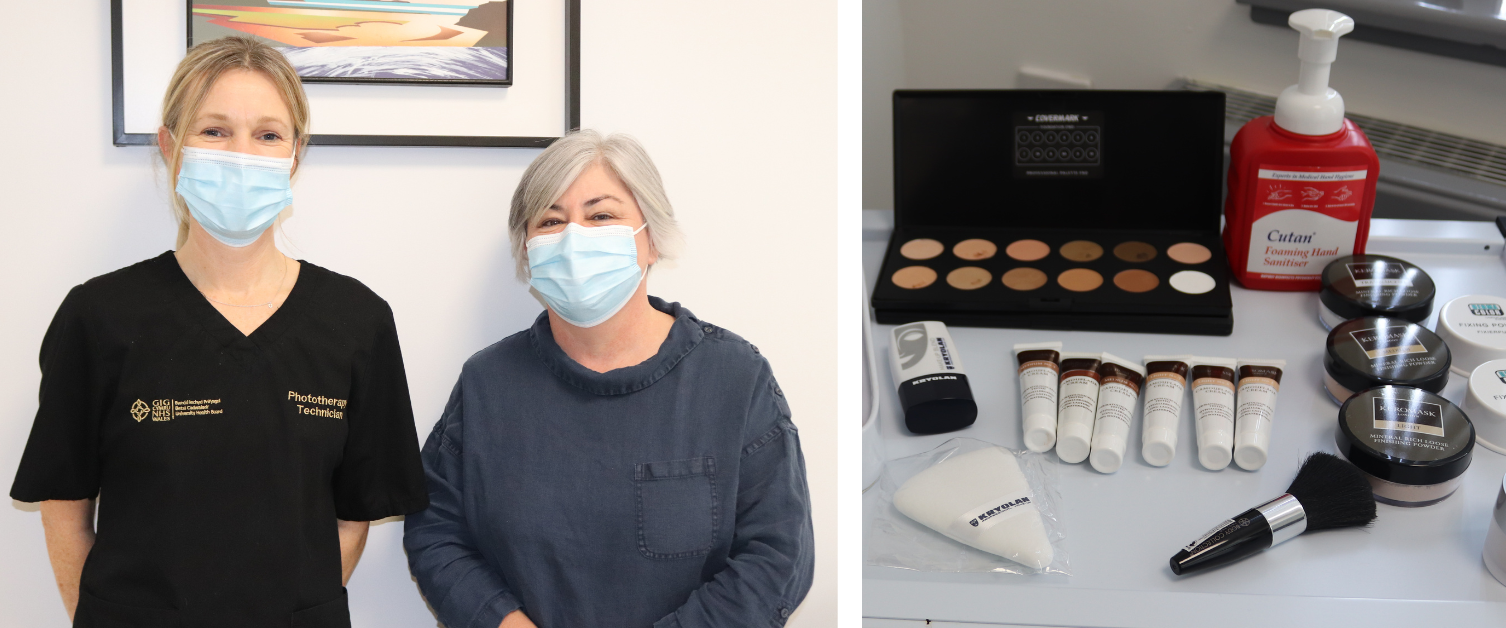 27/01/2023
A woman who developed a severe rash on her neck and arms following COVID-19 has praised the Wrexham Maelor Hospital's new cosmetic camouflage make-up service for helping to boost her confidence.
Earlier this year Tina Owen, from Flintshire, had an adverse reaction to medication for joint pain, which she had as a result of COVID-19, and developed a rash around her neck and arms, which gradually became worse.
Tina was referred to a consultant and was diagnosed with Berloque dermatitis, a rare chronic skin condition. She was told about the cosmetic camouflage make-up available for patients who wish to cover severe skin conditions.
Tina said: "I don't wear a lot of make-up, but when the consultant told me about the camouflage make-up service was available, I thought about my god son's wedding coming up and I was doing a reading.
"I had deliberately bought a dress that covered my neck and arms. I was thinking, I have to stand at the alter and do a long reading with everyone looking at me. It does affect your confidence when something like this happens, and COVID-19 certainly has, so I was referred for an appointment.
"Heidi Evans, a dermatology practitioner at the hospital, was lovely. When I was told I was Heidi's first appointment I was amazed, because she was so competent, answered all my questions and it was a weirdly enjoyable experience."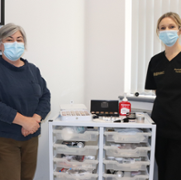 The cosmetic make-up consists of camouflage creams and powders that are designed to cover a broad range of skin conditions. Practitioners spend time matching it to the individual patient's skin tone, and demonstrate how to apply it, so that the patient can learn the skills needed to use it themselves at home.
Tina received the make-up a week before the wedding, and bought a new dress for the occasion.
She added: "It worked out really well. I was completely covered and nobody noticed or saw my rash. Heidi had showed me what to do so well and gave me lots of good tips. She gave me the confidence to use it, and I'm getting better at putting it on. Heidi helped relax me so much, and she was so lovely in her approach, I felt safe as she knew what she was talking about.
"I've got some left, I've only used it a couple of times, usually when I'm meeting new people to boost my confidence, as I've had unpleasant comments and looks previously as people do. It really boosted my confidence and self-esteem, and I felt much more at ease to stand up in front of everyone and do a reading.
"This is working really well already for such a new service, and this can make a really big difference to someone. I'm looking forward to using it over Christmas for a special occasion."
Wrexham Maelor's dermatology practitioners completed the cosmetic camouflage training over the summer and available to patients referred via the dermatology team. Dermatology Practitioners are also looking into rolling this service out across Ysbyty Gwynedd and Ysbyty Glan Clwyd in the future.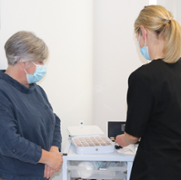 Heidi said: "I'm delighted how much this service helped Tina during a time she needed this service the most. I trained in cosmetic camouflage, alongside my colleagues, for this very reason, to help those cover their insecurities and to feel confident for those special occasions.
"I'm flattered by Tina's comments, and as my first patient for cosmetic camouflage she was lovely to work with. I'm so glad it all went great on the big day."
The Dermatology Department at Wrexham Maelor Hospital has also had a recent extensive refurbishment including the installation of a new phototherapy offering treatments for skin conditions and other disorders using ultraviolet light to reduce inflammation and improve the symptoms associated with conditions such as psoriasis and eczema.
Dr Glenda Hill, Associate Specialist in Dermatology at Wrexham, said: "We are thrilled to be able to offer these additional services to our patients. We've had lovely comments on how this has helped them. These new services would not have been possible without the recent refurbishment of the department, which includes new flooring, lighting, and it's improved the environment for our patients and staff. I would like to thank the Estates team for their support in helping to make this happen."
Keep up to date with health board news by signing up to our mailing list Sign up (es-mail.co.uk).