'The day I stop enjoying what I do is the day I'll retire' – Crenith celebrates 51 years of NHS service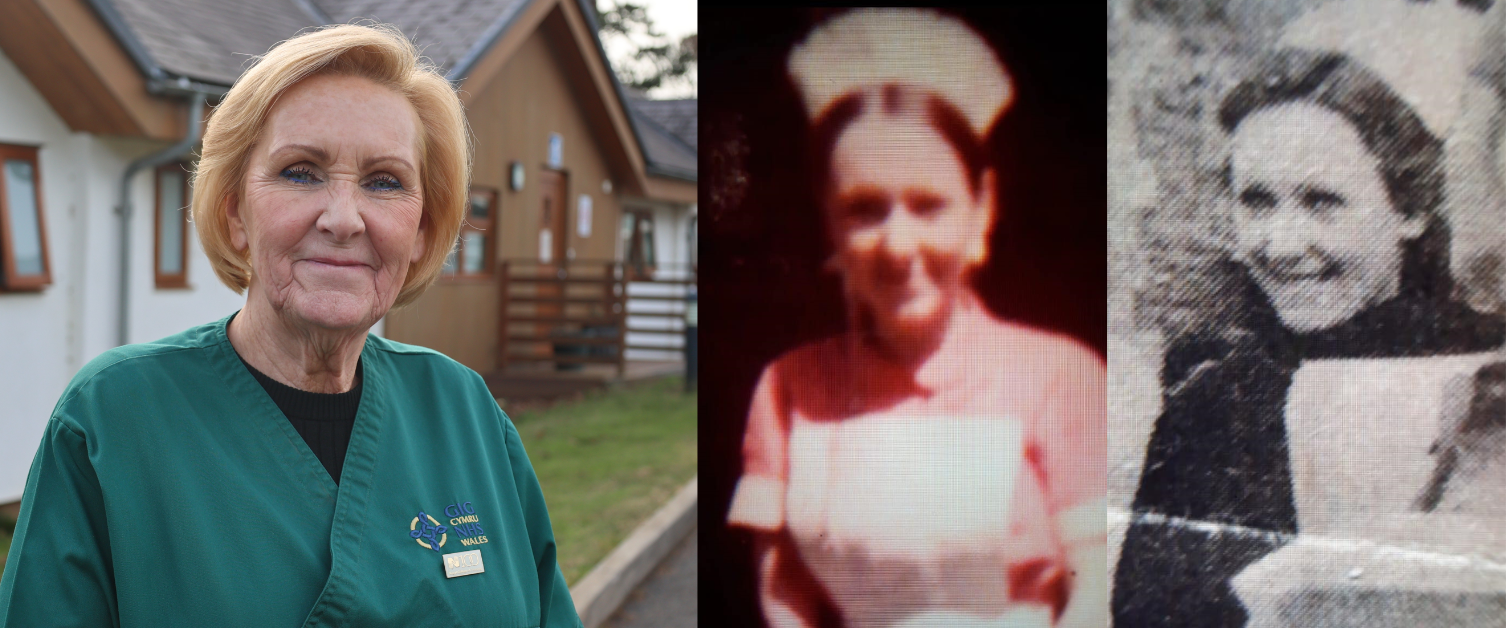 One of Wales' longest-serving NHS carers says she has no plans to retire from the job she loves, despite entering her 52nd year with the health service.
When Crenith Cox first donned her nurse's apron on March 5th 1972, Nilsson's 'Without You' topped the music charts, The Godfather was taking cinemas by storm, and the first hand-held calculator had just hit the shops.
As the 18-year-old made her way down the daffodil adorned drive of Bryn y Neuadd Hospital in Llanfairfechan, Crenith's father wagered that she wouldn't last more than a week.
But 51 years later, the spritely sixty-nine-year-old is still working full time, and she has no plans to give up the job that brings her so much joy.
Just as the world around her has changed beyond recognition in the last half century, so too has the caring profession that has formed such an integral part of her life.
Crenith has fond memories of her early years at work, when despite staffing problems and an often-exhausting daily nursing routine, work was extremely rewarding.
"We would always have to wear a uniform including cap, cuffs and starched aprons," remembers Crenith.
"It was a good place to work, but it could be very hard. The staffing ratios were nothing like what they are nowadays and it was an age before risk assessments and health and safety!
"I started my career working with children, many of whom were autistic and very hyperactive. The second day I was there I was left in charge of caring for 18 patients on my own. It was really hard work but so rewarding because you really felt as though you had made a difference.
"We all worked together and if there were any challenges, we overcame them together. I look back on that time with really fond memories."
Crenith currently works as part of a small team that support adults with learning disabilities in a residential setting within the grounds of Bryn y Neuadd Hospital.
Described as an 'inspiration' by colleagues, Crenith regularly goes above and beyond the call of duty to ensure that vulnerable patients are well cared for. Her daughter Vicky, herself a nurse at Glan Clwyd Hospital, says her mother shows the same affection to patients that she does her own children.
This includes buying food, clothing and birthday presents for the hospital's residents. In the 1980s, she even fostered a former resident in her own home over a five-year period, to ensure he received all the love and support he needed.
"It gives me so much satisfaction to know that people are well looked after and happy," Crenith explained.
"Years ago, we had so many patients that we couldn't really provide patient focused care, or really get to know them. But things are better now.
"Having worked here for so long, it's nice to provide patients with that continuity of care. That familiarity with the same person is so important – particularly for people with learning disabilities. Patients really trust me and I've been supporting some of them for over 20 years."
Despite approaching her 70th birthday, Crenith says she has no plans to retire.
"I just love my job and I love coming down the hospital drive and seeing the daffodils coming through. The day I stop enjoying what I do is the day I'll retire.
"All in all, the NHS has been a fabulous employer for me, and it has looked after me throughout my career.
"Nursing has been a big part of my life that has been extremely rewarding and still is. I would recommend it to anyone who has an ounce of compassion, feeling, sympathy and enjoys being able to add something to the lives of patients."
"Without the incredible support and understanding of my friends and family over the past 50 years, my work life balance would have been much harder. I also couldn't have done it without my wonderful daughter, who is my rock. I'm so proud of her and what she achieved in the nursing profession"
Dewi Evans, who has worked with Crenith at Bryn y Neuadd Hospital for the past 30 years, said she is loved by both colleagues and patients.
"Crenith has always had an infectious personality and she brings with her a wealth of knowledge and experience which she will readily share with her colleagues and especially with any new starters," he said.
"She is so well loved by all the staff and patients alike and will always go above and beyond to support both her colleagues and patients.
"Despite being almost 70 years of age and now entering her 52nd year of dedicated service, she will cover extra shifts at a drop of a hat.
"I am constantly amazed by this lady's energy. Even after 51 years of service, she shows no signs of slowing down and retirement is still very much on the distant horizon. Crenith is a very rare breed indeed and the likes of which we will rarely, if ever, see again!"