Terminally ill woman thanks everyone who helped her tick American truck ride off her bucket list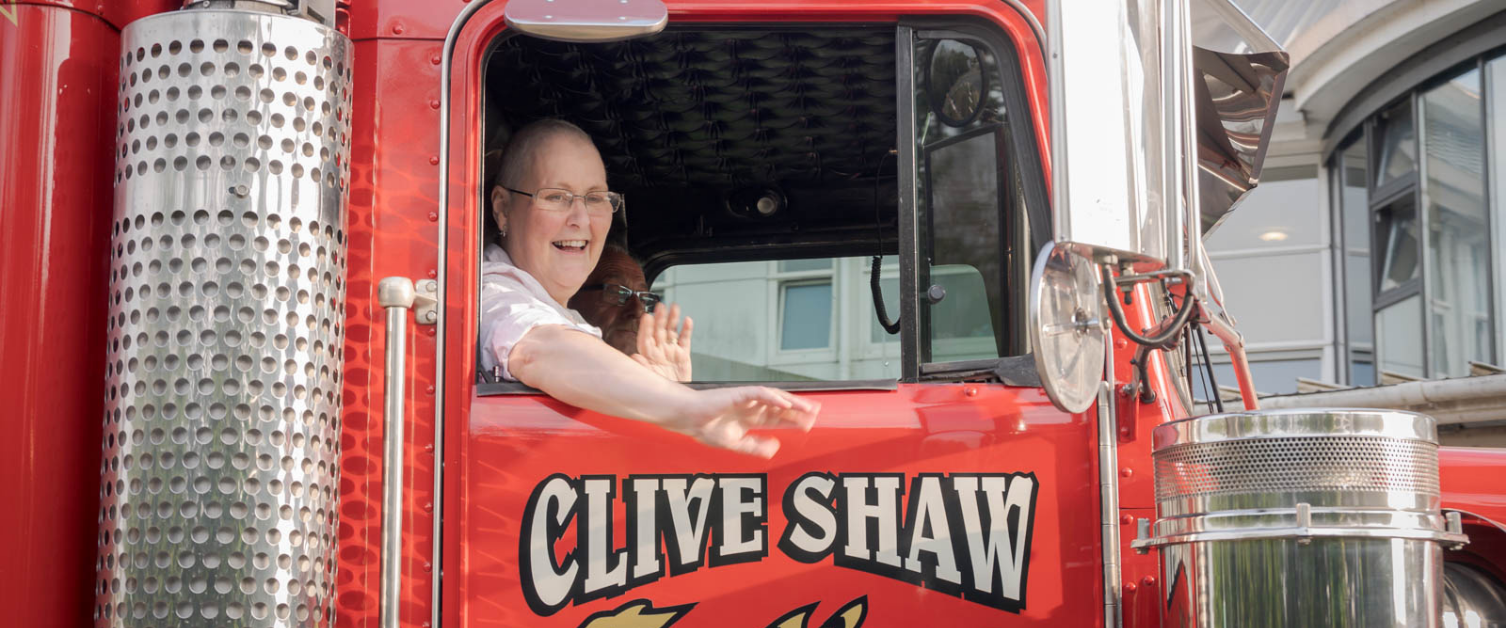 30/07/2021
A patient is thrilled to have ticked off her dream of riding a large red American-style truck from her bucket list.
Edna Pomeroy, 58, from Llandudno Junction in Conwy, was diagnosed with ovarian cancer in 2014, and has been receiving treatment at the North Wales Cancer Treatment Centre, at Glan Clwyd Hospital.
Edna said: "I had a wonderful time on Saturday, it's something I've always wanted to do. I've been fascinated with large American-style trucks for a long time, I've always wanted to drive one, but knew I wasn't able to do that, so I was so happy to ride in one."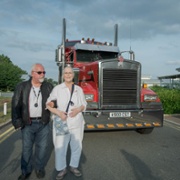 Edna's husband and son appealed to the trucking community on Facebook, and staff from Clive Shaw Trucking, who own the American-style trucks Edna's always loved, donated their weekend to drive from Lincolnshire to Conwy for Enda to tick her dream off her bucket list.
Edna chose to travel in the truck from her home to Glan Clwyd to visit the cancer centre where she has been cared for and is also raising money for.
She added: "They came all the way down from Lincolnshire, they were so lovely. Everyone in the street came out waving at us, and my grandson was crying he was so happy that he also got to ride in it with me on the way home.
"I wanted to ride the truck to the hospital as the staff have looked after me for over six years, so they mean a lot to me. I'm also hoping we can raise some money for the centre, to turn a negative into a positive. The cancer centre needs some TLC and I want that for others who are being treated there."
Edna and her family have raised over £1,900 for the centre so far, to find out more or to donate visit - https://www.justgiving.com/crowdfunding/james-williams-354?utm_term=pW3Kq5nqd.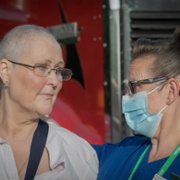 Edna plans to next go sailing with a friend, and enjoy a ride in her brother-in-law's new sports Bentley.
Sharon Manning, Macmillan clinical nurse at the Wales Cancer Treatment Centre, said: "It's been my privilege to nurse Edna through her cancer journey and support Steve for the past six and a half years. Edna's courage, dignity and resilience always shines through.
"Ovarian cancer is still an elusive cancer for GPs and doctors to diagnose. The symptoms of ovarian cancer are vague and variable. We need to raise the awareness of ovarian cancer so that ladies can recognise the symptoms earlier and stop this cancer being diagnosed at stage 3c or stage 4."
Patients with ovarian cancer can present with:
An increase in tummy size
Bloating
Abdominal, back or pelvic pain
Needing to pass urine more often or bowel changes or bowel pain
Fatigue
Feeling full after only eating a small amount
Common Misdiagnoses are:
Irritable bowel
Constipation or a urine infection
Gastritis
Stress, depression
For more information on ovarian cancer please visit the Macmillan Cancer Support website.