Successful partnership working across Gwynedd and Anglesey allows key services to continue during outbreak of COVID-19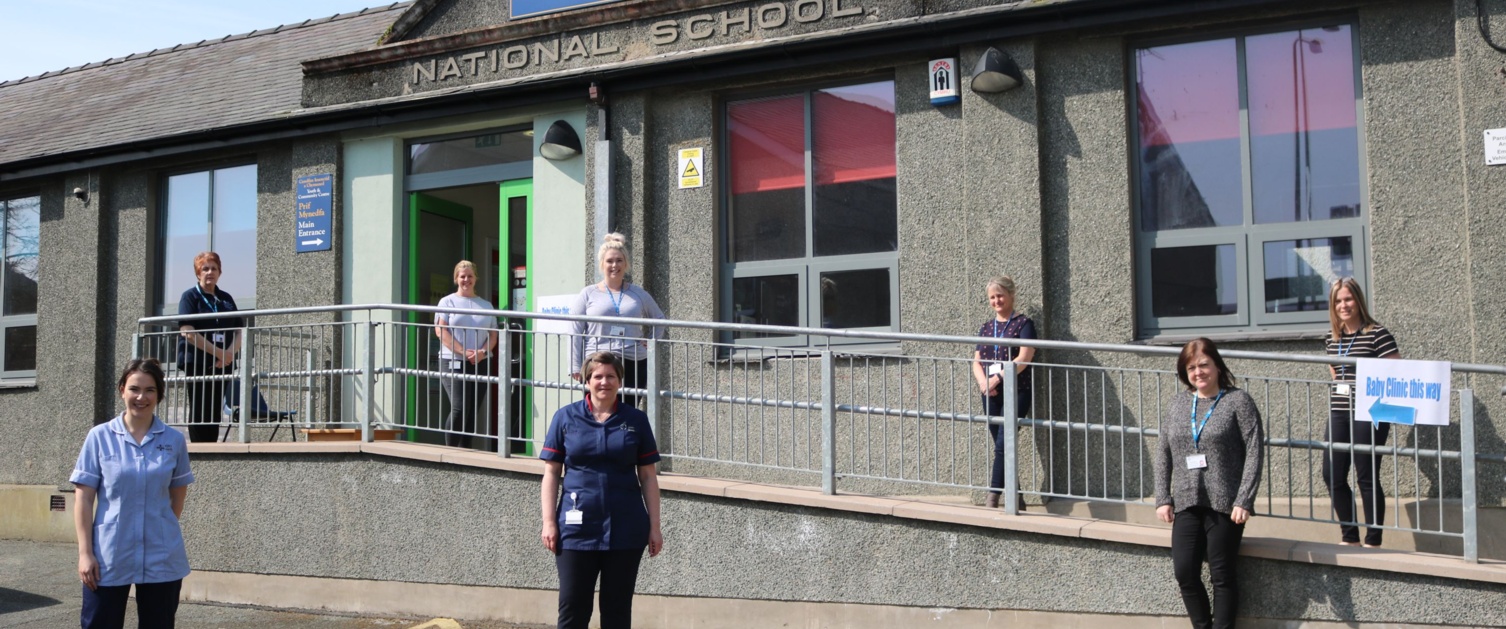 Clinics to immunise children from diseases such as measles are now being carried out in school venues thanks to partnership working with local authorities.
In response to the COVID-19 pandemic Betsi Cadwaladr University Health Board has been working closely with Gwynedd Council and Anglesey Council to ensure children are still being vaccinated during the outbreak.
All secondary schools and some primary schools in both counties now have the immunisation programme up and running within their communities.
Clinical Lead Nurse for Primary Care in the West locality of the Health Board, Catrin Macey, who has started one of her clinics at Jessie Hughes Community Centre in Holyhead this week, said: "This is an example of fantastic partnership working with our local councils across Gwynedd and Anglesey.
"It is extremely important during this pandemic that children are still receiving their immunisations.
"Having these clinics set up in council owned buildings within the community not only reduces pressure on our GP surgeries, but also provides a safer environment for our children."
The Health Board has been working hard with local authorities to establish other sites across the counties which could be used for health services during the response to COVID-19.
Ffion Johnstone, Area Director for the West locality of Betsi Cadwaladr Health Board, said: "During this outbreak of COVID-19 it is crucial that we continue to work together with our partners to ensure we can provide the services our community needs.
As well as the setting up the Immunisation Clinics, there has been a lot of work ongoing to identify Local Assessment Centres in Anglesey, Arfon, Dwyfor and Meirionnydd to identify possible venues when our health buildings were not available.
"The Byw'n Iach Centre in Pwllheli and Arfon Tennis Centre were also identified as possible locations for the centres, and Gwynedd Council were extremely supportive in securing these locations as an option.
"Although we have now established Ysbyty Bryn Beryl as the assessment centre for this area, work is still ongoing with the local authority to ensure that the leisure centre can be used as an assessment hub if we see a demand for this.
"We have also worked closely with Bangor City Council and Bangor Football club in securing a venue for the Arfon Local Assessment Hub and work is progressing to get the hub open in the next few weeks, and we are very grateful for everyone's support in getting this site ready.
"Having access to schools, community centres and leisure centres across the Gwynedd and Anglesey area and working closely with the local authorities to establish the best use of those locations enables services to not only be delivered within the community, but also reaches the most deprived areas where services are needed the most during these challenging and unprecedented times," added Mrs Johnstone.
Leisure Centres on Anglesey will also be used for clinical activity and the community midwifery teams will be located at the Llangefni Leisure Centre to ensure the continuation of core services in the community.
Senior Primary Care Cluster Co-ordinator for the West locality of the Health Board, Ellen Williams, who has been working closely with the local authority, said: '"Responding to the challenges of the COVID outbreak means we all have to move quickly and seamlessly, and I can say that the response from the councils with regards to accessing venues and gaining support to enable the continuation of key services has been excellent.''
Isle of Anglesey County Council Leader, Councillor Llinos Medi Huws, said: "These are unprecedented times; and as such partnership working between all organisations across the region is vital.
"We're pleased to be able to support colleagues at the Betsi Cadwaladr University Health Board by providing alternative locations for key services. As well as clinics at the Jessie Hughes Community Centre in Holyhead, we have also made two of our leisure centres, in Holyhead and Llangefni, available to community midwifery teams.
"It is important that health services like these continue on behalf of local communities and residents. Anglesey Council will continue to provide partners with as much support as possible over the coming weeks and months."
Councillor Dyfrig Siencyn, Gwynedd Council Leader added: "As well as continuing to provide essential care services for our most vulnerable residents during this extremely difficult time, we are also working closely with our health partners to support their vital efforts.
"We are in constant discussions with senior officers from Betsi Cadwaladr University Health Board and are pleased to have been able to offer our facilities wherever they may be of assistance in the fight against Covid-19.
"Specifically, we have been working with the Health Board, Ynys Môn Council and Bangor University to help set-up a temporary hospital site at Canolfan Brailsford in Bangor and will continue to work closely with the Health Board and other partners to ensure the best care for our residents."