Successful drive-through at Wrexham hospital for patients with breathing difficulties increases testing capacity by 30%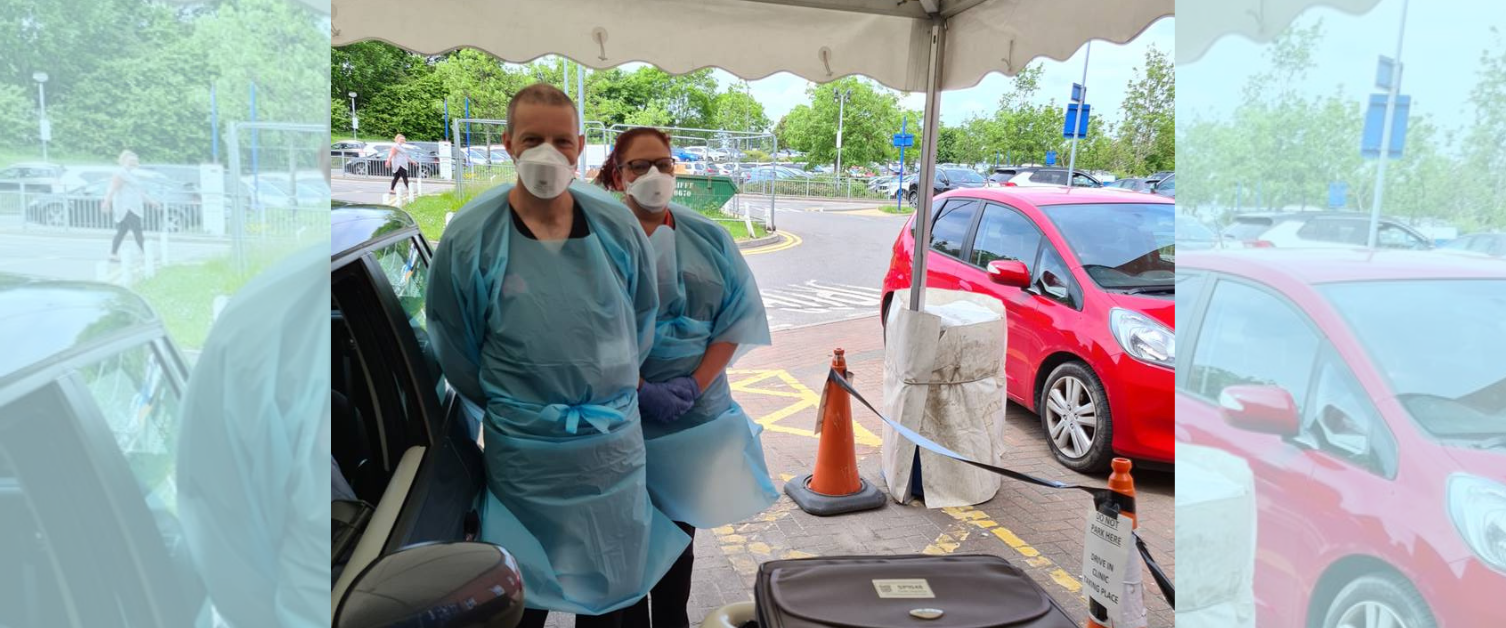 29/07/2021
A new drive-through spirometry service has opened at Wrexham Maelor Hospital to test patients with breathing difficulties, increasing the testing capacity by 30%.
The service allows patients, who have been referred to the drive-through by a consultant, to undergo lung function tests from the comfort of their vehicle.
Spirometry is a lung function test that is used to help diagnose and monitor certain lung conditions such as asthma, interstitial lung disease, and chronic obstructive pulmonary disease (COPD). The test measures how much air you can breathe out in one forced breath using a device with a mouthpiece called a spirometer.
Mr David Clough, Chief Respiratory Physiologist at Wrexham Maelor Hospital, said: "The decrease in capacity due to the pandemic led to an increase in patients waiting for investigations, with the potential to cause delay to diagnosis and treatment. There is insufficient appropriate clinical space within the department to increase capacity, so a proposal was put forward by Dr James Kilbane for the development of a drive-through spirometry clinic, with the aim of making a significant impact on the time patients are waiting for respiratory investigations, and minimise delays to diagnosis and treatment.
"With patients attending in their own vehicles this enables a larger number of tests to be undertaken than can otherwise be achieved in the Cardio-Respiratory Department due to Covid-19 safety measures.
"With the support and hard work of Dr Kilbane, the operational management team and the respiratory physiology team, the drive-through spirometry initiative started in June 2021, performing investigations on patients that we would not have otherwise had the capacity to investigate. This is extremely positive news for both the service and our patients."
The respiratory physiology service has been significantly impacted by the Covid-19 pandemic losing 83% of lung function testing capacity, which includes spirometry amongst many other investigations. The drive-through, alongside another initiative which has improved the ventilation in the lung function clinic room, has helped to increase the number of patients tested by 71% compared to before the pandemic.
The clinic takes place under a marquee positioned next to the entrance to the rehabilitation unit at Wrexham Maelor Hospital. Patients, who have been referred to the drive-through by a consultant, arrive in their car and drive into a parking space under the marquee, and members of staff from the respiratory physiology team then greet the patient in their car and carry out a Covid-19 compliant spirometry investigation through the car window. The patient is then free to leave and the results are forwarded on to the referring consultant.