Richard the 'selfish' altruist, whose brain tumour led him to a career in dietetics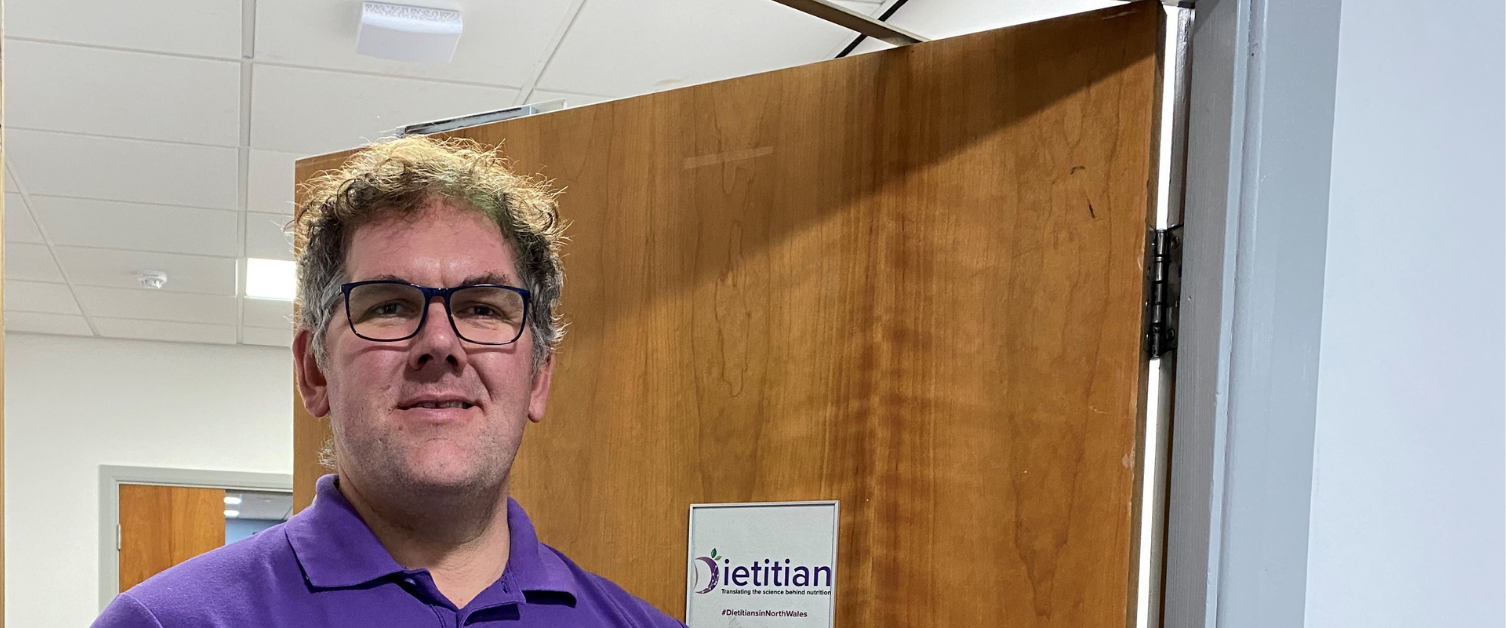 12/11/21
A former journalist decided to become a "selfish altruist" within the NHS while recuperating from three operations to remove a brain tumour.
Richard Irvine was an experienced sub-editor at the Liverpool Echo when he received the news in 2012 he had a benign growth.
He thought he "better get it sorted out" when it affected his hormones, increasing his weight, and threatened his eyesight.
Richard was treated at the Walton Centre, Liverpool, and had successful surgeries in 2012 before what he described as a "long and hard" rehabilitation, which included bouts of radiotherapy.
While recovering he witnessed first-hand the extraordinary commitment of health care staff and decided on a career change so he could help others too.
Dietetics is concerned with diet and its effects on health and he chose the discipline because of how the tumour had affected him.
Richard, 46, said: "It was fine because the tumour was benign but it messed up my hormones and it was threatening my eyesight, so I thought I better get it sorted out.
"I put on loads of weight. I think it opened my mind and made me understand weight is not all about calories in and calories out.
"Going through the experience and seeing the NHS up close, I found it so interesting and thought 'what a good job'.
"My recuperation was hard but it gave me time to think about life, what I was doing and the future.
"So I was fascinated with weight management because of my own situation. I thought if I can be paid for looking at this it would be ideal.
"It really made me think helping people is a nice rewarding part of the job, so I planned it all and my route to getting there."
Having worked at the Chester Chronicle since 1998, Richard had moved to the Liverpool Echo with a high-pressure role as a sub-editor in 2004.
It was a wrench leaving the newspaper after 19 years with the same company, but it was something he said he knew he had to do.
His bosses supported him through his Access to Higher Education course in 2016, by allowing him to work shifts which complemented his studies. He passed - and started a degree in nutrition and dietetics at Chester University in 2017.
Just before beginning the course he was offered voluntary redundancy from his job and then his partner Victoria gave birth to twins Thomas and Emma.
It may have been too much change for many people but it merely firmed up Richard's resolve to be successful.
He said: "I would say take a chance. If you want something you will make it work. I just treated my studies like a 9-5 job."
Having already attained a 2:2 in law when he was younger, he attained a first class degree in his new subject but was typically humble about the achievement.
"I was amazed and delighted to get a first but it was because I had obligations," he said. "I couldn't take any chances – I had to do the best I could do to get a job."
After going on placements trying to get his work-based qualification to become a fully-fledged dietician, lockdown happened before he could finish.
Because he had asthma, his supervisors at Arrowe Park Hospital, Wirral, had to follow the guidance at the time and Richard wasn't allowed to continue his placement.
However, he kept looking for opportunities and eventually found one with Betsi Cadwaladr UHB's dietetics department last year.
It allowed him to finish his placement while being paid and he was offered a role at the end of it.
"They were so nice and welcoming," he revealed. "Within a year I've advanced in my job within the weight management division.
"Just helping people recognise the difference between types of food and changing behaviours is rewarding.
"It's a kind of selfish altruism. You do good, but you feel good because of it."
Vacancies - Betsi Cadwaladr University Health Board (nhs.wales)