Potential future doctors experience a day behind the scenes at Wrexham Maelor Hospital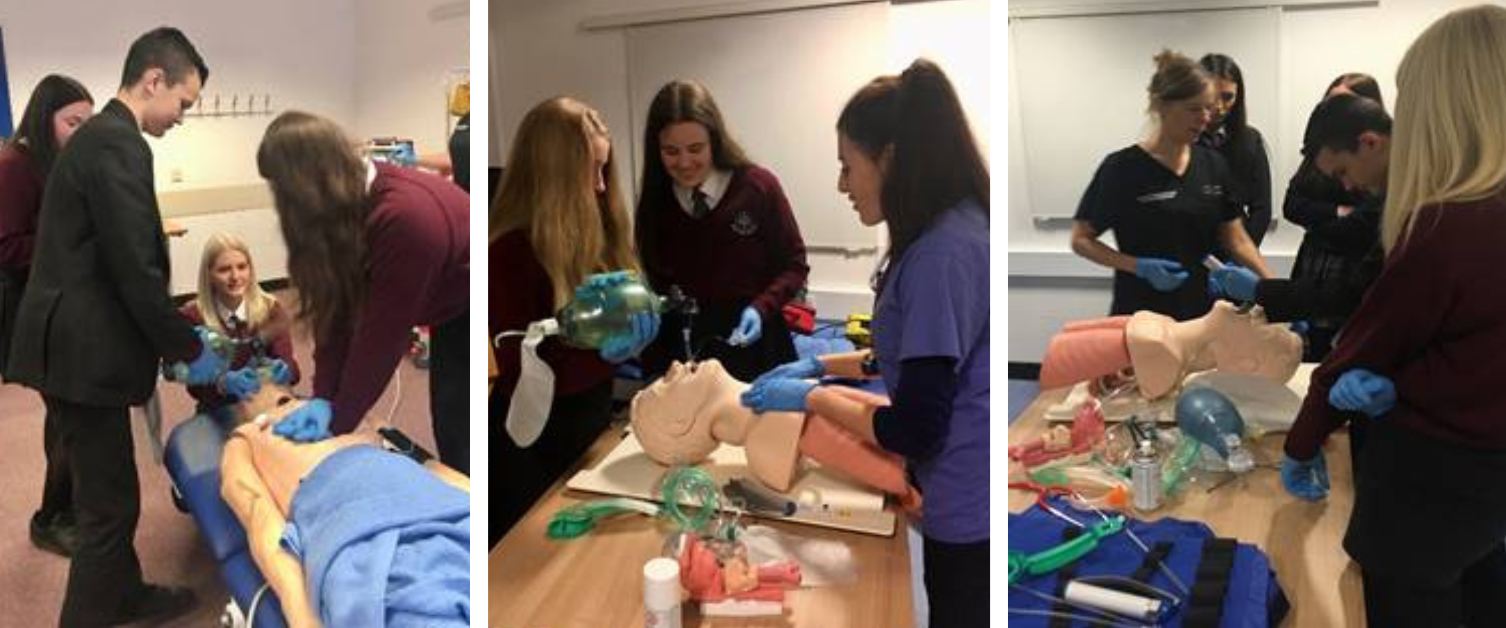 31/01/2023
Local Year 10 students from Wrexham and Flintshire had a taster of what it takes to become a doctor at Wrexham Maelor Hospital.
The hospital's Medical Education Department gave local students a day of behind the scenes at a Future Doctors Event which provides young people who are considering pursuing a career in medicine with all the information they need to help achieve their goals.
The event included clinical skills workshops giving students the chance to practice their clinical skills on lifelike manikins.
Andrea Clutton, Medical and Dental Education Manager, said: "We deliver this programme to support and encourage our local students who are considering a career in medicine but are unsure what is needed to pursue this career pathway.
"It is great to see such enthusiasm for our programme from various schools throughout the local area. We look forward to seeing many of these students back with us as our future doctors. I would like to take this opportunity to thank Lesley Lloyd, Business Engagement Advisor Career Wales, Gemma Lewis, Medical and Dental Education Lead Coordinator, and Cardiff and Bangor Universities and our medical education teaching faculty for their tremendous hard work in making this day a success."
Dr Claire Halligan, Honorary Senior Lecturer and Consultant Anaesthetist, led the presentations to the students and spoke of her own experience, and gave an in-depth look into what's needed to get on to the career path as a doctor. Dr Lizzie Hodges, Year 2 Foundation Doctor, then spoke about her experiences as a foundation doctor and what an average working day looks like.
Medical University students currently on placement at Wrexham Maelor also got involved in the event. Evie Wateridge, Year 4 student, Jack Wellington and Lara Green, final year students, all spoke about their experiences as medical students and what student life entails.
Representatives from Bangor and Cardiff University also talked about the process of getting into medical school and the necessary requirements.
The event ended with a question and answer session as well as information on further opportunities that are available after completing their GCSE's studies, such as the Wrexham Medic Programme in partnership with the Seren Programme.
Dr Denise McKeegan, Clinical Medical Education Fellow explained how the medic programme, run Dr James Kilbane, Respiratory and Acute Medicine Consultant in the Wrexham Maelor Hospital, invites the brightest and most academically able students in Years 12 and 13 across Wrexham and Flintshire to join the programme.
The programme provides students with the opportunity to gain valuable insights into the world of medicine and in particular provide them with a firm foundation as they start your own journey towards qualifying as the doctors of tomorrow. The programme increases students' knowledge of medicine as well as prepare them for the university application process including UKCAT and medical school interviews.
The programme is intended to challenge the students thinking about medicine, develop their knowledge and understanding as well as develop your confidence in presentation and discussion. All the essential skills and attributes necessary for the medical school application and interview process.
If you're interested and would like to find out more about these type of events or the Wrexham Medic Programme in partnership with the Seren Programme please contact Gemma Lewis, Lead Medical Education Coordinator by emailing gemma.lewis5@wales.nhs.uk.
Keep up to date with health board news by signing up to our mailing list Sign up (es-mail.co.uk).