Pharmacy team wins digital innovation award for positive impact on patients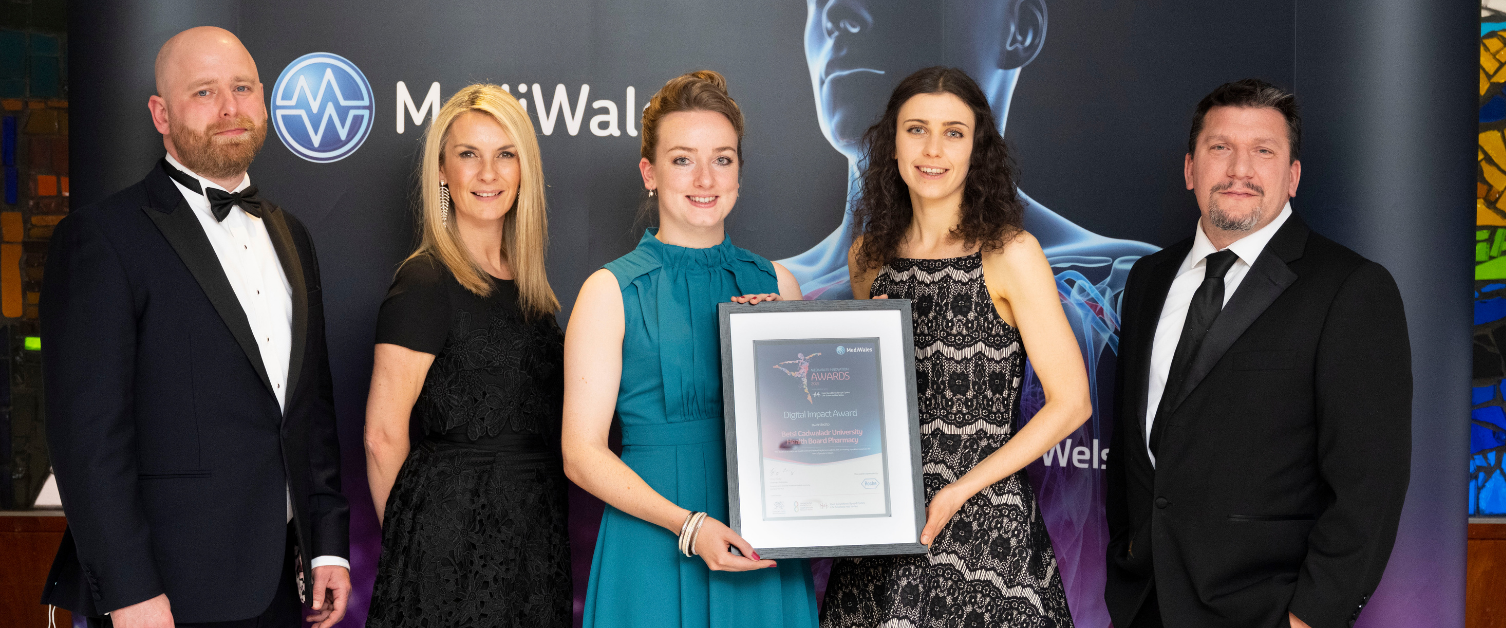 13/01/2022
The Pharmacy team at Wrexham Maelor Hospital are celebrating winning a health and care digital innovation award for the positive impact a pilot project has had on the lives of people in North Wales.
The team trialled the use of software called Information Reporting Intelligence System (IRIS) which when working with other healthcare systems, allows pharmacists to generate daily reports to identify and locate Acute Kidney Injury patients for a timelier pharmacist review, within overstretched busy departments.
During the 19-day pilot, 50 patients were reviewed by the Wrexham Maelor Emergency Department Pharmacist with 74% of patients requiring Pharmacist intervention to reduce risk of Acute Kidney Injury medication related harm.
The Pharmacy team won the Digital Innovation Award at the MediWales annual awards, which recognises and showcases the achievements in the life science sector in Wales.
Sheila Doyle, Medical Lead Pharmacist, said: "We are delighted to have won this award. Although this was a small project, it shows the big impact pharmacists can have improving patient care. By embracing digital advances in combination with pharmacists' unique skillset, we hope to share this work not just across Betsi but throughout Wales too and develop new pathways to champion patient safety."
The pilot project has had a significant impact on patient safety benefits and how easily they access medication, and demonstrates how adopting IT and digitalisation can significantly increase high quality care for patients.
Patients with an Acute Kidney Injury are linked with high death rates, and 20% of hospital patients die during admission with the remainder at risk of chronic kidney disease and increased length of stay. Prompt diagnosis of Acute Kidney Injury and reviewing the drugs which can make it worse or cause it, is paramount to reduce medication related harm.
Emily Rose, Pharmacist at Wrexham Maelor Hospital, said: "Being able to use technology in practice has helped us as Pharmacists to improve the quality and efficiency of care patients receive in the Emergency Department, and has helped to reduce workload and pressures for other members of the medical team."
The project was conducted last winter when Wrexham Maelor Emergency Department was suffering from significant pressures, and there was a delay between patients attending the Emergency Department and having a medic review.
The Pharmacy team stepped in to offer pharmacist intervention on admission as opposed to several days into admission, to safeguard patient safety, reduce medicines related harm and potentially help reduce the length of stay.
The project also helped highlight any cases of missed or misdiagnosis to the medical team and ensure any inappropriate medication changes made where appropriate.
The project found there is a clear potential for hundreds of patients to benefit from use of this digital technology in Emergency Departments and can help overstretched departments.