Patients hail robotic surgery at Ysbyty Gwynedd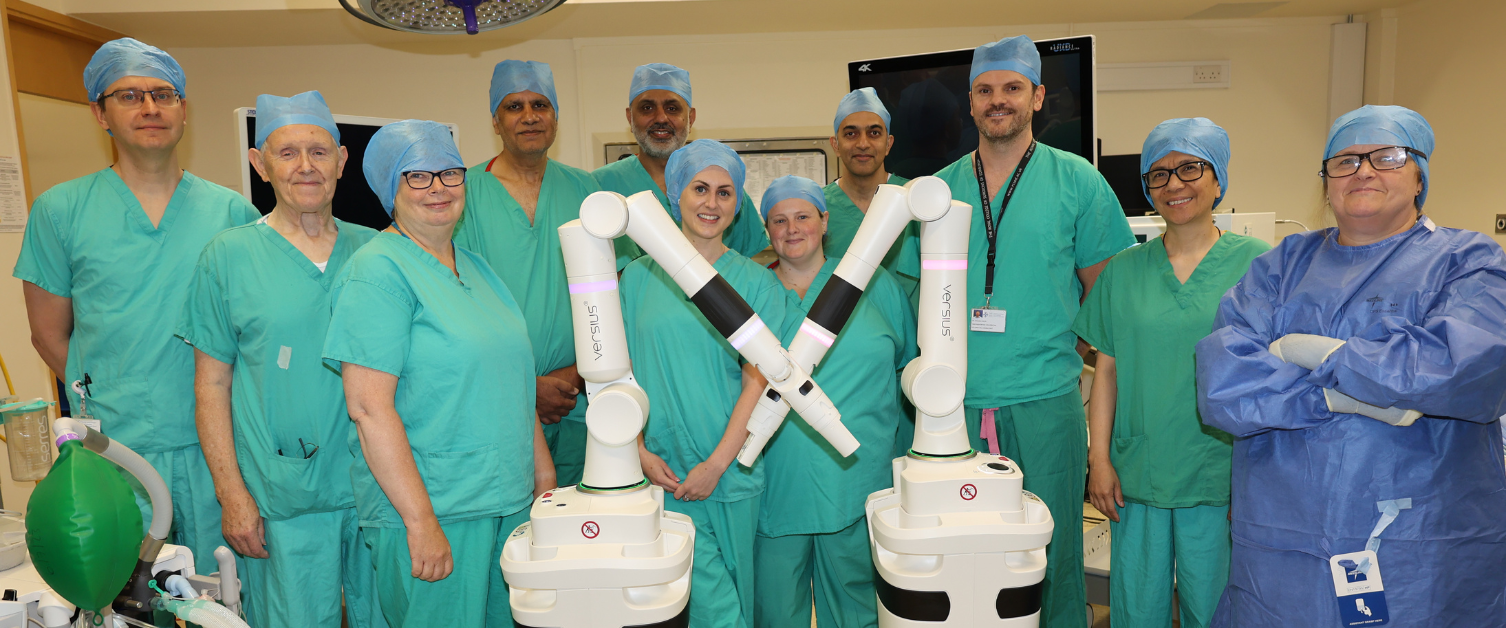 30 August, 2023
Bowel cancer patients from across North Wales can now benefit from faster recovery following surgery thanks to the introduction of state-of-the-art robotic technology.
Following the successful rollout within Gynaecology, General Surgeons from across the Health Board are now using the Versius Surgical Robotic System at Ysbyty Gwynedd to treat bowel cancer in patients suitable for this kind of surgery.
The technology allows surgeons to complete complex cancer operations using minimally invasive keyhole surgery. As a result, patients experience very little post-operative pain and are less likely to develop complications such as infections, while many are able to return home more quickly.
To operate the robot, the surgeon controls the machine's four arms from a console within the same operating room. This allows them to move tissue or make cuts remotely with incredible accuracy.
Steve Williams, 67, from Mold, who was picked up by the Bowel Screening Programme earlier this year, received his operation in June 2023.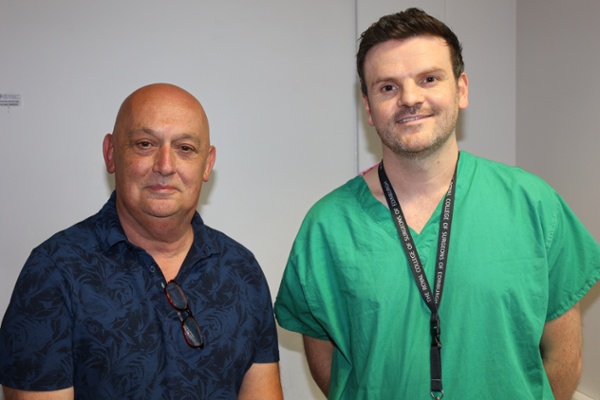 He said: "When I first received the bad news I was given the option of robotic surgery by my surgeon, Mr Dixon. I did some research on it and learnt of the benefits and decided to go for it.
"From the moment I walked into the hospital I felt at ease, it was so friendly and everyone was smiling, it made such a difference. Although it was a very long operation, I was up and about the next day and felt really good and went home a few days later.
"The care I received from both Wrexham Maelor Hospital's Preoperative team and Stoma nurses, Mr Dixon and my time at Ysbyty Gwynedd was outstanding. The nurses on Tegid Ward were extremely professional and compassionate, I can't thank them enough for what they did for me.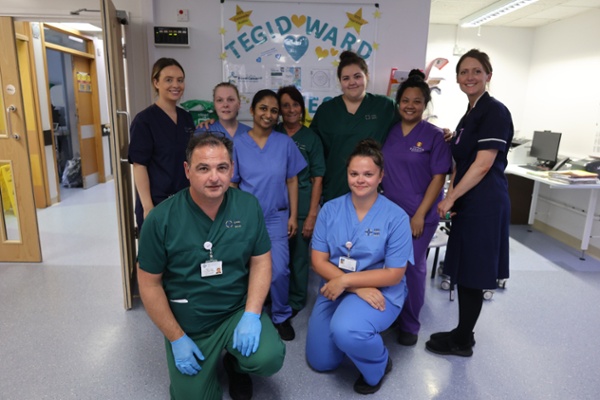 "I've now received the good news that I do not require any more treatment but I'll be monitored for the next five years which is really reassuring."
Mr Steve Dixon, Consultant Colorectal Surgeon, who joined the Health Board earlier this year due to the robotic technology being available within his field, said he is pleased with the feedback from patients so far.
He said: "Throughout my surgical training I sought opportunities to develop keyhole techniques and spent time working in high volume robotic centres to ensure I had the skills to offer the best results for our patients.
"It's been a pleasure so far working closely with the robotic team, learning together and developing together, ultimately seeing our patients, like Mr Williams, benefit. Robotic surgery allows surgeons to push boundaries of quality and what is possible, new developments within the technology are arriving almost monthly which makes this an incredibly exciting time to be working for the Health Board. Nationally, bowel cancer rates are on the rise, innovation and progress such as bowel cancer screening and the Robotic programme will help us achieve a cure for more patients."
Another patient who has benefitted from this technology recently is Paul Fletcher, 55, from Minffordd, who returned home only four days after major surgery.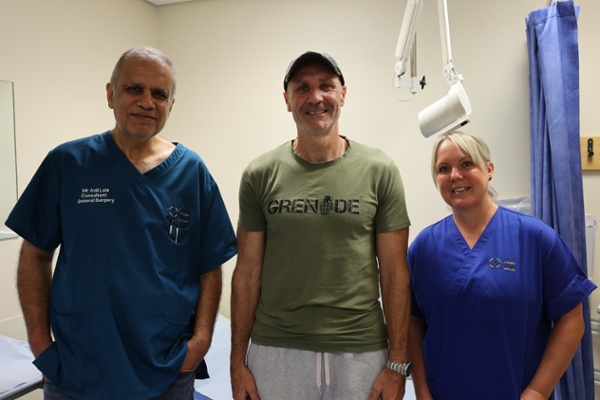 He said: "From the beginning when I met my surgeon Mr Lala and the team I couldn't ask for better care and support.
"I was amazed this technology was available, it's incredible how things have moved on. The benefit of having this type of surgery worked for me as I was up and about very quickly and home within four days.
"I would like to thank the team at Ysbyty Gwynedd, from the cleaners on the ward to the nurses who were all fantastic.
"I was also picked up by the bowel screening programme, which at the time I'd never heard of. I was very lucky and since this has happened to me I've been encouraging everyone I know who is eligible to take the screening test to do it – if it's picked up early something can be done so it's so important people do the test."
Mr Anil Lala, Colorectal Surgeon and Robotic Lead for the Colorectal team, said: "The introduction of robotic surgery for bowel cancer patients is an exciting step forward for our teams within the Health Board, which will also benefit our patients by helping them to recover quickly – keeping them well and out of hospital.
"We have four surgeons now trained in the technology, myself and Mr Baber Chaudhary in Ysbyty Gwynedd, Mr Sheik Rehman from Glan Clwyd Hospital and Mr Dixon from Wrexham Maelor Hospital. This allows us to ensure we offer this service for patients from across North Wales.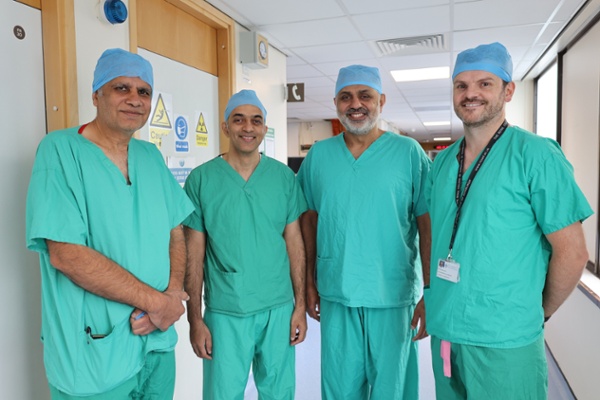 "It also benefits our operating theatre staff, who will be trained on cutting-edge technology to drive forward outcomes and recovery times for our patients.
"Robotic surgery has many advantages compared to open surgery; benefits include less blood loss, shorter hospital stays and quicker recovery and we have seen some very positive results so far. We look forward to developing this service further within Colorectal in the future."