Over 2,000 Anglesey residents to receive their COVID-19 vaccination at Ysbyty Penrhos Stanley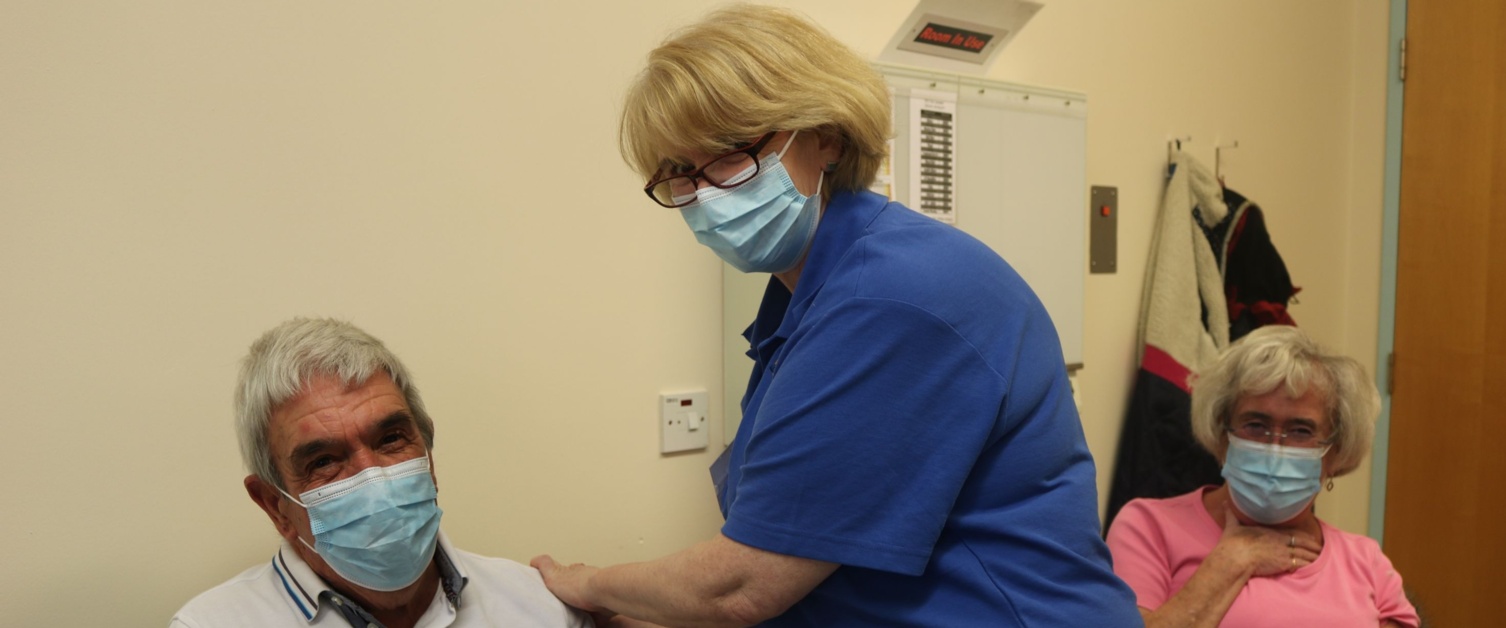 Around 2,000 people will receive their COVID-19 vaccination at Ysbyty Penrhos Stanley over the next few days.
The first people from the top four priority groups from Holyhead and the surrounding area began to receive their jabs on Thursday, 11 February.
The local vaccination centre has been set up within a week thanks to the huge efforts of the staff at the hospital and the primary care teams.
Two of the first people to receive the vaccine were husband and wife, Barbara and Peter Wrigley, from Trearddur Bay.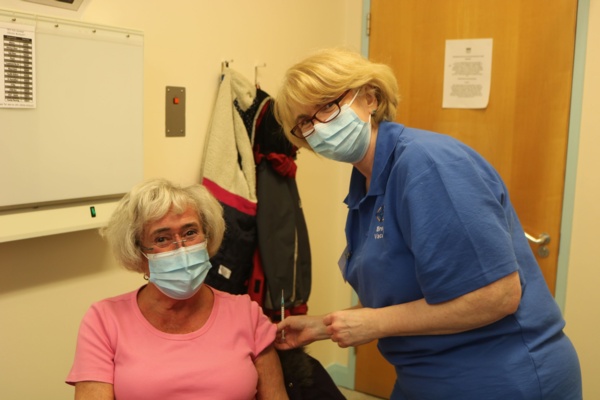 Barbara, 77, said: "I'm thrilled to have had my vaccine, and also to have it so close to where we live.
"We haven't really been out anywhere over the last year, apart from the shops so having the vaccine gives us some hope that there is light at the end of the tunnel.
Peter, 75, added: "I have to thank the teams involved for their efforts to provide these clinics within the community.
"It is very well organised and everyone made you feel at ease – having this vaccine is very important, and I encourage everyone to take it up when it's their turn."
Catrin Macey, Clinical Lead Nurse for Primary Care in the West of the Health Board, said she was extremely proud of the teams involved for setting up the clinics in such a short space of time.
She said: "We are so pleased to be able to provide provision for the vaccine local to people's homes.
"We have received incredible support from many different NHS staff to help us do this, local practices are involved and we've got physiotherapists, nurses from other surgeries helping pull this together – it's a big joint venture.
"It really is phenomenal to be part of; I think it's a testament of how dedicated and great our staff are in the NHS."
Dr David Williams, from Meddygfa Victoria in Holyhead, is one of the GPs vaccinating patients at the hospital.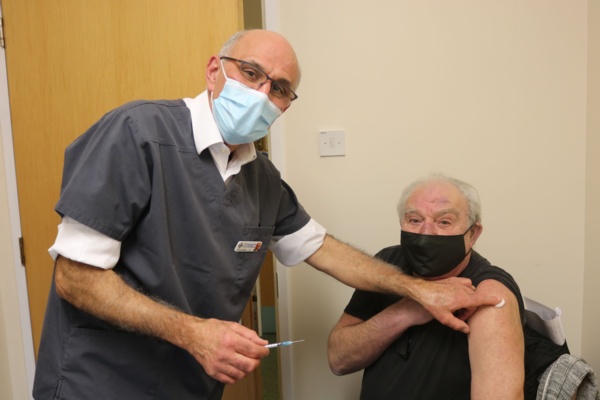 He said: "It's important that we have centres like this available in the community as some people can find it difficult to travel to the Mass Vaccination Centre in Bangor.
"We also have to remember that many people in the priority group 1-4 won't have travelled far over the last 12 months so it's great to be able to offer the vaccine locally when it's possible.
"Being in the hospital means we are able to use the Pfzier for the first time with our patients on Anglesey and vaccinate over 2,000 people in the space of a few days.
"This will ensure we have vaccinated a large of amount of vulnerable people in this area by the end of the weekend, which is great news."
The hospital will be administering the vaccines up until Sunday, 14 February. All appointments are pre-booked, drop-in appointments are not available.
Ffion Johnstone, Area Director for the West of Betsi Cadwaladr University Health Board, said: "We are overwhelmed with the support we have received to enable us to set these clinics up at the hospital.
"We have a number of volunteers from Anglesey Council and Medrwn Môn supporting with marshalling duties and guiding patients from and over 40 other volunteers who have put forward their names to support the clinics over the next few days.
"This is an incredible community effort, and we'd like to thank everyone who has been part of the effort to help make this happen."
People who are extremely clinically vulnerable or over the age of 70 who haven't yet received their first coronavirus vaccination appointment are being urged to contact a dedicated booking centre as soon as possible.
If you are over the age of 70 or you have previously received a formal letter from the Welsh Government advising you to shield because you are clinically extremely vulnerable, and you haven't received your first coronavirus vaccination appointment, please contact the COVID-19 Vaccination Booking Centre on 03000 840004 to book your appointment.