Much-loved nurse retires after 45 years of service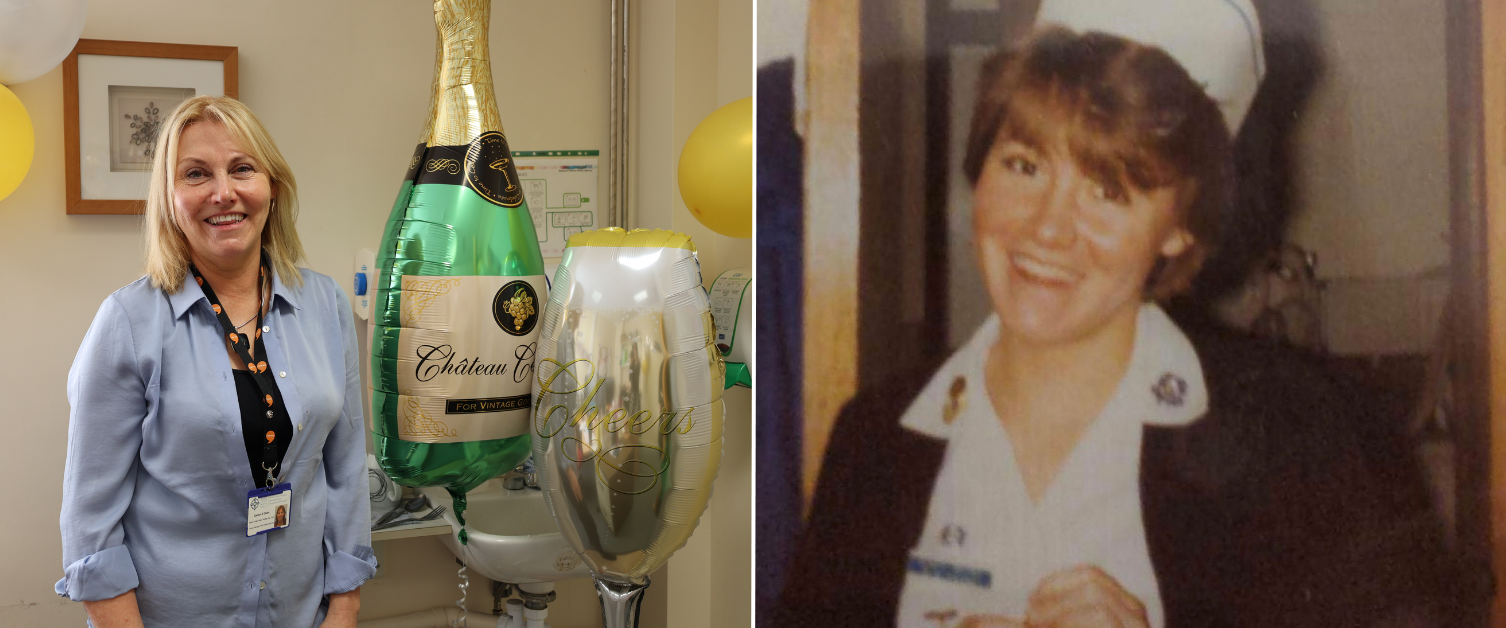 06.03.23
A much-loved nurse at Ysbyty Gwynedd has retired from her duties after 45 years in the profession.
Carolyn Owen began her career as a student nurse in 1978 in Bangor and three years later became an Intensive Care Nurse at Ysbyty Gwynedd.
Carolyn spent fourteen years on the Intensive Care Unit (ICU) where she says she made her fondest memories as a nurse.
She said: "I absolutely loved being an ICU nurse, you cannot beat that one to one care with a patient and having that close relationship with their family.
"Despite going through some very sad times on the unit with some of our patients and their families the experience I had there was amazing.
"We were an extremely close team and had so much fun, it was such a special time and my heart will always be in ICU."
Carolyn left her sister post in ICU in 1996 and began a Health Visiting degree and became qualified in 1997 and worked in the Llandudno area.
In 1998 Carolyn starting working as a Specialist Nurse in Genetics. Three years later she gained an MSc and registration in Genetic Counselling and became the lead for the North Wales service in 2011. In 2020, she became a Consultant Genetic Counsellor.
For the last 25 years she has worked directly with patients and families offering genetic/genomic information and support allowing them to make health decisions.
In her role she was part of a multidisciplinary team working alongside clinical geneticists and clinical scientists, helping to diagnose, manage and predict and screen for genetic disease.
She said: "I became the lead in 2011 and it was such a privilege to do this and a pleasure to develop the service and have the opportunity to create different roles in the team.
"I mainly worked across Obstetrics, Cardiology and Paediatrics. It was a fantastic role and I worked with so many families, it's a role I will certainly miss."
Sonya Edwards, a former nurse who worked with Carolyn on the Intensive Care Unit, said she has fond memories of their time working together.
She said: "We have known each other since we were teenagers so it was fantastic to both be working as nurses and on the same unit.
"Carolyn is warm and kind and a truly special friend to me. We have always been there for each other when times were hard."
Former Vascular Specialist Nurse, Fiona Evans, also became a good friend of Carolyn's during their time working together at the hospital.
"We were all specialist nurses at the same time at Ysbyty Gwynedd and we became friends over the years.
"I always remember Carolyn being so calm at work, nothing phased her and it was evident how much she loved being a nurse."
Carolyn is now looking forward to her retirement and spending time with her grandchildren and travelling.
"I've had a fantastic career and made some life-long friends. I will certainly miss nursing and I will miss the patients," she added.