Macmillan Cancer Support invests over £400,000 into specialist skin cancer roles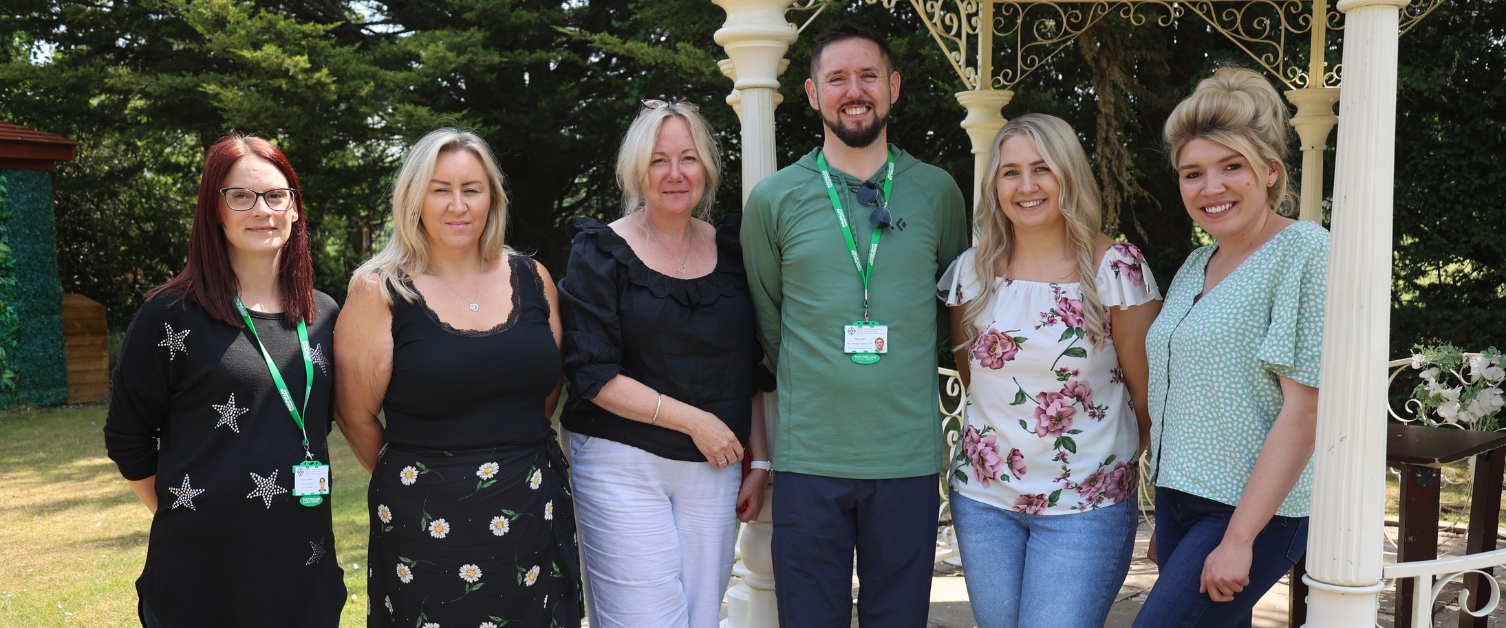 04.08.23
Macmillan Cancer Support has invested over £400,000 into six new specialist skin cancer roles in North Wales to help meet a rising demand for care and treatment.
Working in partnership with the Health Board, Macmillan's investment follows a specialist cancer nurse workforce review conducted in 2020 which identified skin cancer as a clear priority.
The funding, which has only been made possible by the generosity of Macmillan's fundraisers and supporters, has seen the development of three new clinical nurse specialist roles, as well as three assistant practitioner posts.
With all the new staff now embedded in their new roles, the aim is to make sure that more people with skin cancer across the region can be offered a key worker to help navigate them through what is often a complex cancer care journey.
The specialist staff will also play a crucial role in helping to make sure that people with cancer receive a holistic needs assessment, so that all their concerns – be they physical, emotional, or financial – can be captured in a detailed and personalised care plan.
Recent research from Public Health Wales shows just how much the demand for skin cancer treatment and care is expected to rise.
A recent first release of official statistics on non-melanoma skin cancer - the most common form of cancer in Wales – revealed a 7.1% increase in non-melanoma skin cancer between 2016 and 2019, while Wales also recorded the highest rate for this form of cancer in the UK.
Non-melanoma skin cancer made up 43 per cent of all new cases of cancer in Wales in 2019, with 15,102 first occurrences, compared to a total of 20,058 cases of all other types of cancer combined.
Phil Ralfs, one of Macmillan's new Clinical Nurse Specialists based in Ysbyty Gwynedd said: "I have worked in health care for over 22 years, and it is a real privilege to now be working with Macmillan to help improve the level of care offered to skin cancer patients in north Wales.
"As a new team we be working across North Wales and we aim to be there for our patients at every step, helping to make sure they get the personalised care they need, and to navigate them through every stage of their treatment.
"We know that the number of cancer specialists needs to increase in Wales if we are to manage the increasing numbers of people affected by cancer, and it is great to be part of that response."
Richard Pugh, Head of Partnerships for Macmillan Cancer Support in Wales said: "Over the last few years Macmillan has invested more than £1m into helping improve cancer care services in north Wales, none of which would have been possible without the tireless efforts of our fundraisers.
"Recent research from Macmillan highlighted the urgency with which we need to grow the capacity of the cancer care workforce in Wales. The number of specialist cancer nurses alone needs to increase by 80% if Wales is to effectively support the 230,000 people predicted to be living with cancer in Wales by the end of the decade.
"That is why we are so hugely proud of our ongoing partnership with Betsi Cadwaladr Health Board, and this investment – it moves us another step further in making sure that specialist cancer care staff are being placed where they are needed the most."
Nicky McLardie, Associate Nursing Director for the West of Betsi Cadwaladr University Health Board, said: "These posts are a result of a successful collaboration between the Health Board and Macmillan Cancer Support. The aim is to provide people diagnosed with skin cancer with an excellent experience of care.
"The Clinical Specialist Key Workers and the Assistant Practitioners will work with Dermatology and Oncology clinical teams to improve the clinical pathway to ensure Person Centred Care for the people of North Wales. The teams will identify patient needs through a holistic needs assessment, and co-creating a Care and Support Plan for people living with skin cancer. This ensures all patients are treated as individuals and partners in their own care.
"The role will also involve working collaboratively with other clinical teams in tertiary centres, community, and primary care services to improve the experience and outcomes for people living with skin cancer across North Wales.
"I have enjoyed working with Macmillan and the rest of the BCUHB team on bringing this to fruition and I am very proud to have been involved."
Macmillan continues to do everything we can to help, and we are here for anyone with cancer and their loved ones. For advice, information or a chat, you can call us free on 0808 808 0000 or visit macmillan.org.uk.