Internship at Ysbyty Gwynedd gives huge confidence boost to young man with autism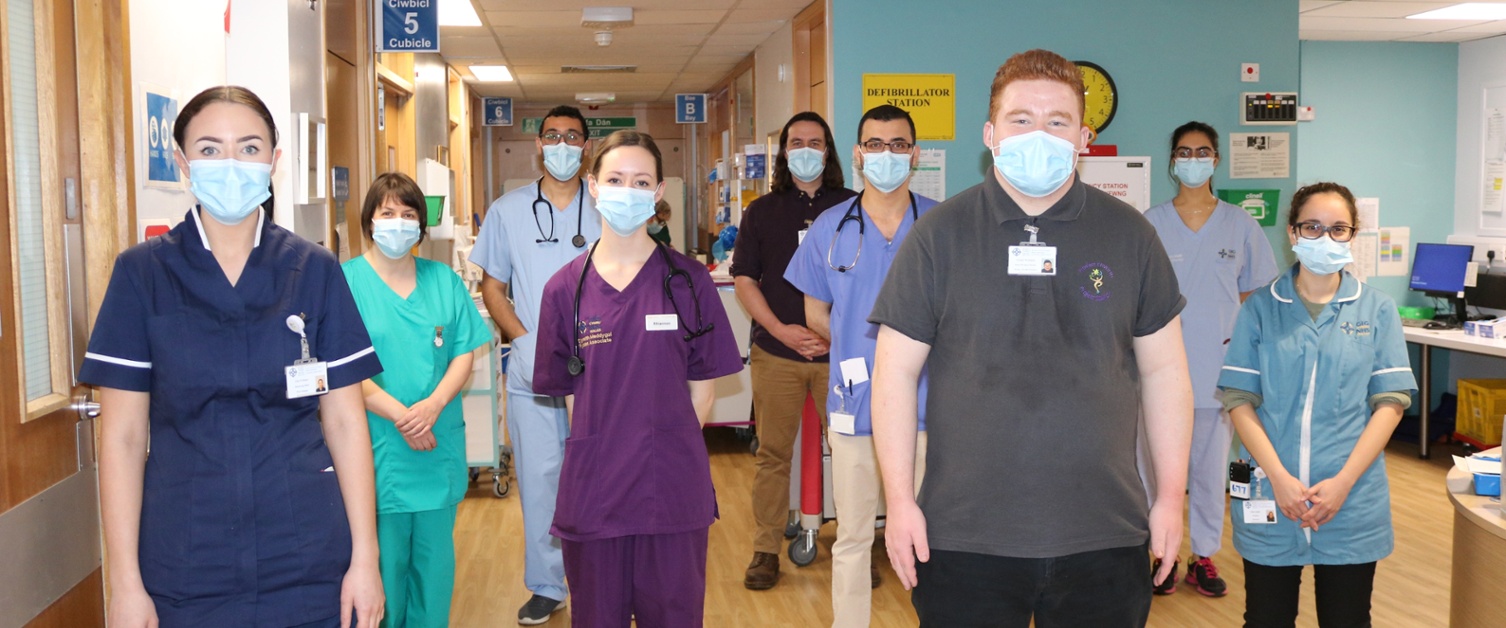 14.02.2022
A young man with autism has thrived since taking on a placement at Ysbyty Gwynedd that has helped boost his confidence.
Owain Williams, who currently works as a Housekeeper on Glyder Ward, joined as a supported intern on the Engage to Change, DFN Project Search internship in 2020 – a one-year internship programme supporting people with learning disabilities to gain skills and experience to move into paid employment.
Due to the pandemic, the 20-year-old from Holyhead, had to delay his internship until 2021 and has since worked on a number of wards supporting the clinical staff by carrying out housekeeping duties.
As well as keeping the wards tidy and ensuring there is enough stock of PPE (Personal Protective Equipment) for his team he also helps to serve the tea and coffee for patients.
Owain felt extremely nervous when he first arrived at the hospital, recalling his first day, he said: "I was very anxious about starting the internship as I really didn't know what to expect.
"I was very nervous due to the situation with COVID but the staff made me feel extremely welcome and put me at ease by showing me how to use PPE correctly, keep socially distanced and how important it was to follow good hand hygiene.
"I immediately felt part of a team and I really enjoy coming into work every day as I knew I'd be learning new things on a daily basis and developing my skills."
Owain has been praised by his colleagues for his friendly nature and enthusiasm.
Dr Eslam Abdelaziz, a Junior Doctor on Glyder Ward, said: "Owain greets me with a beautiful smile on the bus on the way to work each day.
"He is a joy to be around, very helpful and the patients love having him on the ward!"
Amanda Owen, Glyder Ward's Housekeeper has been supporting Owain in his role since he joined the ward, added: "We all look forward to seeing Owain when he's on shift, he is always happy and keen to help in any way he can.
"It is really lovely to see how much the patients enjoy chatting with him, so much so they always ask where he is when he's not on the ward!
"It is a real pleasure to work with him and it's been a delight to see how much he has developed during his time with us."
Project SEARCH is made possible through funding from Engage to Change and a collaboration between the Health Board, Grwp Llandrillo-Menai, Agoriad Cyf and Learning Disability Wales.
Project Search Programme Lead, Gwyn Llewelyn Hughes, said: "We are always delighted to see how well our interns progress during their time with us.
"When Owain first joined us at Ysbyty Gwynedd he was very nervous and he wasn't too sure whether he wanted to go ahead with the internship. Lockdown had certainly affected him and knocked his confidence, so this was a perfect opportunity to get his confidence back and help him grow.
"It has been incredible to see the change in him over the last year, he is a different person to when he first arrived, we are all really proud of him."