Huge community response to protect frontline staff during outbreak of COVID-19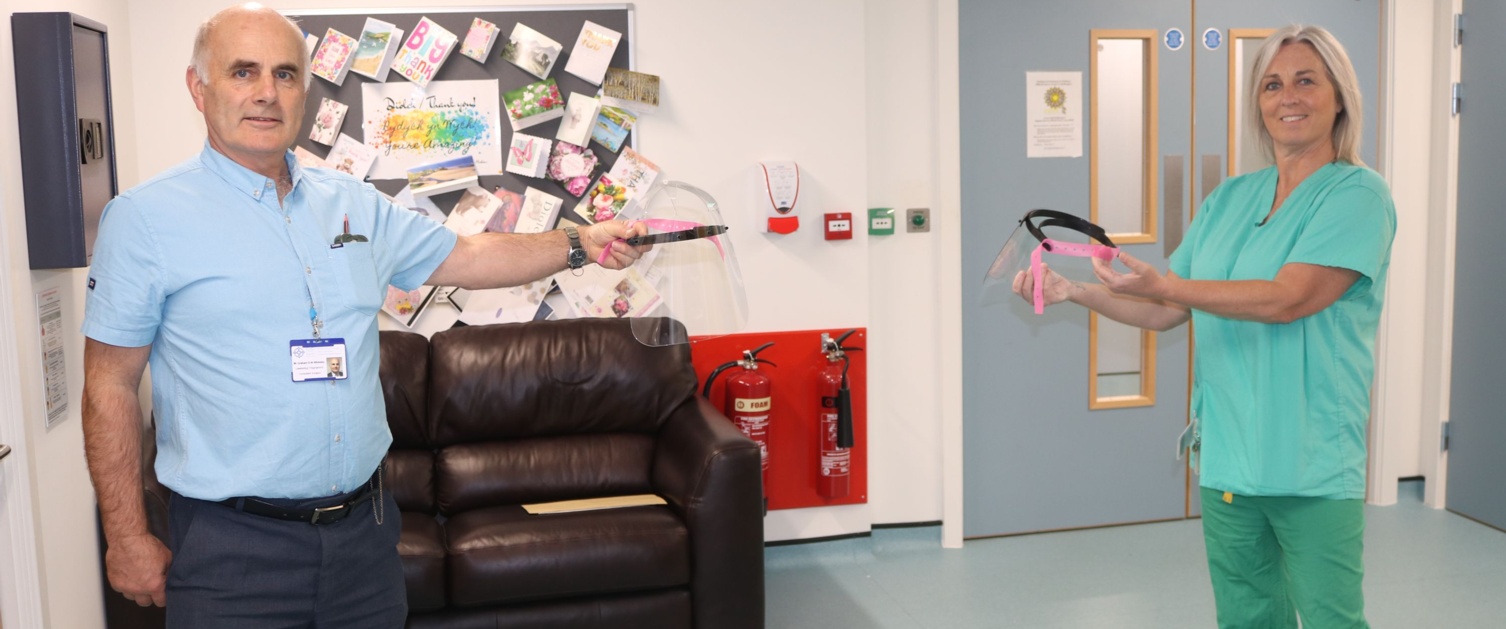 Around 700 visors to help protect frontline staff during the COVID-19 pandemic have been donated to the Health Board thanks to a huge effort by the local community.
A project began a week ago between North Wales Tech, Bangor University, Grwp Llandrillo Menai, schools in Gwynedd and Anglesey and private companies to create the Personal Protective Equipment (PPE).
Within only five days the visors were delivered to Ysbyty Gwynedd to be distributed across the hospitals in North Wales.
Dr Simon Burnell, Consultant Anaesthetist at Ysbyty Gwynedd, who was present to receive the visors, said: "We are extremely grateful for this donation to help keep our staff protected during these times.
"This has been an incredible effort and it's very humbling to see how our close knit community is coming together to do everything they can to help us."
The visors were delivered by members of Menai Science Park who have been involved in the production.
Pryderi ap Rhisiart, Menai Science Park's Managing Director, said: "I've been amazed to witness the power of the people in reacting to this issue over the last five days.
"It shows that we can work together effectively, between community members, academia, public and private sector."
Mark Polin, Chair of Betsi Cadwaladr University Health Board has echoed calls from the First Minister for urgent businesses to support in producing PPE for frontline staff fighting the outbreak of COVID-19.
The Health Board has received a huge response to the ongoing appeal for equipment and is working with individuals to coordinate the work and ensure that locally manufactured products meet the required protective standards.
Mr Polin said: "We would like to thank all organisations and individuals who have already been in touch for their support and generosity during the outbreak of COVID-19.
"I would like to urge any companies across North Wales to come forward if they can assist us in any way.
"Whether it is visors, masks, aprons or gloves, the anticipated increase in the number of COVID-19 cases will no doubt see demand for these items rise further throughout the country in the coming days, weeks and months."
Companies who would like to help with the request for PPE can make contact by emailing the Procurement Department via nwssp.nwales.procurement@wales.nhs.uk