Hospital cleaner surprised with special award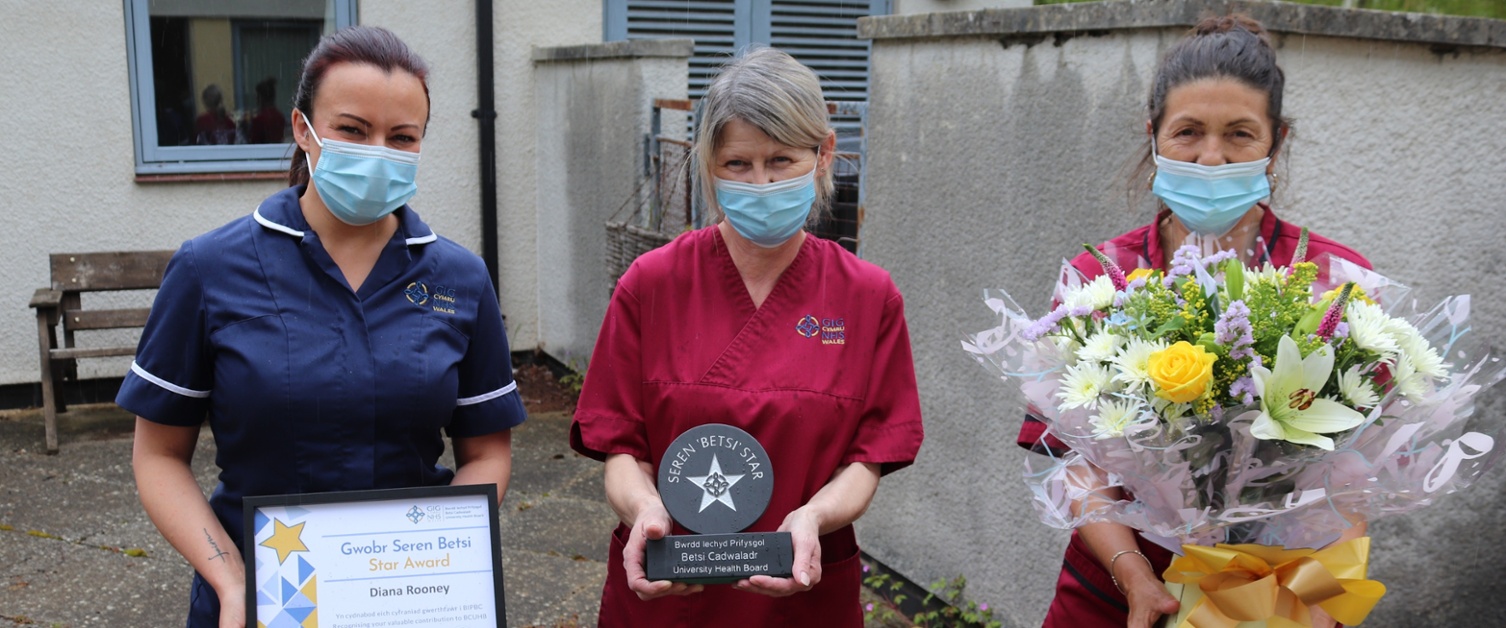 A hospital cleaner has received a special award for her 'outstanding' work during the COVID-19 pandemic.
Diana Rooney, a Domestic Assistant at the Ablett Mental Health Unit at Glan Clwyd Hospital, was nominated for a Seren Betsi Star award by her colleagues, who praised her for going 'above and beyond' for patients.
The monthly award recognises the hard work and dedication of Betsi Cadwaladr University Health Board staff and volunteers.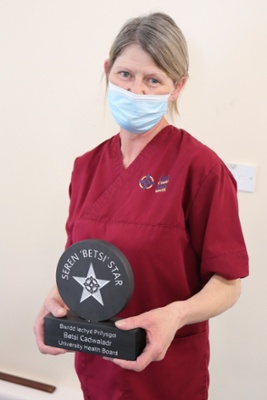 Diana, who has worked at Glan Clwyd Hospital for over 30 years, was presented with the award by colleagues during a surprise ceremony.
Sarah Caunce, Dinas Ward Manager, said: "Diana has an excellent relationship with all staff and she engages well with patients on the ward.
"She takes part in our ward development sessions where we discuss how to support some of our most vulnerable patients.
"She is very approachable and patients feel that she is somebody that they can go to for reassurance and a friendly chat.
"Nothing is ever too much for Diana - she is an outstanding person and the effort she puts in is impeccable. She's a valued and vital part of our team at the Ablett Unit."
Dinas Ward Healthcare Support Worker Hannah Roberts added: "During the COVID-19 pandemic she has gone above and beyond to ensure that everywhere is thoroughly clean and the ward is safe.
"She'll always take extra time to thoroughly disinfect frequently touched surfaces and she is very knowledgeable with all aspects of infection control."
Diana said: "I was shocked to even be nominated so to win the award has come as a huge surprise."
Rod Taylor, Director of Estates and Facilities, said: "Our Domestic staff play a crucial role in ensuring that we can deliver safe and effective care, and they have been key to our response to the COVID-19 pandemic.
"On behalf of the Board, I would like to congratulate Diana for this very well deserved award and thank all of our Domestic staff for their continued hard work and dedication."