Helplines team recognised for providing 24/7 support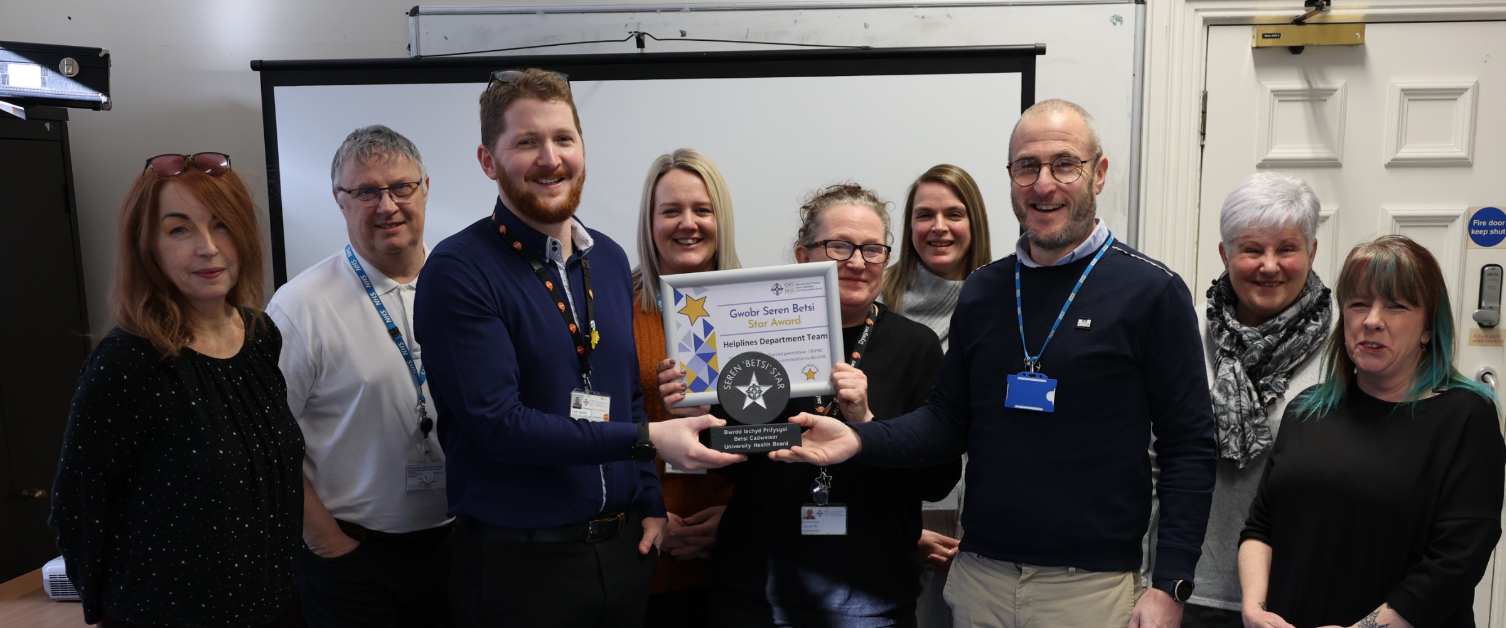 A team which provides 24/7 support to vulnerable people throughout Wales has scooped a surprise award.
The North East Wales based Helplines Department team has become the latest winner of the Seren Betsi Star award, which recognises the hard work and dedication of NHS staff across North Wales.
The dedicated team host the Welsh Government funded CALL mental health helpline for Wales; the DAN 24/7 Drug and Alcohol helpline; and the Wales Dementia Helpline.
All three services are available on a 24/7 basis for people across Wales, providing emotional support and signposting to a comprehensive directory of local and national services.
The Betsi Cadwaladr University Health Board managed helplines team have been recognised for the vital role they have played in supporting vulnerable people across Wales during the COVID-19 pandemic and beyond.
This includes meeting an 80 per cent increase in demand for support at the height of the pandemic, with staff and volunteers working additional hours to ensure that phone calls continued to be answered.
Luke Ogden, Manager of the Helplines Department, said: "The team have gone above and beyond to provide a consistent service for the people of Wales. Faced with the pandemic and the infection prevention barriers that come with it, the team in the department were safely able to deliver multiple services from within the same office."
Among those recognised was Karl Bailey, a volunteer who has given 27 years of selfless service to the helplines department. During this time, it is estimated that he has gifted more than 4,000 hours and answered more than 7,200 calls from people in need.
He said: "Volunteering here gives me a purpose in life. If I can use my spare time to help other people who may be having mental health issues then I feel I really get something out of it.
"It gives me a lot of satisfaction to know that I'm able to make a difference when someone is in distress."
The team were presented with the surprise award by Will Williams, Head of Service Delivery and Clinical Operations Regional Specialist Services at BCUHB. He said:
"The team deserve enormous credit for the way they've stepped up to meet this huge increase in demand, despite the significant challenges posed by the COVID-19 pandemic. In doing so, they have ensured that people across Wales can quickly and easily access emotional support during their hour of need. We're incredibly proud of the team's efforts and they are all very worthy winners of this Seren Betsi Star award."
All three helplines are available 24/7, with support provided by telephone, text message and via a dedicated website.
CALL Mental Health Helpline for Wales. Freephone: 0800 132737, Text 'Help' to 81066, or visit callhelpline.org.uk
DAN 24/7 Drug and Alcohol Helpline for Wales. Freephone 0808 808 2234, Text 'DAN' to 81066, or visit dan247.org.uk/
Wales Dementia Helpline. Freephone 0808 808 2235, Text 'Help' to 81066, or visit callhelpline.org.uk/Dementia-Helpline.php