Health Board delivers leadership training to young people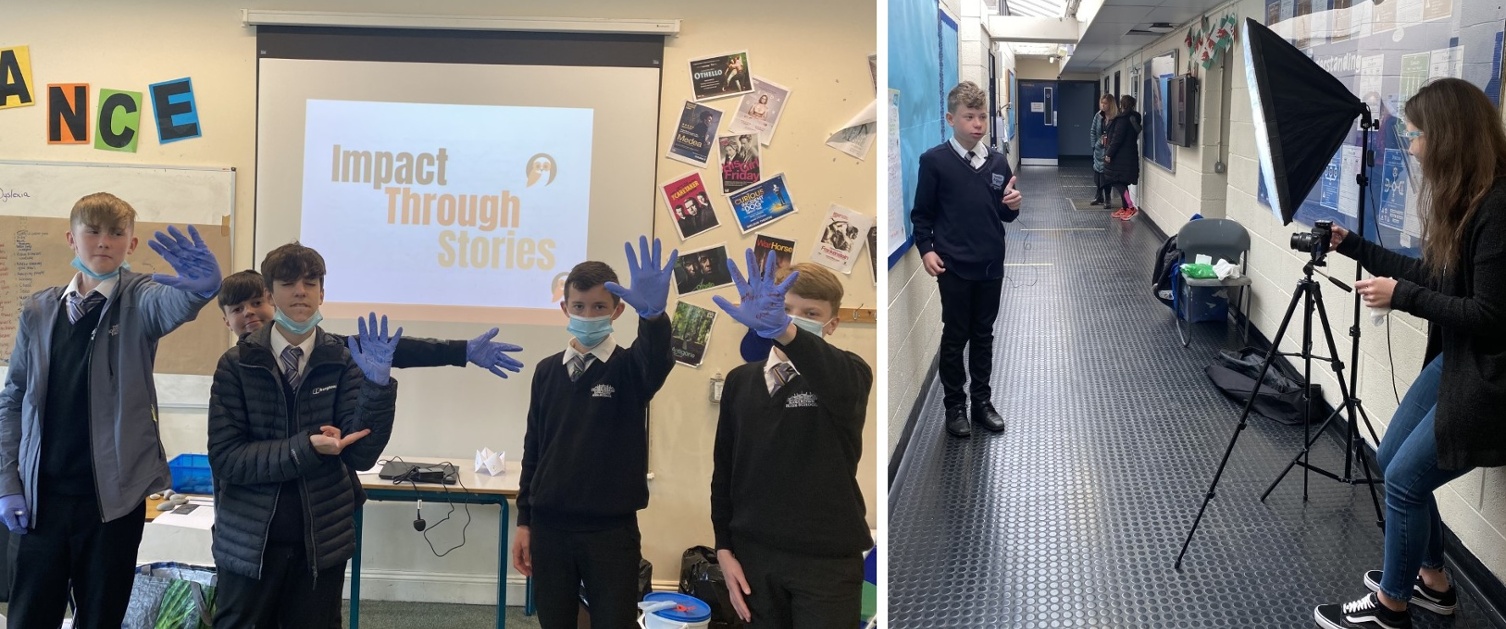 15/06/2021
Betsi Cadwaladr University Health Board has helped launch a first of its kind leadership training programme for young people in schools across North Wales.
The programme is a small pilot funded by Welsh Government Transformation Programme and was jointly delivered by the Health Board's Children's Services team, Wrexham Glyndwr University and leadership practice Do-Well (UK) Ltd.
The programme called Impact Through Stories involved 50 young people aged 14 and over from four schools in Flintshire, with the aim to build aspirations and the resilience of young people, to consider their roles as active members of a community and supports them to find their voices, and develop their confidence to be able to consider their role in the world and what they would want to achieve beyond the parameters of traditional education.
The programme also trains staff within the schools so they can continue to deliver the programme.
The pilot has been delivering 'Systems leadership and public narrative' training which offers building bespoke public narrative skills including how to communicate and engage effectively and learn new leadership development skills.
Christy Hoskings, Regional Patient Experience Lead for Children and Young People for the Health Board, said: "We are all extremely excited about this programme, as this is the first time this type of stories-based leadership programme for young people in Wales. We were very much aware that it has been a difficult year for our young people, and hoped that we would be able to offer them something new and innovative that would ignite their passions, and empower them to feel confident to advocate for the things that matter most to them.
"I have been inspired so much by the young people who have taken part in this programme, their stories will stay with me forever. If I have learnt anything it is that our young people have the real ability to transform the things that need to change, we just need to give them the skills and power to do it."
Nina Ruddle, Head of Public Policy Engagement for Wrexham Glyndwr University, said: "It's fantastic to be a partner in this important pilot project. A key focus of our civic mission work with partners is supporting our young people and children to develop a generation of future leaders, equipping them with key skills and enabling us to help support the implementation of the new curriculum 2022."
Ken Perry, Director of Do-Well, said: "Impact though Stories is unique not just to Wales but across the whole of the UK in teaching powerful leadership techniques such as public narrative to young people to help them understand how they can use their voices to influence and inspire and encourage others to listen and act. It's great to see partners in North Wales working together to bring Do-Well's leadership programme to young people to equip them with leadership skills for the future and support their resilience and wellbeing."
The Health Board has worked with Flintshire County Council Education and Social Services on the programme delivered in Flintshire, and will continue to deliver and support the programme to progress across North Wales.
Claire Homard, Flintshire County Council's Chief Officer for Education and Youth, said: "We are delighted that a number of Flintshire schools have been involved in this project and the feedback that we have received has been very encouraging. There is clear evidence that it has given students a wider understanding of leadership and empowered them to make their voices heard, resulting in positive impacts in their school communities."