Hat-trick of award chances for 'inspiring' eye unit after 'life-changing' student experience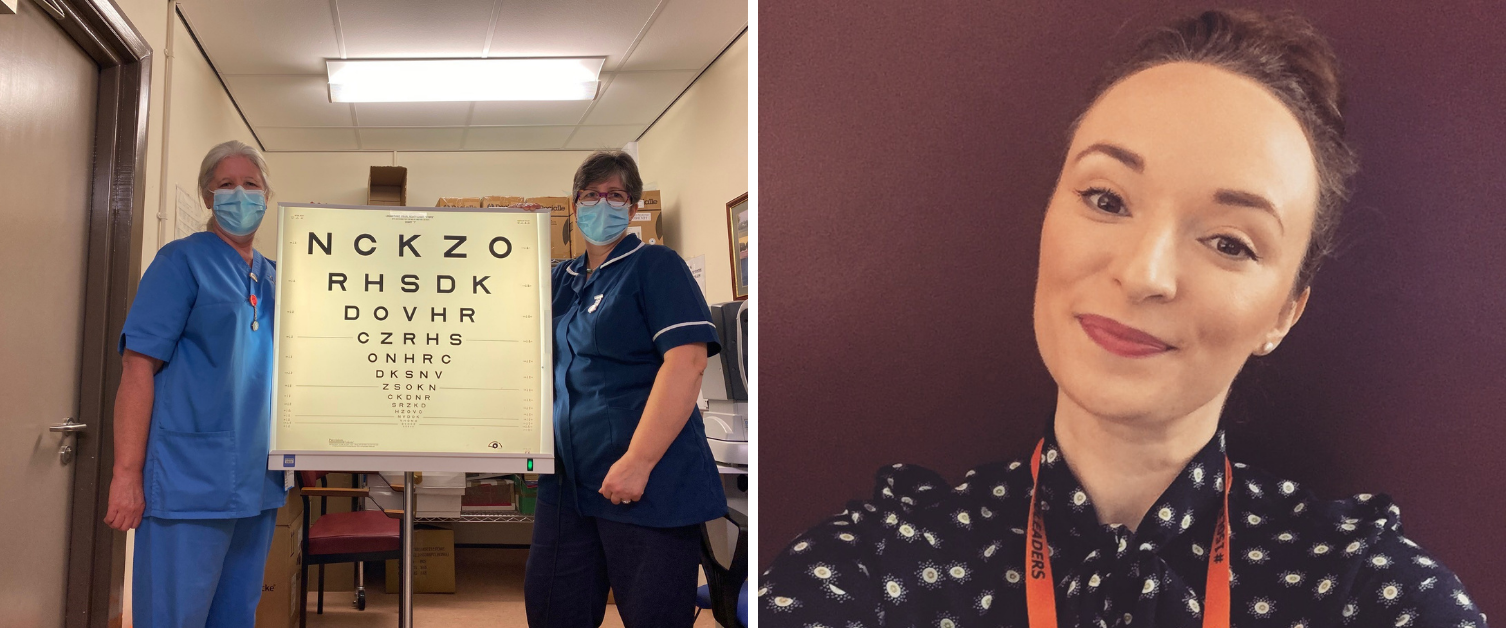 24/09/21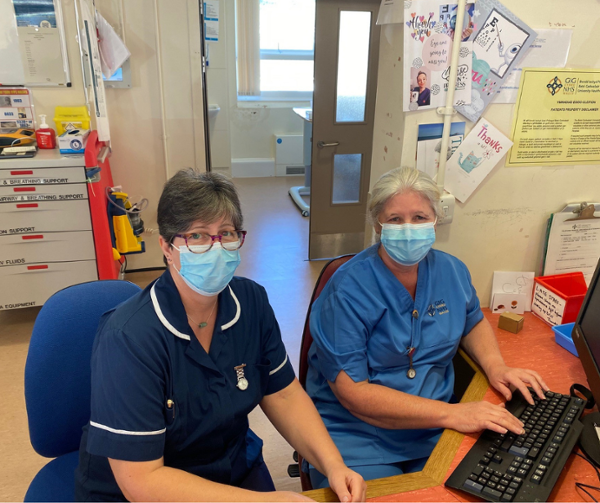 A student's "inspiring" ophthalmology work placement with Betsi Cadwaladr University Health Board was the catalyst for three nominations at nursing's benchmark awards ceremony.
When mature student Chloe Scott "nervously" entered the Stanley Eye Unit, at Abergele Hospital in February, she was unaware how much it would change her and her mentors' lives.
During her 12-week placement the final year student at Bangor University's Health Sciences School not only learned from staff, she fully contributed to the unit.
It left ophthalomology sister Lisa Parkhill to remark on how the 30 year-old from Abergele had "changed our lives".
Chloe subsequently nominated staff nurse Annie Sealey as Practice Supervisor of the Year for the prestigious Nursing Times Awards 2021 and the entire unit for Placement of the Year.
Her tutor Naomi Jenkins submitted her name for the Most Inspirational Student prize, based on reports from her placement supervisors.
Incredibly, all three nominations were accepted onto their respective shortlists for the glittering awards night in Mayfair, London, in November.
The recognition comes as the UK marks National Eye Health Week and left Lisa feeling "emotional" about Chloe's time within their unit.
She said: "Chloe had low confidence because of the pandemic and had taken time out because of injury. For her to come here and want a career in ophthalmology is the best accolade for us.
"It was a two-way street from the word go. She learned from us and we learned from her. Chloe changed our lives. I think that's why we feel so emotional about it."
After giving up a successful career in human resources with police and fire services to become a nurse, the final year student injured herself and was forced to take 18 months away from study before accepting the placement.
Slotting into such an experienced and tightly-knit team was a tribute not just to Chloe but also the staff who welcomed her.
"I was impressed by their leadership skills, but they are just lovely people and they teach their students in such an holistic way," she said.
"They were so nurturing and encouraging and I felt really empowered to make suggestions. They never made me feel like my ideas or questions were silly - they said 'OK' and encouraged me. I never once felt like 'just a student'.
"They are so committed to their patients, many of whom have a range of other conditions as well as low vision – so they take all that into consideration."
She was so impressed she submitted award nominations to the Nursing Times for the unit and nurse Annie Sealey.
Annie said: "I was overwhelmed someone took the time to nominate me when we do what we do every day.
"I appreciate the nomination and we take pride from it. We need to invest in students because so many nurses are leaving."
In her submission for the award Chloe said Annie had "guided" her into new areas of learning and "empowered me to lead with patient care as soon as I felt comfortable".
Chloe added: "Annie should win this award because she represents every positive trait any supervisor should possess. As well as being an incredible nurse she is amazing and inspirational."
"We didn't realise how big these awards were," explained experienced ophthalomology sister Lisa Parkhill. "We thought we might get a line in Nursing Times and a photograph but when we looked into it we realised we should be jumping up and down.
"It's important not just for us but for Betsi overall. It shows we can do things really well."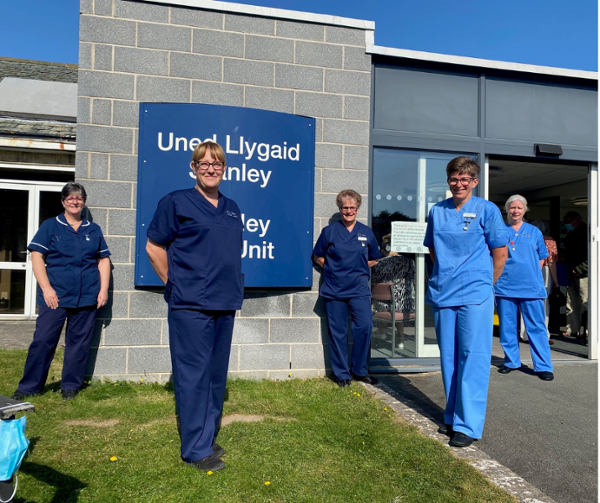 She added the nominations were recognition for every member of the unit, while singling out ocular plastics consultant Mrs Claire Morton as one of the driving forces behind the team.
During the pandemic the unit has had to work with a reduced bed capacity but has successfully reduced the amount of contact time in the hospital for patients needing Intra Vitreal Injection (IVT).
It is something they are keen to keep to as society gradually opens up.
One of the first things student nurses are encouraged to do on starting a placement is wear special glasses, which immediately gives them an insight into the difficulties eye patients face.
The eyewear mimics the effects of a patient's sight loss, caused by various conditions such as vein occlusion or wet macular degeneration.
Among other things Chloe worked on the IVT suite treating patients with those conditions and developed an understanding of the full care pathway, from initial appointments to clinics after treatment.
She has two placements left in her final year, which concludes next August, but has also been put forward as one of only 50 student nurses in the UK to undertake a special leadership programme.
Run by the Council of Deans of Health the course allows those invited to develop leadership skills and run a project or series of projects across the nine-month programme.
The opportunity came as a direct result of Chloe's progress while on her placement.
Despite her success the fluent Welsh speaker said her career definitely lies within North Wales and she wants to promote the service to others who might feel stifled in their careers.
She said: "I hope my story encourages people to get into nursing. I'm so glad I did - it's all been a bit of a whirlwind really."
Betsi Cadwaladr University Health Board's executive medical director Nick Lyons said: "I'm delighted the team at Abergele Hospital's Stanley Eye Unit has been recognised in this way.
"To gain these nominations for the Nursing Times Awards showcases their dedication and commitment to eye care and staff development.
"Student nurse Chloe Scott's nomination after her placement there reinforces that - and I congratulate everyone involved.
"It's a remarkable achievement and I would like to thank staff nurse Annie Sealey and the entire team, who ensure student nurses receive the best possible grounding for their future careers."
For more information about National Eye Health Week visit: Vision Matters - National Eye Health Week