Glan Clwyd lit up in rainbow colours to celebrate staff and mark hospital's 40th birthday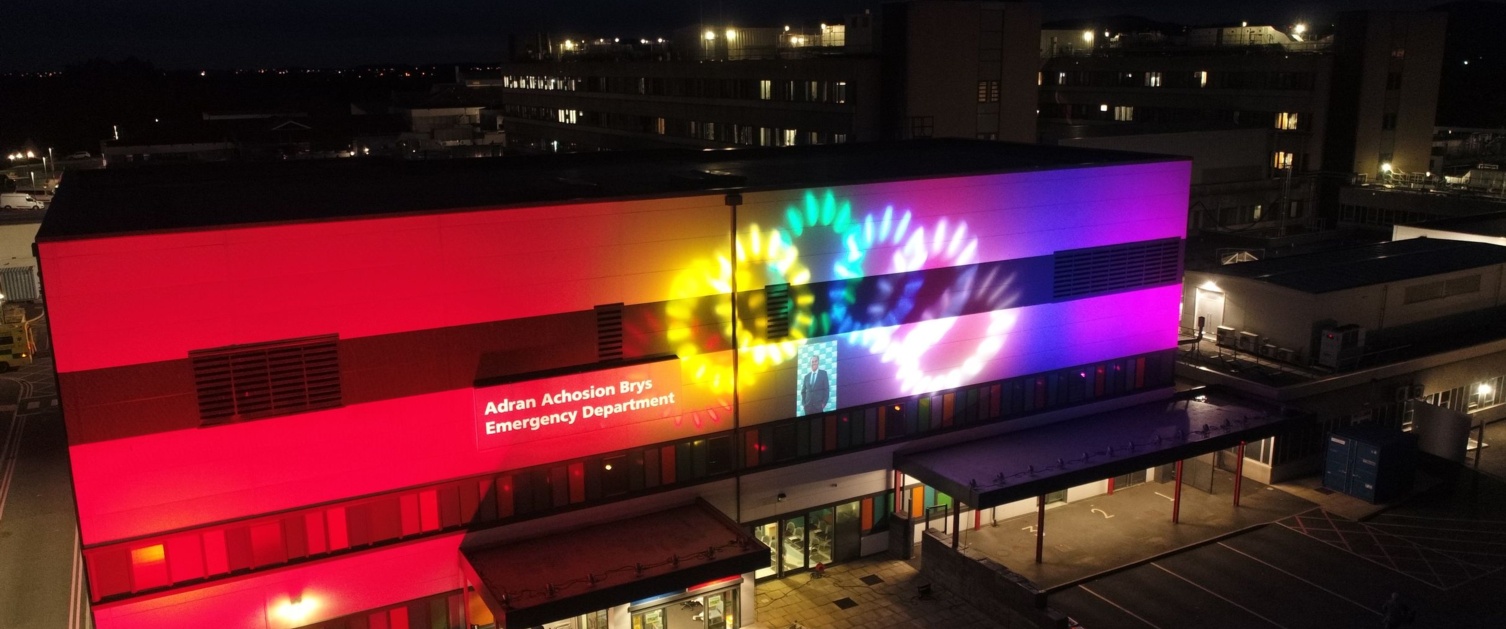 Glan Clwyd Hospital was lit up in rainbow colours yesterday to celebrate the efforts of NHS staff to tackle COVID-19 and mark the hospital's 40th birthday.
The ED Department was lit up at 9.44pm to mark four decades of care at the Bodelwyddan hospital.
Staff also used the special occasion to mark the life of colleague Zaldy Manalo, who died after contracted COVID-19 last weekend.
Originally built in 1980, health services and facilities at site has developed significantly over the following four decades as one of North Wales' three district hospitals.
Hospital Managing Director Rab Mcewan said: "We were hoping to make a number of plans to mark the hospital's 40th birthday this year, but COVID-19 has really got in the way of us being able to celebrate properly.
"After everything we've been through over the last few months, we wanted to take this opportunity to pay tribute to all of the staff at Glan Clwyd for their amazing response to the pandemic so far.
"This was a chance to celebrate those 40 years of service to the local community, and to reflect on what we've been through together.
"Part of that reflection was also on memories of absent friends and colleagues, including Zaldy Manalo who tragically lost his life to the corona virus last week while in service at YGC.
"Above all, it was about the hospital's management team doing something to show our appreciation to each and every member of staff who make an incredible contribution here."
All staff at the hospital were invited to join the 90-minute long celebrations, which took place in the parking area outside the hospital's Emergency Department to allow space for social distancing.
Glan Clwyd hospital was opened on May 17 1980 by HRH Princess Margaret, with patients transferred the same day from the Royal Alexandra Hospital in Rhyl and HM Stanley Hospital, St Asaph.
An extension of the hospital, which is now home to women's services and the hospital's children's ward, was completed in 1994. The Ablett Unit, which provides care for adults in need of mental health inpatient care, opened a year later in 1995. Plans are currently being developed for a new mental health unit within the grounds of Glan Clwyd Hospital to replace the existing Ablett Unit.
The North Wales Cancer Treatment Centre opened 20 years ago this month. The centre has a day-case and inpatient-ward, and provides a range of chemotherapy and radiotherapy treatments, working alongside cancer units at Wrexham Maelor Hospital and Ysbyty Gwynedd.
In 2011, a wholescale redevelopment of the main hospital building began as part of work to remove asbestos used during its construction. In total, more than 300,000 tonnes of contaminated waste was removed from the hospital site, with services remaining open throughout the redevelopment work.
The redevelopment provided an opportunity to rethink the entire layout of the hospital, including relocating services to improve co-working and learning.
Improvements included a redesign of how the Emergency Department and theatres worked, altering ward layouts to meet the latest healthcare standards, and new facilities including bedside dialysis, in-patient therapies services and a revamped entrance to the hospital.
Work was completed in 2019 with the opening of a new dining room and League of Friends teabar for staff, patients and visitors.