Dietitian wins national award for her passion and dedication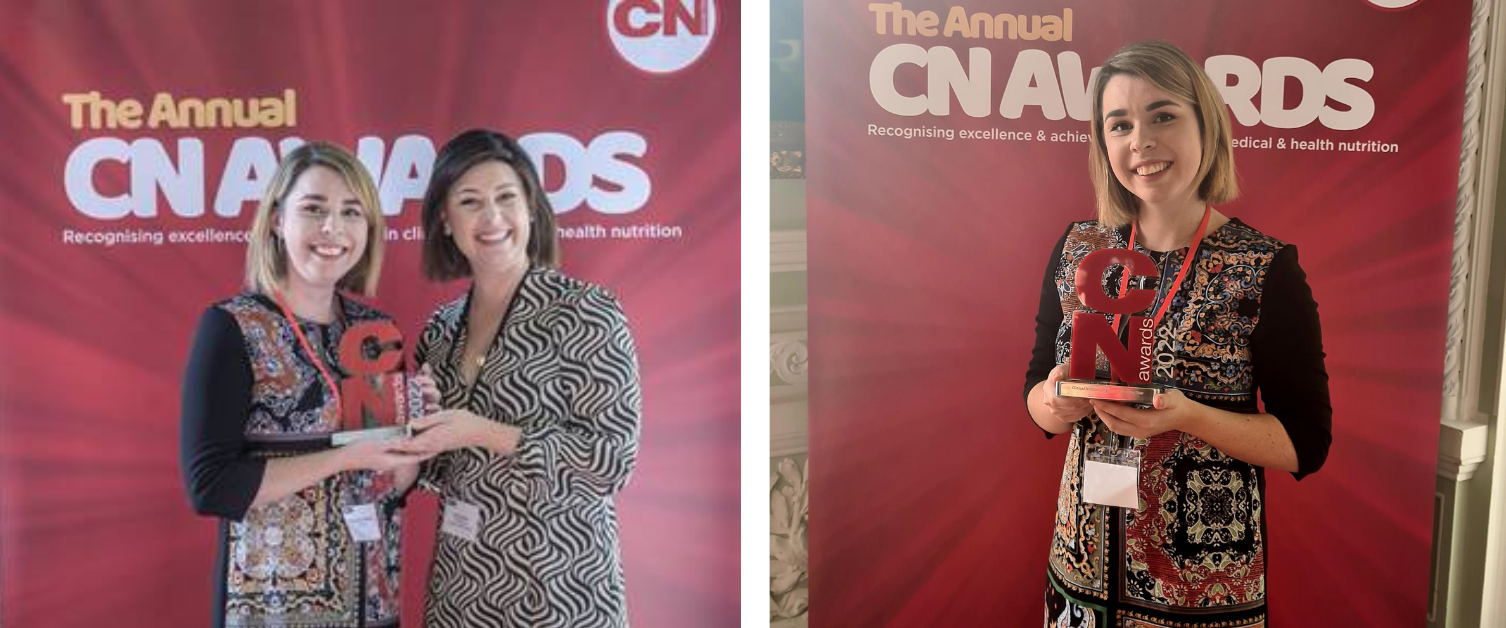 18/11/2022
A prison dietitian has been named Clinical Nutrition (CN) Professional of the Year at the national CN Awards.
Fran Allsop, a dietitian at HMP Berwyn in Wrexham, one of the largest prisons in the UK, helped set up a new dedicated dietetics service in the prison.
Here she assesses patients via telephone or in face-to-face clinics for a wide range of conditions including, weight management, type 2 diabetes mellitus, coeliac disease, oncology, inflammatory bowel disease, oral nutritional support and irritable bowel syndrome.
Fran has also started a first of its kind weight management group for the men at the prison and manages the nutritional needs and risks of prisoners on food refusal.
Fran said: "I'm delighted to have won this award, prison dietetics is an underrepresented area of practice in dietetics. I hope this award will raise the profile of the role within this niche environment and help lobby for the nutritional needs of prisoners nationwide.
"I set up the dietetic service at HMP Berwyn which supports the men at the prison. This could be for things like wanting to lose weight, to learn how to control their diabetes, manage their gastro disorder symptoms or those that at risk of malnutrition for weight gain advice. Previously this service didn't exist at all at the prison."
Fran previously worked as a Specialist Oncology Dietitian at Ysbyty Glan Clwyd where she supported the nutritional needs of patients along their cancer journey, predominantly the care of upper gastrointestinal cancer and head and neck cancer patients – to include tube feed management, pancreatic enzyme education and nutritional support.
Her line manager at the prison, Jacqui Learoyd, said: "Fran had to effectively redesign and implement a service which would provide assessment and care to 2,106 men who are located in the prison. The men who reside at HMP Berwyn very much value the care and treatment which she offers them, and the clinical outcomes have been excellent for physical and social health."
The CN Awards recognises excellence and achievement in clinical, medical and health nutrition.
Fran was nominated by dietitian Suzanne Parry at Wrexham Maelor Hospital, who said: "Aside from her accomplishments at the prison and in Ysbyty Glan Clwyd, the main reason I nominated Fran is due to her infectious and obvious passion for her roles, and the dietetic profession. You only have to be in her presence, listen to her podcast, or scroll her social media pages for a matter of minutes, for her enthusiasm and dedication to become apparent."