Dedicated doctor wins award for going 'above and beyond' during pandemic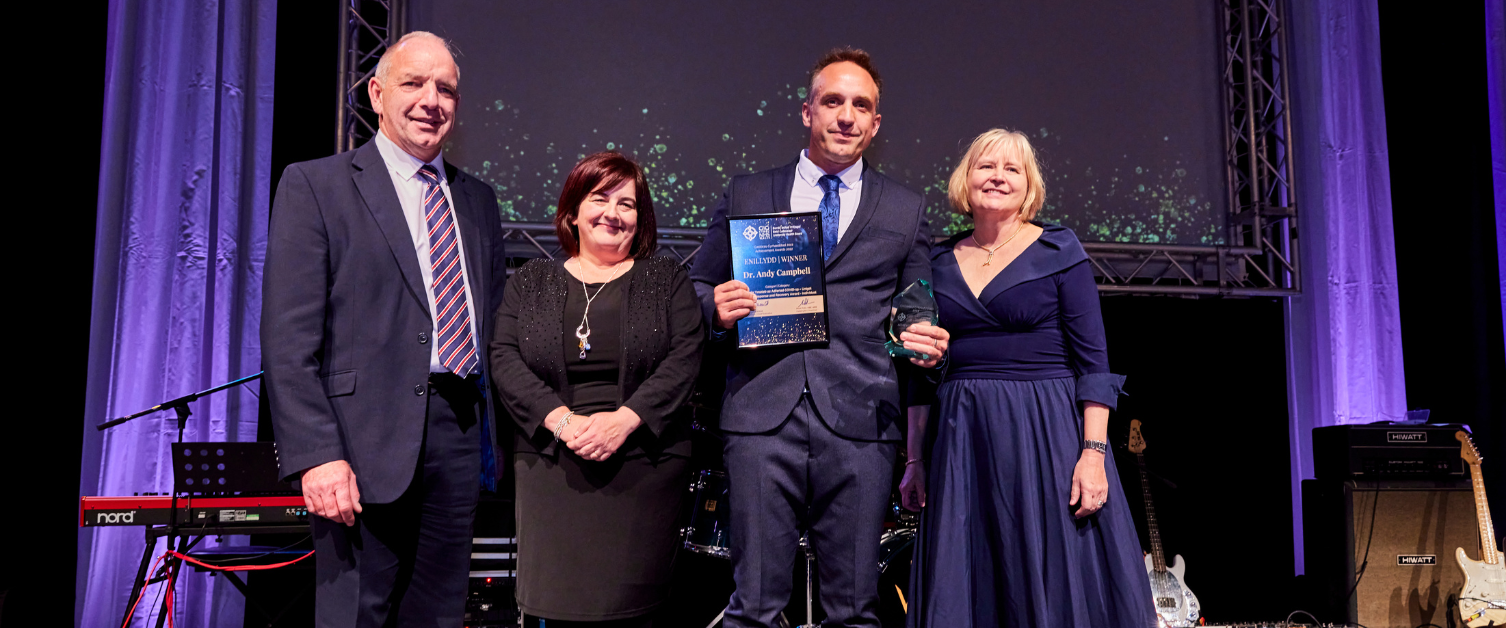 25/10/2022
A Critical Care Consultant has won an award for his vital work during COVID-19 supporting patients and staff at Wrexham Maelor Hospital.
Dr Andy Campbell not only worked throughout the COVID-19 pandemic on the Critical Care Unit, but he also took on the role of Clinical Lead for the unit, being an inspirational leader during the most difficult and challenging time.
Dr Campbell was announced as the winner for the COVID-19, Response and Recovery Individual Award at the Betsi Cadwaladr University Health Boards' (BCUHB) 2022 Staff Awards night on Friday, October 21st.
Nominator Helen Williams, Matron for Critical Care Unit, said: "Before the first wave there was a high level of anxiety and worry, exacerbated by the horrors shown on the news and social media that were taking place in Critical Care Units around the world. Dr Campbell provided support, reassurance and guidance around the clock to the Critical Care team. This continued through the years that followed. His leadership and dependability have seen the team through and unimaginably demanding time.
"Throughout the pandemic he proved to be an invaluable support professionally, but also personally to the whole Critical Care Team. He committed copious time to ensure that all staff were as safe and prepared as possible for the unknown, and made himself available 24/7 for advice whether on duty or not.
"Dr Campbell has been a true representation of a member of staff going above and beyond and displaying Betsi values in day-to-day practice. As a Critical Care service as a whole, we are immeasurably grateful for everything he did and continues to do for all our staff and our patients and families."
During the peak of the pandemic Dr Campbell made a huge personal sacrifice by moving out of the family home to distance himself from his wife and two young boys and limit their contact risk.
Alison Pawley, BCUHB Branch Secretary for award sponsor Unite, said: "All three finalists, as well as hundreds of other NHS staff working in North Wales, have shown immense sacrifice, contribution and devotion to caring for others over the last few years.
"I was delighted to present Dr Campbell with this award. His contribution sums up the selfless, caring qualities which make up the very best of the NHS."
Jeremy Nash, Chief Executive Officer for overall award sponsor Centerprise International, said: "I was delighted to hear the outstanding stories of kindness, care, compassion and bravery in the face of adversity shown by the finalists at the BCUHB awards.
"This is the fourth year that Centerprise International has sponsored these awards, and year-on-year we continue to be amazed at the lengths NHS staff in North Wales go to to support both patients in the area and their colleagues.
"Congratulations not just to tonight's winners, but to everyone who was shortlisted for this year's awards."